In Surprise Move, LAUSD Board Extends Superintendent's Contract Through 2020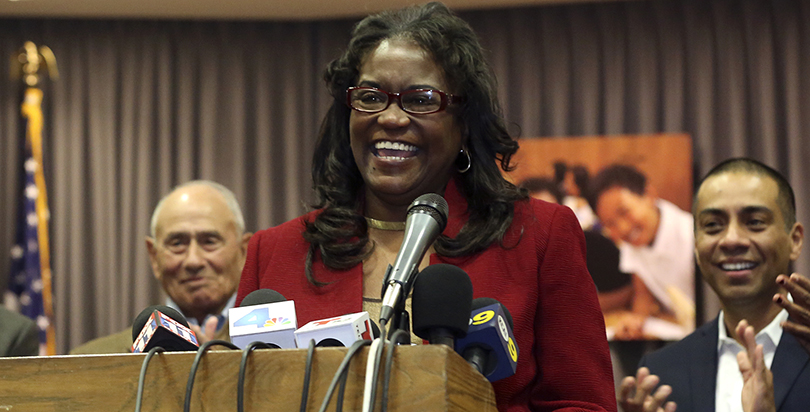 In a surprise move during Tuesday's closed session, LA Unified Superintendent Michelle King had her contract extended through June 30, 2020, even though her contract wasn't up for renewal until next year.
The lone dissent came from board member Mónica García, who objected because it didn't give the new pro-reform majority a chance to review King's contract and renew it when it was supposed to be up in June 2018.
"I appreciate Dr. King, her leadership, her work, and her commitment to the district," García said in a statement that she had been working on since the morning closed session but released after 14 hours of meetings. "I cannot support the board action today. We will have new board members in three weeks, and it is my view that she is best affirmed by that new board."
It's a parting gift for board president Steve Zimmer, who was voted out of office, and Mónica Ratliff, who chose not to run again. They are being replaced by Nick Melvoin and Kelly Gonez, who will create a pro-charter majority for the first time since García started on the board a dozen years ago.
García is now the longest-serving board member, and the next election for the board doesn't take place until fall 2020. Gonez, who was in the audience for most of the meeting, wouldn't comment on the vote or García's statement. Both new board members have said they look forward to working with King.
Zimmer, who led the marathon meeting, said afterward not to read anything into the 6–1 vote of the surprise contract extension, which continues King's annual salary of $350,000.
"This is a powerful endorsement of the superintendent's work," Zimmer said. He wouldn't comment about García's objection except to say, "It is normal to have some dissension, and it's not a comment on the superintendent."
Zimmer has included among his accomplishments the board's unanimous agreement in choosing King after an exhaustive national search to find a superintendent, and they ended up picking from within the district.
Close to midnight after the decision, school board vice president George McKenna pointed to the back wall where all the past superintendents are pictured and said, "There needs to be a consistency. There has been too much turnaround." He noted that the board brought back Ramon Cortines three times to be superintendent. As far as King, he said, "This board knows her the best. We want to keep her."
King released a statement saying that the two-year extension doesn't change her salary or any other part of her contract, which allows her termination by a majority vote of the board. King has served more than three decades at LA Unified as a teacher, principal, and administrator and recently was named
Superintendent of the Year
by the National Association of School Superintendents.
"I am grateful to the board for its confidence in our ongoing effort to provide a high-quality education so that all of our students are prepared for success when they graduate," said King, who just received her doctorate in education from USC and had her "Dr. Michelle King" nameplate on the dais for the first time at the school board auditorium.
"The superintendent has lifted our district to important new heights," Zimmer said. "She has united students, families, employees, labor partners, and community partners in setting ambitious priorities that underscore our belief that all students can and will achieve the American dream."
The announcement of the closed-session decisions included other new hires, contract extensions, and renewals, including for school police chief Steve Zipperman, through June 2018; new chief financial officer Scott Price, through June 2019; new government affairs lobbyist Jeffrey Dunn, through June 2019; and Vivian Ekchian, who is moving from local district superintendent to superintendent of support services, through June 2019.
Zimmer ticked off King's three major accomplishments as heading toward 100 percent graduation, making "an extraordinary effort around English learners," and being "a great leader in keeping vulnerable and targeted" students concerned by the Trump administration and making them feel safe and welcomed in the district.
"There is rock solid support of this superintendent," Zimmer said. "It was really the right thing for our kids to deliver this endorsement," he added. He said the school board is good at handling transitions and that changing King's contract was "absolutely appropriate." He concluded, "We did our job."
García added, "I have confidence that Dr. King and the 2017–2020 board will build the trust and respect necessary to lead."
---
Get the latest Los Angeles education news, and election results, straight to your inbox. Sign up for the LA School Report Newsletter.
Get stories like these delivered straight to your inbox. Sign up for The 74 Newsletter