In Remembering the Tulsa Race Massacre, an 'Incredible American Story' of Black Resilience is Also Finally Being Recognized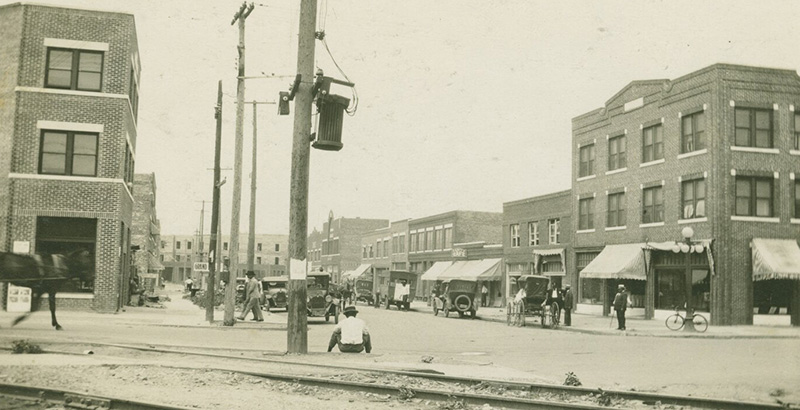 Get essential education news and commentary delivered straight to your inbox. Sign up here for The 74's daily newsletter.
At the start of the award-winning television series Watchmen, there's a three-minute-30-second scene of destruction and terror, as a racist mob destroys a Black town. Civilians are shot, homes are bombed from planes overhead, and stores are set on fire. While Watchmen is fictional, this story is true.
"That really did happen," says Phil Armstrong. "They just put visuals to what it must have been like, based on eyewitness accounts."
Armstrong is project manager of a commission charged with commemorating the 100th anniversary of one of the largest racial massacres in American history, a two-day rampage by a white mob that devastated the all-Black community of Greenwood, in Tulsa, Oklahoma.
The 1921 Tulsa Race Massacre Centennial Commission is also the guiding force behind Greenwood Rising, an interactive history center scheduled to open later this year. Created in partnership with Local Projects (the design firm behind the National September 11 Memorial and Museum, in New York, and the Equal Justice Initiative Legacy Museum, in Alabama), Greenwood Rising will tell the story of the historic neighborhood before, during, and after the carnage.
A preview of the site suggests that visitors are in for an emotional journey. Much of the information will likely be new to them. Until recently, it was possible to visit Tulsa and remain unaware of the looting, burning, and killing that began June 1, 1921, after Dick Rowland, a Black 19-year-old, was accused of assault.
The center's dual focus on both the past and the vital present spotlights the real people who were, and are, affected by historic actions and inaction, says Greenwood Rising project director Lorraine Arthur Mensa.
"Right now, in this nation, there's a lot of talk about Black trauma and focusing on stories of oppression versus telling the whole story," says Mensa, who says it was equally important for all involved to "show Black joy at times and to show the resiliency, the work ethic, [and] the communal spirit, and to get the visitor to connect to that."
Black Wall Street
Before the massacre, Greenwood was a place of economic opportunities, with theaters, groceries, confectionaries, and restaurants lining its main street, dubbed Black Wall Street. "By 1880, there were 30 all-Black towns in Oklahoma," says Armstrong. "They actually began having discussions with the government to just declare Oklahoma to be an all-Black state."
The "Black Wall Street" moniker derives from a comment made by Booker T. Washington on the proliferation of Black Oklahoma towns (Muskogee, Langston, and Boley, among them), a year before Greenwood was established. On the other side of the tracks from downtown Tulsa, Greenwood was founded on segregationist beliefs and cemented with Jim Crow laws. But while racist ideas set the soil, Black businesses did the planting, and success quickly took root.
By 1921, an estimated 12,000 African Americans were living within the 35 city blocks of the neighborhood. Homes and businesses were all owned and operated by Black people, says Armstrong.
But over the course of a few days in 1921, all of it disappeared. Most homes were destroyed, along with dozens of buildings, including churches. An estimated 300 people were killed (although unmarked graves still being uncovered suggest the number could be much higher). When it was over, the Black community was financially and physically decimated.
Since the massacre was labeled a "riot" at the time, insurance claims were denied, and courts dismissed all cases without hearings or reviews, says Armstrong. To date, there have not been any reparations.
The only silver lining was that legal attempts to force families to adhere to newly created, expensive building regulations (an attempt, Armstrong suggests, to dissuade reconstructing the community altogether) were thwarted by an unprecedented Oklahoma State Supreme Court decision.
Here's where the resilience shines through: The community rose phoenix-like from the ashes. Within five years, and with the support of Black communities across the country, Greenwood was able to host delegates from the 1926 National Negro Chamber of Commerce. And by 1943 the economic activity of the area doubled, says Armstrong.
"It's an incredible American story," he says. "Not only [did] they stay. They built it back bigger than it was the first time."
The Third Wave
Urban renewal programs in later decades (including the routing of Interstate 244 through the heart of the community) and eventual gentrification continued to change the community makeup. Today, the neighborhood includes the Greenwood Cultural Center, whose mission is to preserve African American heritage in the area and promote cultural exchange. The center is partnering with Gathering Place park on the Tulsa Riverfront this summer to co-host the Kinsey African American Art Collection—one of the largest collections of historic art and artifacts of its kind.
Although there is only one commercial building remaining on Black Wall Street that is Black-owned, the strong heartbeat of the community continues. This is where Fulton Street Books opened in July 2020, "a space where children and adults can walk in and see themselves reflected on the shelves," according to owner Onikah Asamoa-Caesar. Also here, Venita Cooper founded Silhouette Sneakers & Art, a vintage fashion and high-end sneaker shop and art gallery, which recently raised enough through community donations (including their own) to pay the rent for more than 25 local families who were in need. Other Greenwood Black businesses include spas, cafés, and galleries.
"It's about the reclamation of a legacy that was interrupted," says Asamoa-Caesar. "We're the third wave of the rebuilding of Black Wall Street. We are carrying a torch for that entrepreneurial spirit that was here in Tulsa."
"The destruction, the hate, the racism, all that stuff in the past, it prevented us from reaching our potential for all of these decades," says Cooper. "There are so many cool things that are happening in the city now, especially from Black artists, creatives, and entrepreneurs. I wouldn't be here if I felt like there was no hope."
Black-owned businesses are also hoping the increased tourism to the neighborhood results in an economic win for the community.
A collaborative "Buy Black Tulsa" handbook, launched in February, is being developed into the website BuyBlkTlsa.com, as a resource for visitors looking to benefit the community through their shopping dollars.
"My greatest fear, especially for this year, is that people are going to go to Greenwood Rising, see the signs, and look at the plaques in the ground, but nothing is going to sustainably and tangibly change for the community that's here," says Asamoa-Caesar. "People need to be very critical and intentional about how they spend their time and their money once they're here. It's great to go to a museum but think about your impact while you're there."
Additionally, some groups are criticizing the centennial commission for putting money and resources toward cultural tourism rather than ensuring reparations. Others are focused on fulfilling the original promise of Black Wall Street.
Inside Silhouette Sneakers, Cooper keeps a framed picture of Grier Shoe Shop, which once stood in that very spot. Destroyed in 1921, it reopened against the odds a few years later, and now a plaque on the sidewalk identifies it for passersby.
By establishing Silhouette here, Cooper says she feels a responsibility to honor those whose own dreams were cut short. "It's like a natural progression," she says, "from what had already begun."
This article originally appeared at National Geographic and is published in partnership with the Solutions Journalism Exchange
Support The 74's year-end campaign. Make a tax-exempt donation now.