In New Hampshire, Scott Walker Doubles Down on Fighting Unions — and Protecting Best Teachers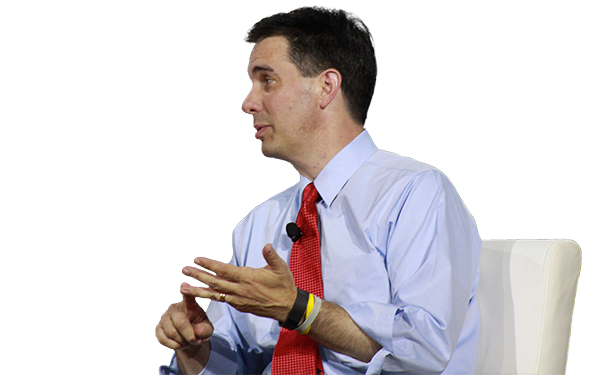 Wisconsin Gov. Scott Walker, perhaps best known for a battle with public employees' unions that resulted in a takeover of the state capitol and a recall election, highlighted that fight and said those efforts improved education in his state.
He told Campbell Brown at The Seventy Four's Education Summit that the changes included both requiring employees to contribute to pension plans and health care costs and ending mandatory dues payments. It was the end to what are often called fair-share fees that really scared union bosses and resulted in the big protests and recall effort, Walker said.
But those changes, plus tenure reforms, have given new life to many teachers, he said.
"When we did this, it was like a weight was lifted, in the sense that a lot of people who got into teaching for the right reasons in the first place suddenly didn't have to worry about a union contract that dictated what the temperature was in the teachers' lounge or how many white boards there were up there, but instead actually got to collaborate," he said. "They started worrying less about the union contracts and more about the classroom."
---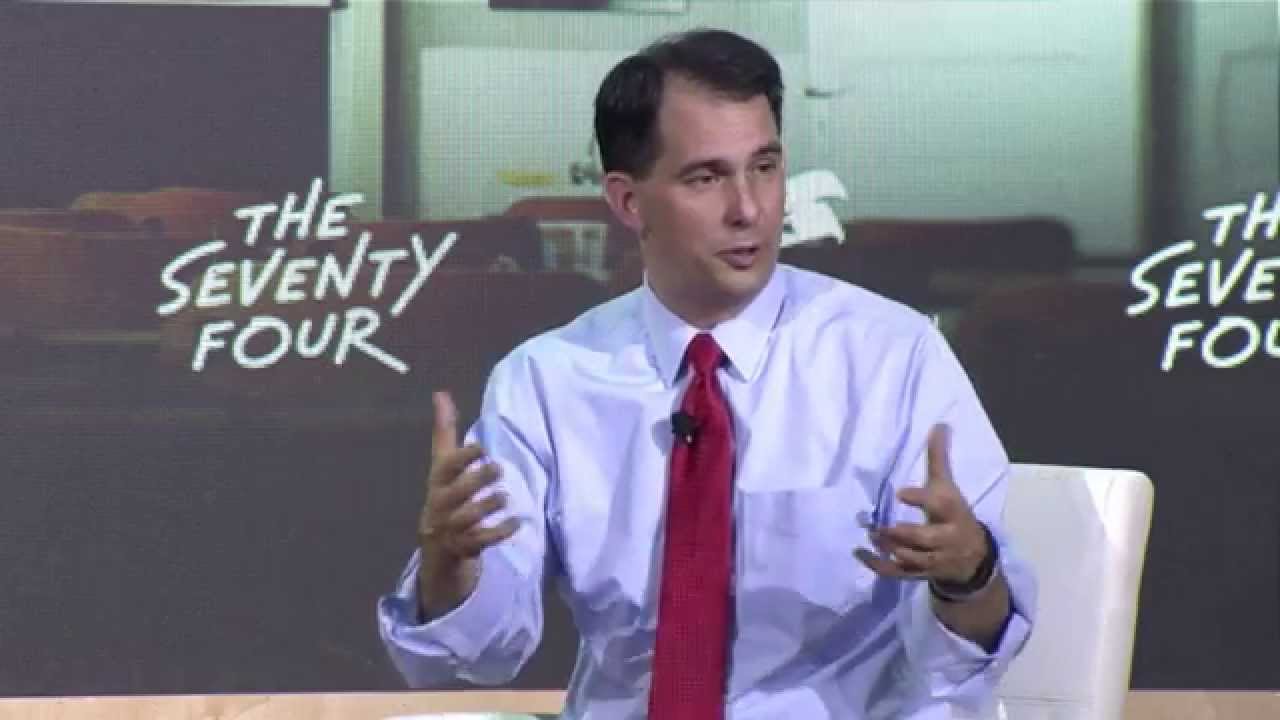 ---
Walker, as he has often done, pointed to the story of Megan Sampson, an award-winning first-year English teacher. When Milwaukee schools had to cut their budget in 2010, she, along with other early-career teachers, was laid off under last in, first out contract rules.
"The outstanding new English teacher of the year was one of the first people to be laid off. As just everyday citizens you look at that and think that's absurd, that's crazy, that doesn't make any sense. That's what happened under the old collective bargaining union contracts," Walker said. (Sampson has asked Walker to stop using her story to tout the new laws.)
Walker's union reforms also overhauled collective bargaining rules. "We have said school districts can make sure they're able to protect the best and the brightest, to reward them in the classrooms," he said. Excellent teachers are "the ones having the greatest impact on the students in the classroom."
He also doubled down on his belief that there should be few, if any, federal controls on education.
"The federal government is the last place in the world I want holding state and local school districts accountable," he said.
---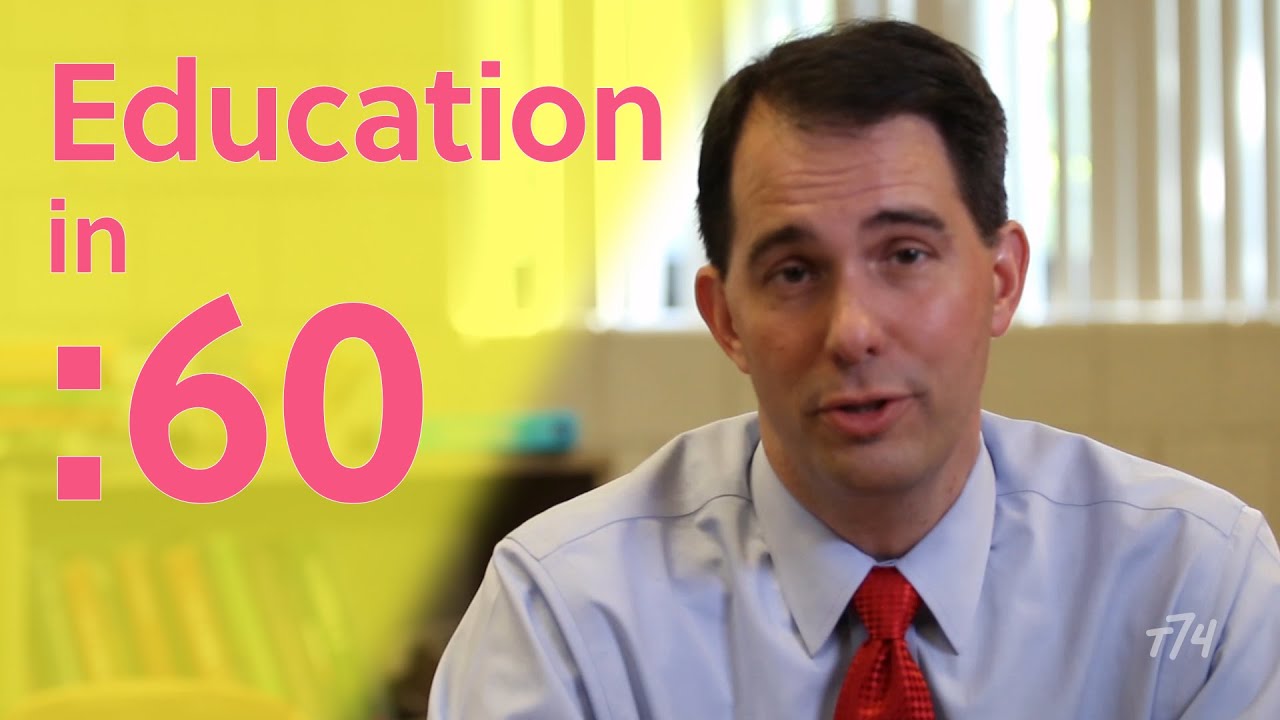 ---
He argued that the federal government spends very little money on K-12 education but holds an outsize influence on schools. "It really doesn't make a whole lot of sense," he said.
Walker held up a dollar bill and asked rhetorically whether most citizens would like to send that dollar to Washington – where he charged that bureaucrats at the Education Department "skim money off the top" – or directly to states and local schools.
"I think most Americans, Republican, Democrat, or somewhere in between, would rather keep it in their own state. You can be a great advocate for higher standards, for excelling, for doing more in education, without having to have all the power," he said. (
Check out more Seventy Four coverage from the day Walker announced his candidacy
)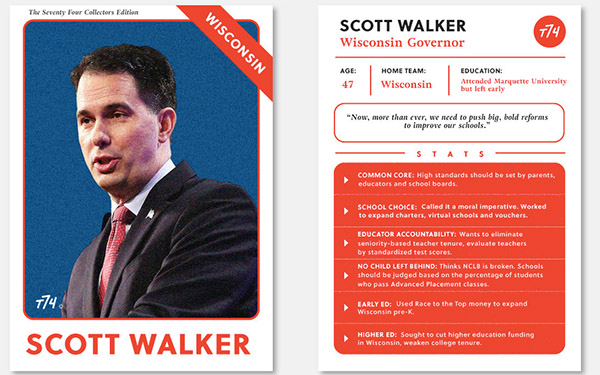 When asked about ongoing efforts to reauthorize No Child Left Behind, Walker said that even those with the best intentions put federal barriers in front of education innovation.
"My answer to that is I think we're much better off if the money and the resources and the responsibilities for education go back to the state and the local level," he said, without giving any other specifics on federal programs that should be cut or where Washington should have any role at all. "In this regard, I'm not just going to be challenging the other party, I'm going to challenge some of my own party."
Photo by Brian Jodice
Support The 74's year-end campaign. Make a tax-exempt donation now.