In Missouri, The Stars Align for School Choice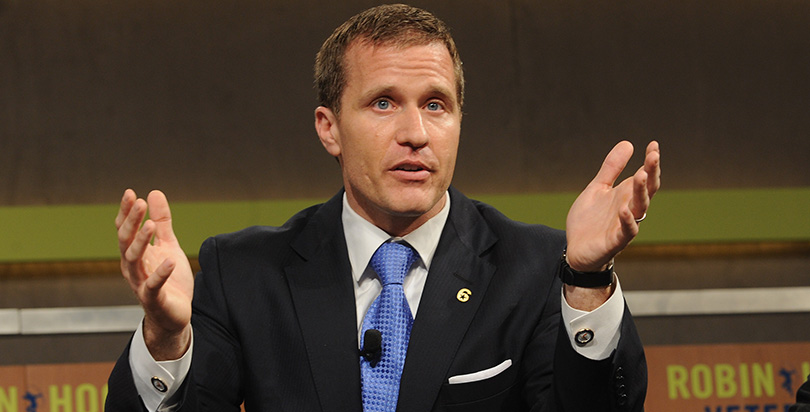 In the months after the 2010 midterm elections, when Republicans netted six governors' seats and the legislative chambers in 19 states, education reform priorities rose close to the top of to-do lists for lawmakers across the country. The flurry of new laws expanding access to charter schools, private school vouchers, and education savings accounts led The
Wall Street Journal
to christen 2011 "
the year of school choice
."
The prospects for additional reform in states aren't quite as heady following the 2016 election cycle; in a year when few statehouses were contested, the GOP increased its overall gubernatorial lead by just two.
In Missouri, however, big gains for school choice appear to be within reach. The election of Governor Eric Greitens — an impressively accomplished ex–Navy SEAL and Rhodes Scholar who had designs on higher office before he even secured his present one — has unified Republican control over both the state's executive and legislative branches. For the first time in eight years, choice advocates can point to a committed ally in the governor's mansion.
(The 74: How Partisan Flips Could Reshape Education Battles Underway in Kentucky, Nevada, Missouri)
"There's been a lot of this pent-up desire to do this kind of stuff, because it's the only time Republicans have controlled both houses and the governorship in an incredibly long time," said Michael McShane, director of education policy at the Show-Me Institute. "The issue is, of course, the Missouri legislative session is only until mid-May. So it's a question of prioritizing and getting it done. Clearly, the labor stuff took first priority. Now there's a lot of jostling for second place."
Greitens has the look of a young man in a hurry, signing a "right-to-work" bill long coveted by state Republicans in his first few weeks. He implied similarly swift action would come on school choice by declaring support for education savings accounts in his first State of the State address. The government-authorized accounts, which allow parents to use state money to pay for private school tuition and education-related expenses, emerged after the first wave of choice-minded GOP governors took office in 2011.
While the governor said he favored an existing proposal that would create ESAs tailored to special-needs populations, his allies in the legislature were emboldened by his State of the State remarks; soon after, the author of the original bill submitted an expanded version that would make all Missouri school children eligible.
(The 74: As Education Savings Accounts Thrive, Experts Look Ahead to 4 Possible Growing Pains)
High-level cooperation was a rarity during the tenure of Greitens's predecessor, Democrat Jay Nixon, who opposed any form of directing taxpayer funds toward private schools. Citing the state constitution's Blaine Amendment, which forbids public support of a religion or sect, he promised to veto any initiative resembling ESAs. "When you take public dollars and give those dollars to private schools, you are underfunding and cutting public schools," he warned at a campaign stop in 2008. "And that's a voucher."
In both 2014 and 2015, Nixon vetoed bills that would have amended Missouri's troubled student transfer program. State law allows students from districts that have lost academic accreditation — including, most famously, the dreadful Normandy schools in greater St. Louis, from which Michael Brown graduated — to attend higher-performing schools in nearby districts.
State legislators twice attempted to amend the law, aiming to extend that mobility to students trapped in underperforming schools that nonetheless existed within accredited districts. Nixon torpedoed their efforts both times, objecting to provisions that would have provided funding to private and virtual schools.
The repeated clashes over student transfer became a prominent campaign issue in last year's race to succeed Nixon. Asked about the outgoing governor's stance, Greitens called it "terrible for any politician to take something off of the table for political reasons that might actually help our kids." During a Republican primary debate, he subsequently stated his wish to "expand every opportunity that we can to make sure that there are more choices for those kids who are in failing schools."
(The 74: Should They Stay or Should They Go: Missouri Families in Michael Brown's High School Face a Hard Choice)
That attitude has won him some good faith even among members of the other party. Maria Chappelle-Nadal, a progressive Democrat in the state Senate who had blasted Nixon for scuppering the two student transfer revisions, said hopefully of Greitens before his inauguration, "Now that we have a new governor, I am optimistic we will finally deliver long-overdue results for the children of Missouri."
What those results will include remains to be seen. McShane, who delivered testimony at a hearing in Jefferson City this week, identified education savings accounts and a possible charter expansion as the "big prongs of school choice."
"There's always a conversation about trying to change the transfer bill, about open enrollment in St. Louis County," he said. "I'm not sure of the degree to which that has legs, though it's always possible."
Missouri choice advocates will likely spend the next few months articulating these possibilities. Their new governor has the votes to make them a reality.
---
---
Support The 74's year-end campaign. Make a tax-exempt donation now.