In Kentucky Coal Country, Nonprofit Sees Drone Technology as the Future of Education — and Jobs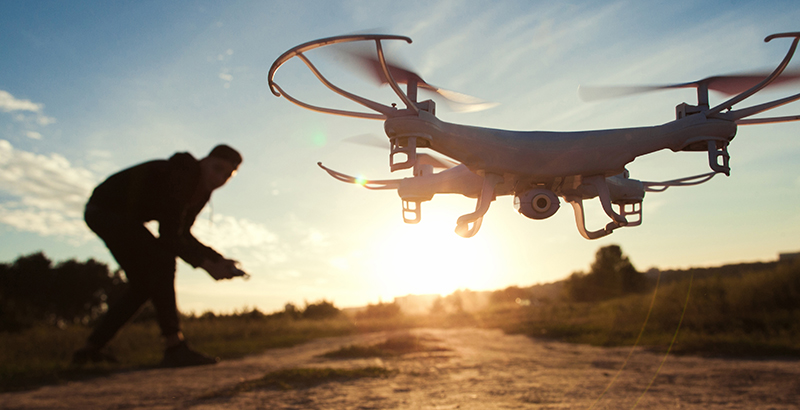 Dozens of high school students watched as four-legged drones buzzed past each other like yellow bumblebees in a gym at Kentucky's Hazard Community and Technical College. More than 70 kids from eight schools had spent hours designing, building, and testing their own remote-controlled quadcopter unmanned aerial devices.
Then, it was time to race them.
The springtime competition was the culmination of a yearlong high school class in aerospace and aviation organized by the Kentucky Valley Educational Cooperative, a nonprofit that helps 21 school districts in southeastern Kentucky improve their education systems. Now, the cooperative is hoping to take its aerospace program to the next level by building a $25 million drone testing site in Hazard, Kentucky, to help scientists and entrepreneurs hone their drone-related inventions and to prepare students for jobs in the emerging industry.
"We want to not only have a site in which drone testing can occur, but we want to develop a workforce so that as the drone industry grows, we will automatically have people that have skills to work in the various areas of drone technology, whether it be drone pilots or technicians or designers or manufacturers," said Paul Green, the cooperative's director of career and technical education and Appalachian technology initiative.
For a region hit hard by the decline of the coal industry, the cooperative's effort is seen as an important step toward replacing lost jobs. In 2016, Kentucky saw its lowest coal production rate since 1934, in part because of competition from cheaper natural gas alternatives and higher operating costs.
At the same time, thousands of drone-related jobs are projected to be added to the nation's economy over the next few years, and training and business incubator programs like the cooperative's have popped up around the country. Schools are also beginning to experiment with integrating the technology in the classroom, said Laura Zieger, chair of the department of educational technology at New Jersey City University.
Some New Jersey educators have worked drones into lessons about longitude and latitude, while others have used them to demonstrate vocabulary words in foreign languages. In Atlanta, schools included a drone competition as part of a robotics curriculum.
"There is a lot of different ways you can use drones [in education]," said Zieger, who in coordination with the International Society for Technology in Education recently published a book called Drones in Education.
The Kentucky cooperative began experimenting with aviation training about two years ago, helping nine school districts develop high school aviation and aerospace courses, and giving them flight simulators and drone kits. About 150 students took the classes this past school year.
In Haridas Chandran's aerospace class, for example, students learned to build wind tunnels out of wooden planks and then used them to test how air currents support flying machines. The kids cemented their newfound aviation knowledge with a trip to a local airport to see airplanes in action. Not surprisingly, Chandran's students also mastered the science of building and flying drones.
"I found they got very interested in drones," said Chandran, who was thrilled that two of his students won first place in the cooperative's drone race.
The cooperative hopes to expand the program with a four-year aviation and aerospace curriculum for high school students. They would graduate with the necessary knowledge to pass the Federal Aviation Administration's Part 107 test, which is required for becoming a licensed commercial drone operator.
On a larger scale, there's USA Drone Port, a proposed facility with a 3,500-foot-long runway and an indoor testing lab with classrooms. The cooperative hopes to build the complex on a remote mountaintop that had been severed for mining oil and has little productive use, Green said. The project will likely take about two years to complete, and the cooperative plans to fundraise and solicit grants to cover the estimated $25 million cost.
Drones are already widely used in the U.S. to capture aerial footage for real estate promotions, collect data for farmers, help in search and rescue missions, and create 3-D maps for architects and construction firms. Elsewhere in the world, drones are being used to deliver products to consumers — a practice that Amazon CEO Jeff Bezos has said the retail giant plans to implement.
"There is a lot of information out there that's saying in the next 10 years the drone industry will be a multibillion-dollar industry," Green said. "We want to go ahead to start working to prepare a workforce that will have [the necessary] skills."
But Zieger said there are challenges to incorporating drones in schools. There's the cost of insurance for indoor drone flights, and there aren't necessarily enough teachers who know how to fly them and can teach others to do the same. Although no commercial license is needed to fly drones in the classroom, some technical know-how is involved.
"There has to be someone there in their schools that can help," she said. "There isn't really a system in place [to develop that expertise]."
Bart Massey, USA Drone Port project director, said finding qualified professionals is one problem the cooperative hopes to solve. He studied to take his Part 107 exam in December and began teaching students at a community college about drone technology in the spring.
At least two of his students have gone on to take jobs in the industry, one using drones to check infrastructure safety for a coal mining company and the other helping a logging company track deforestation.
"There are tens of thousands of jobs available for drone operators," Massey said. "I feel technology is also one of the things, one of the literacies, [students] need to be exposed to."
Support The 74's year-end campaign. Make a tax-exempt donation now.