In D.C.'s Revamped 'Opportunity Academies,' There Are No Forgotten Students on Graduation Day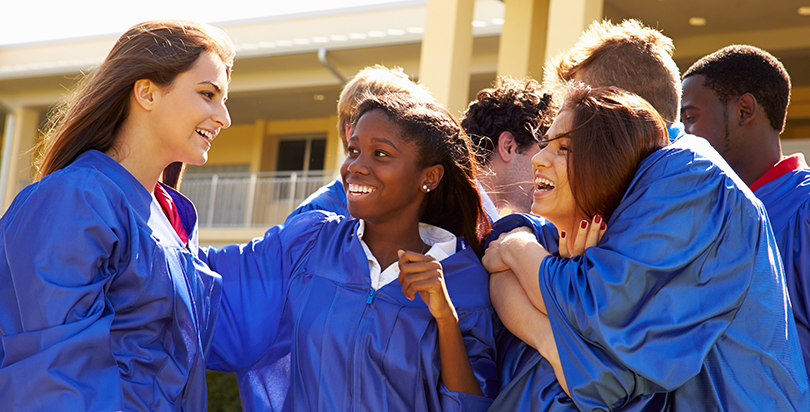 The 74's coverage of Luke C. Moore alternative high school was done in partnership with EWA, and a version of this story first appeared on the Education Writers Association blog.
The rapid improvement in Washington, D.C.'s schools is one of the biggest education stories of the past decade. The graduation rate for D.C. Public Schools, which educate some 60 percent of K-12 students in the capital city, has jumped from 53 percent in 2011 to 69 percent in 2016.
That upward trend — on track to hit 75 percent by the end of next school year (the national rate is 83 percent) — isn't satisfactory for district officials, who have turned their focus on the 31 percent of students who aren't making it through.
"There was a time when people thought that if students didn't graduate in four years, because we don't get credit for those students, it just didn't matter," said Jane Spence, DCPS's deputy chief of secondary schools.
Spence spoke to members of the Education Writers Association visiting Luke C. Moore, an alternative education high school in the Brookland neighborhood of northeast D.C., during the group's annual conference last week.
"We decided even if it takes you a little longer, we are willing to stick with you to make sure that you get this diploma because it's so important to the trajectory of your life," Spence said.
Moore is one of four alternative schools — rebranded as "opportunity academies" — in the roughly 48,400-student DCPS. It focuses on students ages 17 to 21, with an emphasis on getting them to college. Washington Metropolitan concentrates more on younger students, and will open an eighth grade next year. Ballou STAY (School To Aid Youth) and Roosevelt STAY serve students up to age 24 and offer GED and national external diploma programs.
In addition to the roughly 2,000 students in DCPS schools at risk of dropping out, the district is focusing on the nearly 10,000 school-age young people who aren't connected to any school in D.C. Two new staffers at the district's central office this year do nothing but try to find and re-engage them.
This year, Moore has started offering more competency-based, personalized learning that allows students to move through coursework at their own pace. The EWA group visited an English class wrapping up their year-end projects, presentations on various social justice issues. Each made a PowerPoint detailing the problem and presenting a possible solution.
---
At Luke C Moore Sherika loves that she can learn at her own pace. No need to wait. She can accelerate. pic.twitter.com/gsaXRRAEic

— Jane Spence, Ed.D. (@janespencedcps) June 2, 2017
---
The issues presented ranged from "banning the box" that requires job applicants to disclose criminal records, to ending violence by police, to curtailing the wage gap between men and women.
Every opportunity academy also offers career and technical education options and a nearly full complement of sports teams, uncommon for alternative education campuses.
The Moore boys' basketball team lost the "Opportunity League" championship to Washington Metropolitan in triple overtime in April.
The 300 students enrolled at Moore come there for different reasons.
Some, like Jelani Humbles, 19, fell behind in regular classes while trying to access special education services at a different school.
Others, like Quion Shears, 19, came to Moore after leaving another high school.
Shears, whose story brought on a few tears, attended a neighborhood high school in D.C. but said he dropped out in ninth grade to take care of his mother, who had gotten sick. She died within a few months, and he was arrested not long after and charged with armed robbery. While in jail, his grandmother died as well, he said. He was home for just a short time before he was picked up by police again. Now, though, he's set to graduate from Moore this year.
After being shuffled through the school and correctional systems, the welcoming environment at Moore felt different, he said.
"Every teacher is in my corner," he said. "They make me feel like family."
Shears has decided he's coming back to Moore as an intern next year — a surprise announcement that Principal Jada Langston said was news to her.
Bobby Davis Jr., 20, who said he "wasn't always the most promising student," estimated he had attended eight schools in D.C. and three in South Carolina (including a private school that scouted him to play football). It wasn't until he came to Moore, he said, that he felt the school staff was invested in him and college for the first time seemed like an option.
"I literally can't give this school enough praise," he told the roughly 15 EWA members during their tour of the school, citing supportive adults from the administration to teachers to janitors and cafeteria workers.
This fall, Davis is off to Allegany Community College in Cumberland, Maryland, to play basketball and start his higher education, which he hopes will lead to a career as a medical examiner.
"I want to be able to sit at the same table with the great medical examiners," he said. "I want to sit at that table and belong."
---
---
Support The 74's year-end campaign. Make a tax-exempt donation now.