In and Out of Class, These Top Teachers 'Thrive Off Connections' With Students
The Council of Chief State School Officers will soon name the Teacher of the Year
By Linda Jacobson | April 10, 2023
Teacher of the Year Nominees: (from left) Harlee Harvey, Jermar Rountree, Carolyn Kielma, Kimberly Radostits, Rebecka Peterson
Like many adults cooped up during the pandemic, science teacher Carolyn Kielma broke the tedium by learning something new. After a lightning-quick online ordination from the Seattle-based Universal Life Church Monastery, she became a licensed wedding officiant.
"I just love love," said Kielma, who teaches at Bristol Eastern High School in Connecticut and is one five finalists for 2023 National Teacher of the Year.
By chance, her first time leading a ceremony was the marriage of a former student. The two stayed in touch on Facebook after Andrew Michaud graduated in 2014. He didn't learn Kielma was a minister until he and his fiancée Jane began searching for a venue.
"I couldn't have drawn a more perfect hand of cards," Michaud said. "I didn't feel nervous standing at the altar because I'm just kind of hanging out with my favorite teacher."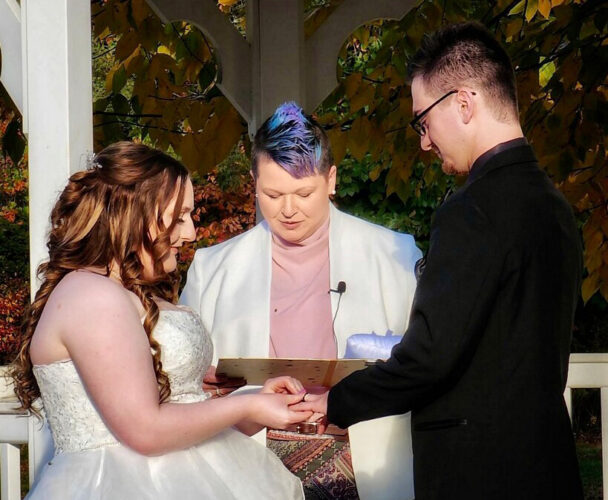 All of this year's finalists hold a similar place in the hearts of their students, parents and colleagues. While passionate about their subjects, and deeply skilled, they are perhaps best known for the relationships they've forged.
"I thrive off connections in my classroom," said Kielma, who teaches biology and sees a lot of the same students in her biotechnology and forensics elective. "The students won't work for me if they can't connect with me."
This month, the Council of Chief State School Officers will name one of these five state teachers of the year the national winner. That educator will serve as an ambassador for the profession, speaking across the country and focusing on an issue that defines them as a teacher.
Kimberly Radostits of Illinois mentors ninth graders to help them get a strong start in high school. Jermar Rountree from the District of Columbia helped build an afterschool program where students can learn fencing and cooking. Rebecka Peterson of Oklahoma helps administer a blog where educators highlight the positive side of teaching, even when it's hard to find. And Harlee Harvey has immersed herself in the culture of one of the most remote places on earth — the Alaskan tundra, accessible only by bush plane.
Harvey teaches first grade at Tikiġaq School, which serves a native whaling community in Point Hope, a narrow peninsula that juts out into the Chukchi Sea. After growing up in Fairbanks, where she went to the University of Alaska, she felt drawn to teach in the rural Iñupiaq village.
Most educators there don't last long.
The school is "constantly restarting," Harvey said. "We've had a new principal just about every year."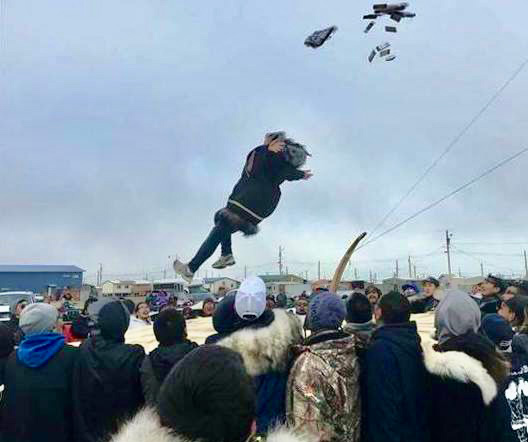 In the spring, children often hunt with their parents for bowhead and beluga whales. The resulting bounty forms the centerpiece of the village's spring festival and can feed families for months. Harvey designs culturally relevant lessons on topics such as ice fishing and how Native Alaskans melt ice and snow to make water in winter.
"The big push is framing education through their worldview," Harvey said. "If there's a story about going to the market and buying watermelon — they don't do that out here."
Harvey consults with Molly Lane, the school's librarian, on hunting seasons throughout the year, blending facts about bearded seals, caribou and other animals into her lessons. Her attention to enduring traditions reflects broader efforts in the North Slope Borough School District, which includes Tikiġaq School, to infuse the students' culture into the curriculum.
The year Harvey took charge of the yearbook, for example, she included students' Iñupiaq names along with their English ones.
"That had never happened before," said Lane, who has had three children taught by Harvey. "So many people appreciated her effort in getting the names spelled correctly."
'An outsider looking in'
Earning students' trust, as Tulsa's Peterson learned, is all about vulnerability. Born in Sweden to a Swedish mother and Iranian father, the Union Public Schools math teacher likes to share her experiences living in four countries before arriving in the U.S.
"As a child moving that much," she said, "I always felt like an outsider looking in." About six years ago, she began sharing her story with students and inviting them to meet with her one-on-one to tell theirs. The experience, she said, has "transformed" her classroom and made students more willing to speak up about their needs.
Daniel Flores, a senior who took Peterson's Advanced Placement Calculus class in 11th grade, said he initially felt unsure of himself after a rocky experience taking pre-calculus remotely during the pandemic.
"She assured me that we would work through it. We did. She answered every question I asked," said Flores, who will attend Stanford University on a full scholarship this fall. "I have always had a strong support system in my family, but Mrs. Peterson stood out in the way she made her classroom a little home for every one of her students."
The past three years have been some of the most challenging many teachers have ever experienced. But in the One Good Thing blog, Peterson always finds an encounter or observation worth celebrating. Entries include the time a student wrote her a kind note after her husband's grandmother died and when she teared up watching members of the school's football team perform in a musical.
"It shifted my mind as a teacher to be intentional about adding meaning to those small beautiful moments," she said.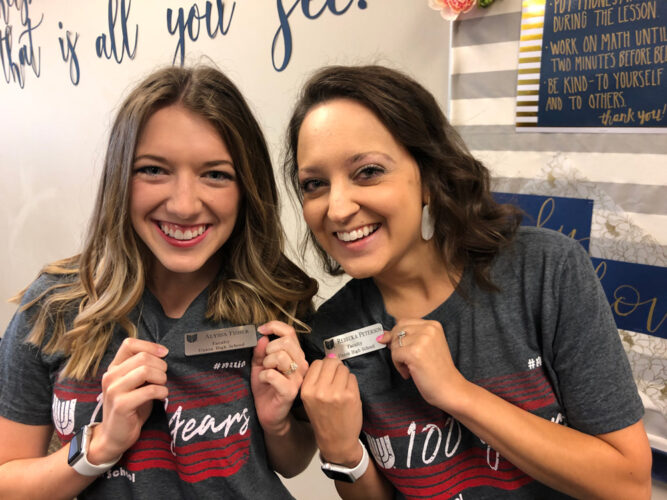 'The most heartwarming thing'
Radostits, a Spanish teacher at Oregon High School, in a rural area east of Chicago, has the same outlook toward students in her Hawks Take Flight mentoring program, which she launched with colleagues in 2008. The program's weekly afterschool sessions target students who struggled with absenteeism or missing assignments when they started ninth grade. 
They discuss what's going well and where they get stuck. If the students meet their goals for the week, they earn incentives, like an extra $5 on their meal accounts.
"I love teaching Spanish, but honestly my content is just a vehicle to connect with students," she said. "These kids become another part of my family." When COVID closed schools in March 2020, the program took a pause, but the mentors still offered individual support. Those one-on-one Google Meets often turned into group homework sessions.
"It was the most heartwarming thing for me," Radostits said. "I thought they were going to go rogue on us and they didn't."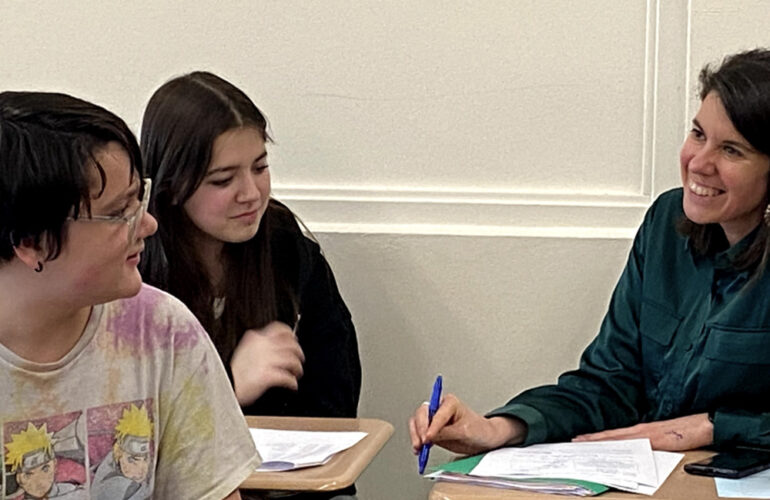 Radostits knows that research shows freshmen who are on track academically are more likely to graduate on time. Rather than relying on teacher recommendations to identify students who needed mentoring, she pushed for a more data-driven approach. She turned to Adam Larsen, assistant superintendent in the Oregon Community Unit School District, who helped to develop an early warning system to detect which students might need extra help. Sixteen schools outside the district have since adopted it.
"We ultimately wanted to be laser-specific about finding kids who were at-risk of dropout, not necessarily the ones who were causing the most visible problems in class," Larsen said.
'They miss me'
Radostits is on a sabbatical this year, but she's still mentoring students. Being a statewide winner can leave teachers feeling torn. Even if they're still teaching, they often take time off for speaking engagements and conferences.
"They miss me, and I miss them," Rountree, a physical education teacher, said about his students at Center City Public Charter School's Brightwood Campus. He said it's especially hard to keep his pre-K students in a routine when he's out.
Noticing that the pandemic left many students feeling isolated or quick to anger, he takes time in class to let them air frustrations and share what makes them happy. When they come to P.E., they grab a clothespin to indicate their feelings — red for angry, blue for sad, yellow for OK and green for happy.
"Isaiah loves Coach Rountree," Toya Newton said of her youngest son. "He comes home explaining the different activities."
The 10-year-old recently brought home some sticks the class used to bang out a rhythm on the floor. Rountree said Isaiah asked to practice drumming at home. Newton's oldest son Eric had Rountree for flag football, and she especially appreciated the coach taking his class across the street to Walmart to explore healthy meal portions and learn to read nutrition labels.
"My son was overweight," she said. "Now he's playing flag football in high school and his weight is perfect."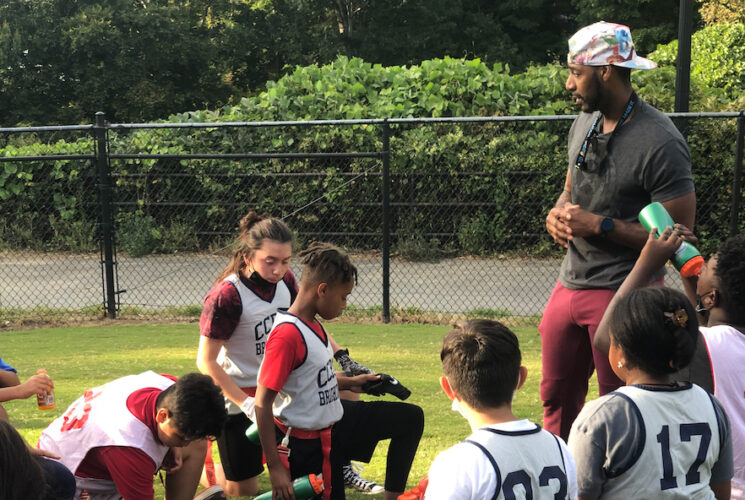 Rountree seeks help from community organizations in D.C. to address other needs — partnering, for example, with Breadcoin, a nonprofit that provides meal tokens that families can use at participating food trucks or restaurants throughout the city. And he helped launch an afterschool program featuring nontraditional activities like boxing and learning Japanese.
As if Rountree weren't busy enough already, he also stepped in this spring to serve as stage manager for the school's first musical since the pandemic — "Annie Jr."
"I just want to make sure my kids get it all," he said.
Support The 74's year-end campaign. Make a tax-exempt donation now.