Immigrant Educators Helping Immigrant Students Through Coronavirus: Maria Rocha, One of 2,000 Texas Teachers Covered by DACA, Is Turning Her Anxiety Into Advocacy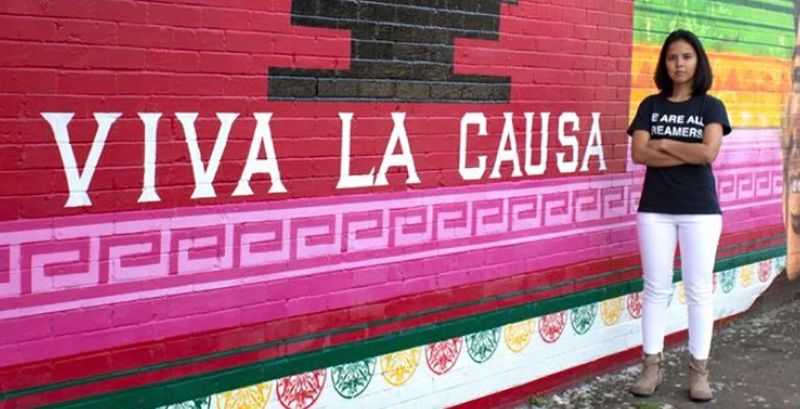 San Antonio second-grade teacher Maria Rocha knows the uncertainty facing many immigrant students. As a Dreamer who grew up in the Texas Hill Country, she lived it.
She still lives it, really, she said. Even with this summer's DACA decision from the Supreme Court, life as an undocumented immigrant in the United States is never a sure thing.
Last month the Trump administration announced it would not allow newly eligible Dreamers to enroll in the program, and would reduce the renewal cycle from two years to one. For as long as the administration makes immigration central to Trump's re-election campaign, Rocha knows that undocumented Americans and their families are in for a roller coaster.
"I can't think long term," Rocha said, comparing her situation — even before the latest revision — to those of her peers with "five-year plans" and "long-term goals."
When school starts — first online and eventually in person — she will have to manage her own uncertainty as she creates a stable classroom for kids whose lives have been upended by the pandemic. In many ways, her own challenges are the source of the empathy they need just as much, she said.
Rocha will be in a more secure place than she had feared going into summer. She breathed a sigh of relief when the Supreme Court declared that Deferred Action for Childhood Arrivals would withstand the Trump administration's efforts to end it.
She and the 2,000 other Texas teachers covered by DACA are safe — for now.
While she considers the impact of the Trump administration's latest maneuver, she's still advocating for those left out of DACA, including the families of some of her students.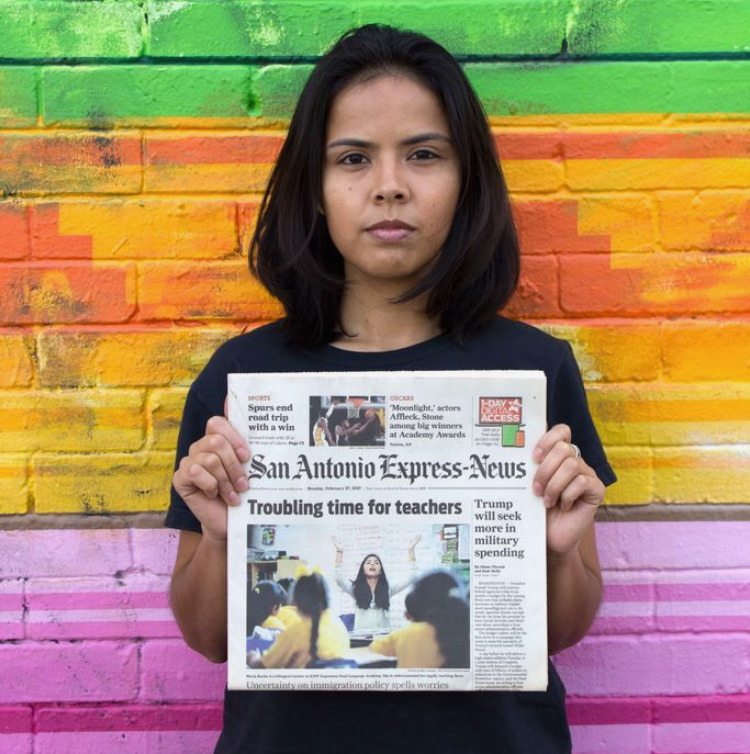 The steepest challenges for families during COVID-19 — online learning, economic security and health care — are steeper still for families with mixed or no legal status. As she looks forward to school starting again in San Antonio Independent School District, Rocha is keenly aware of the risks undocumented immigrants face especially now as they balance economic and physical security without the same protections and benefits as their citizenship- and visa-holding classmates.
She knows this firsthand. Growing up, her parents worked without documents on a ranch in the Texas Hill Country. They never had insurance or driver's licenses. Everything was more difficult for Rocha's family than it was for her classmates.
"Seeing how much [my parents] were able to accomplish a lot gives me that strength to keep up my day-to-day," she said.
Immigrant families have another ally in SAISD as well: Superintendent Pedro Martinez.
Martinez emigrated from Mexico as a child, and he feels a bond with families not only from Latin American countries, who make up the majority of the district's immigrants, but with the growing number of Afghan families and other refugees. He views them as partners who hold the district accountable, he said: "Our immigrant families have such a strong value system and such a passion for education."
They will demand high-quality instruction whether online or in person, he said.
For families whose first language is not English, online learning has been a particular challenge. Even if the lessons are translated into Spanish, Vietnamese or Urdu, the apps and online learning platforms often use English for directions and navigation. Tech support must be translated as well, Rocha said.
Rocha remembers the insecurity she felt learning a new language, and she wants to be able to support her dual-language students in the process. Her new students won't meet her in person until at least four weeks into school, and there will be a lot of listening at first, a lot of triage.
"We don't know what their summer looked like," Rocha said. They won't know whose family members fell ill. Who was read to daily. Who accessed the district's Digital Learning Playground. Who regularly went without meals.
Once kids are welcome back into classrooms, Rocha said, the health risk is likely to be greater among undocumented families who do not have insurance. COVID-19 can infect anyone, but access to health care is vastly unequal. "Going to the doctor is not something that we commonly use in this community," she said.
SAISD wants to assure parents that safety precautions are in place, Martinez said, and prevention can't be the only plan. San Antonio's University Health System is running clinics in district middle schools and coaching school nurses on how to efficiently refer patients to appropriate facilities for non-COVID issues while hospitals are overwhelmed.
Health care capacity is likely to get worse, Martinez said, as is the economic situation for immigrant families.
Many immigrants work in hard-hit sectors of the U.S. economy, and those without documentation are not eligible for the CARES Act. Connecting them to local rent, grocery and utility assistance has become a full-time effort for SAISD's Department of Family and Community Engagement.
It would be great, Rocha said, if San Antonio would follow Chicago's lead and provide local funds to aid those ineligible for the CARES Act.
Her second-graders aren't the only students on Rocha's mind, either. Even if newly eligible high school students are not allowed to enroll in DACA, she wants her district and others in Texas to push them toward college. Texas is one of 15 states that offer in-state tuition to undocumented students. College advisers need to help them seize that benefit even with uncertainty mounting, Rocha said.
Rocha does not bring her political activism into class, but she does see herself as an advocate for each of her students. Helping students find their own voice is part of the work, she explained. She always tries to draw them into more participation, whether sharing their opinions, trying out new vocabulary or telling family stories.
Academics will eventually catch up, she said, but only if health and security come first.
"Whatever they say is safe in the classroom," Rocha said, "we need to make sure everybody is on the same social and emotional wavelength."
Get stories like these delivered straight to your inbox. Sign up for The 74 Newsletter