Imagining a 2020 March Madness Bracket — for Social Mobility. Here Are the Colleges Best at Guiding Students Up the Income Ladder
By Jorge Klor de Alva | April 2, 2020
While the coronavirus pandemic dominates the headlines and millions — fearful of infection — are isolated at home, it may seem insensitive to draw attention to March Madness. With basketball courts, stadiums, tracks and gyms silent, it may even appear callous. But we can all use a distraction, and March Madness is a national spring ritual that we are all missing. So, in place of the canceled tournament, we have fashioned a 2020 NCAA men's Division I basketball competition, as both a diversion and a way to explore what colleges that excel in basketball do for their low-income students — in addition to giving them reason to cheer for their team.
For the past three years, we have used March Madness to introduce a different way of looking at the schools that make it to the Big Dance. Each year, we have compiled an alternative bracket that plots how well colleges that participate in the tournament succeed in putting their students on the path to the American Dream of financial security.
This year, because the NCAA did not name the 72 teams that would have been in the tournament, we have picked teams on the strength of computer simulations, truncated conference rankings and the speculations of widely read bracketologists. This means we have probably selected some schools that would not have been in the mix and left out some for which we should apologize to their fans. However, for college basketball enthusiasts who followed the shortened season, few of our choices are likely to be a surprise.
As we noted in our introductory column, we plotted the selected teams on a bracket that represents how well they do in what we call an adjusted mobility rate. This is focused on an important but fading aspect of the American Dream: how well students do financially in comparison to their parents. In effect, we determine winners and losers in our bracket by who does better at promoting intergenerational mobility. We used the data set created by the Harvard-based Opportunity Insights project to calculate a mobility score for each competing school. This represents the percentage of students who attended the college at some point in the early 2000s, as 19- to 22-year-olds, who came from households in the bottom 40 percent of the income distribution and who by 2014 had reached the top 40 percent of earners in the nation. In effect, our parallel Social Mobility Bracket maps each school by how well it prepared low-income students to secure relatively high earnings as adults.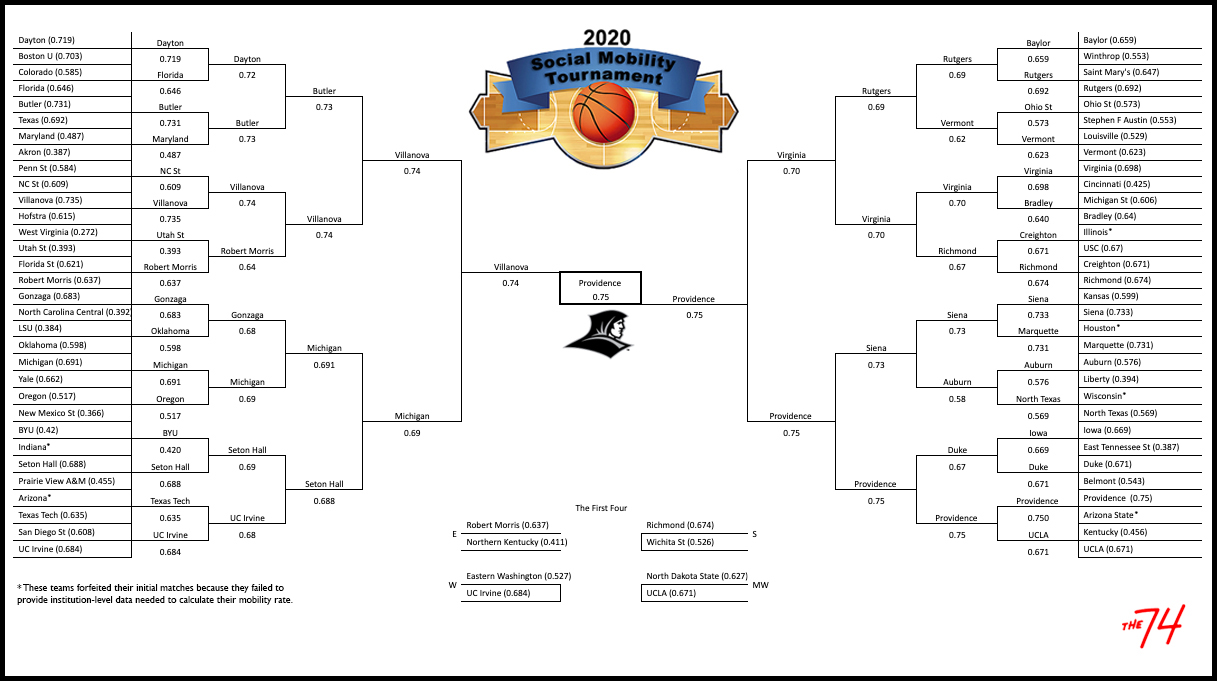 Unfortunately, six of the schools — Indiana, Arizona, Illinois, Houston, Wisconsin and Arizona State — although they would likely have made it to the tournament, had to be marked as having forfeited their games in Round 1 because there was insufficient information on them in the Opportunity Insights data set.
So how did the other schools, to which so many students are drawn because of their basketball prowess, do in advancing the financial well-being of their low-income students?
The remaining schools in Round 1 enroll about 1.3 million students. Of these, 28,800 came from households in the lowest 40 percent of the income distribution. Of these students, 16,300 came from households with limited resources but managed to reach the top 40 percent of earners by their early 30s — an impressive 57 percent.
That's not bad. But take a look at the colleges that advanced to the Sweet 16 in our Social Mobility Tournament. Of the 4,200 low-income students at these schools — Dayton, Butler, Villanova, Robert Morris, Gonzaga, Michigan, Seton Hall, UC Irvine, Rutgers, Vermont, Virginia, Richmond, Siena, Auburn, Duke and Providence — 2,850, or more than two-thirds, reached the upper tiers of earners.
As in previous years, this level of mobility success is not limited to a specific type of institution. Some of the Sweet 16 schools are very large: Michigan, UC Irvine and Auburn enroll tens of thousands of students. Some are quite small: Providence, Robert Morris, Richmond and Siena educate fewer than 5,000 students. Half of the schools admit 50 to 75 percent of applicants, three admit 75 to 85 percent of applicants, and three — Gonzaga, Providence and Vermont — admit fewer than one-third of applicants. In addition, six colleges are public and 10 are private. Some, such as Gonzaga and Providence, are religious, while others, like Butler and Robert Morris, are not.
But what these 16 schools have in common, besides highly competitive basketball teams, is an unusually strong commitment to getting their poorest students across the finish line. Ten of the schools graduate 75 percent or more of their students within six years; six of these have graduation rates of over 83 percent. Since American colleges in general graduate only about 60 percent of their students in six years, these schools are all doing a superb job.
Because graduation rates are the single most important factor leading to upward mobility, our Sweet 16 have impressive mobility scores. Except for Auburn (0.58), all the schools manage to get more than 60 percent of their students to the top 40 percent of earnings. And six of these champions have mobility scores above 70 percent.
The Wildcats of Villanova and the Friars of Providence battled it out for the final trophy in the 2020 Social Mobility Bracket, with Providence, sporting a mobility score of 0.75, the winner. In another set of calculations we performed on these teams, Providence would also have won the championship round — but this time by beating the Bulldogs of Butler University.
These calculations employ regression analysis to examine which colleges achieve mobility rates above or below what would be expected given the school's characteristics, demographic makeup and location — all factors that affect mobility rates. This approach permitted us to predict the mobility scores of the colleges in the bracket and to compare these to the institution's actual mobility score. A positive difference between the predicted and actual score indicates that a school has higher mobility rates than expected. A negative value suggests the opposite: that the college performs below expected levels.
Using this methodology, nine of our mobility bracket's Sweet 16 teams would be replaced by teams whose actual mobility score was higher than would have been expected, given their characteristics. For instance, the predicted mobility score for Seton Hall is 68 percent, but its actual mobility score is 69 percent — a mere 1 percentage point higher than expected. Meanwhile, Prairie View A&M, which lost to Seton Hall in Round 1, is 2 percentage points higher than its predicted score. More striking is the difference between Vermont and Louisville, with the former being 1 point below predicted and the latter 7 points better. Although these differences may appear small, basketball games are often decided during March Madness by only a point or two — with momentous consequences!
In sum, however well or poorly their sports teams fare on the court, some colleges are better than others at propelling their students from low-income households to family-sustaining wages. Some colleges located in economically depressed areas — where we would expect them to have low mobility rates — do better than their peers and sometimes even better than schools in more affluent locations. Much goes into making the success of their students possible, but winning sports teams are not part of the formula. However good their teams are, those schools that lead their low-income students to fulfill their dreams deserve to be celebrated loudly, and frequently, especially during the nightmare we are currently experiencing.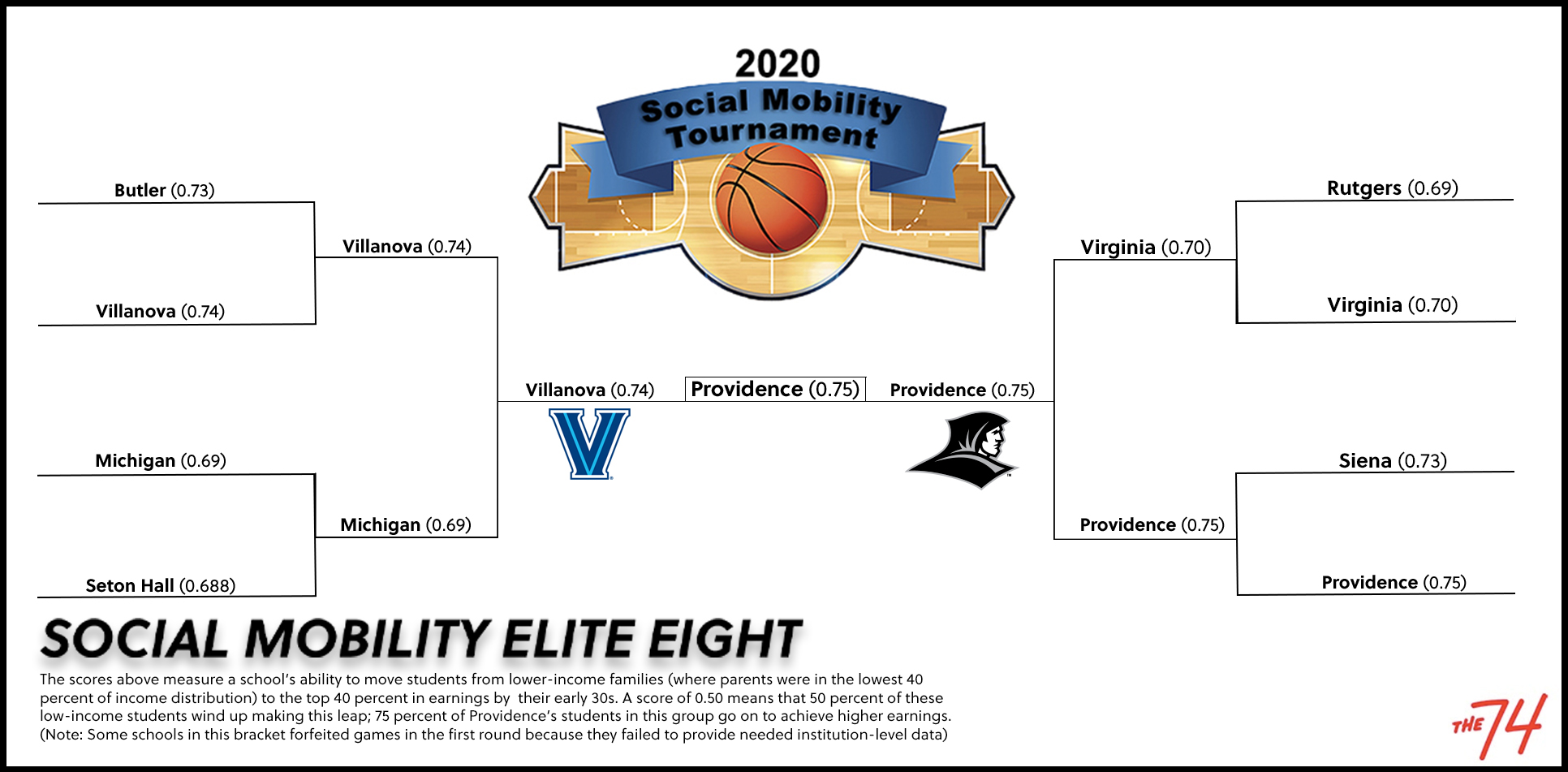 Jorge Klor de Alva is the president of the Nexus Research and Policy Center. He was previously a senior executive at Apollo Education Group, Inc., a professor at Princeton University, and the Class of 1940 Professor at the University of California, Berkeley.
Get stories like these delivered straight to your inbox. Sign up for The 74 Newsletter