I'm Not Abandoning Our Parents: A Washington Charter Leader Reflects on Two Tumultuous Weeks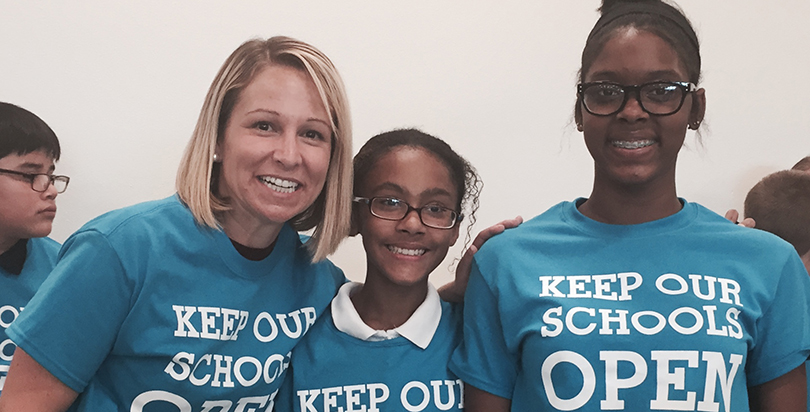 The Seventy Four reports on the Washington Supreme Court decision: Read our complete coverage
Jen Wickens, chief regional officer for Summit Public Schools Washington, helped launch a pair of the first public charter schools in Washington state history. On Sept. 4, the state Supreme Court ruled that charters violate the state's constitution because an appointed board or nonprofit organization runs them — not an elected school board. Since then, Wickens and other advocates have been fighting back against the shock to their school system. This is her story, as told to The Seventy Four's Mark Keierleber.
We had been operating for three weeks. We opened our doors on Aug. 17 with ninth graders at both Summit schools, with long waitlists of families still hoping to get in, and excellent teachers who had trained all summer long. We had a phenomenal launch — our schools were just electrifying, buzzing with energy, hope and vitality.
We have one public charter school in Seattle and one in Tacoma. We received twice as many applications as needed at both schools, so we opened with a waitlist. We opened with 125 students, roughly, at both schools.
We had just successfully completed the long, rigorous authorization process for a third school — a middle and high school — in West Seattle, which was approved unanimously by the commission and was set to open in the fall of 2016. Part of the application process is a community forum where hundreds of families in West Seattle come out to show support.
The news of the Washington Supreme Court ruling came down around 4 p.m. on a Friday before a three-day weekend. I was actually in Disneyland with my little girls, but as soon as the news hit, I didn't leave my hotel room the entire weekend. Instead, I worked with my colleagues at Summit Public Schools researching alternative options.
While we were devastated by the ruling, we were also committed to every single Summit family and the promise we made to them.
Some might think with a court ruling like this that the state is critical of public charter schools. But that couldn't be further from the truth. Charters are over-subscribed here in Washington. We don't have enough space to meet the demand of families who want to make the best public school choice for their children.
It is truly unprecedented what happened here in Washington State, and the timing of the court decision is completely unacceptable, leaving families for the long weekend feeling unsure and abandoned. We felt strongly that we wanted our families to know: There are viable pathways to remaining open while we fight for public charter schools in Washington State for the future.
There were two huge rallies a week ago — one in Tacoma and one in Seattle — for the entire public charter sector. We hosted the Seattle rally at our Seattle School, Summit Sierra, and across the two cities, 1,000 people came out. Our student founders read op-eds and letters to the governor that expressed their fear and sadness. It was really powerful to see so many people coming together chanting "Save Our Schools! Save Our Schools!"
We are so humbled by our students and families, both for what we have created together and in what they have invested into our Summit community. They want, and deserve to have, a great public school. We will remain open for the entire school year. Nothing will change for our students, parents and faculty. We will continue to provide a high-quality, personalized and free education — the same exact program that our community has received since we opened our doors over a month ago.
It's important to remember: We have a heterogeneous model at our schools, truly representing the districts and communities we're in, with 78 percent students of color in Seattle and 82 percent students of color in Tacoma, and we operate with one track in mind here — and that's college for all.
This Wednesday, we are hosting a Celebration of Learning, where we're bringing in legislators, media, and key community leaders to tour the school, get to know our teachers, and listen to a panel of parents and students. The idea here is: "Come see a high quality public charter school in action in Washington" and we hope that is powerful in making the stakes clear to keep our doors open for years to come. Keep our public charter schools open!
Get stories like these delivered straight to your inbox. Sign up for The 74 Newsletter