'I'm Just a Teacher': Hero Educator Cares for Student's Newborn Brother When His Whole Family Gets Sick From Coronavirus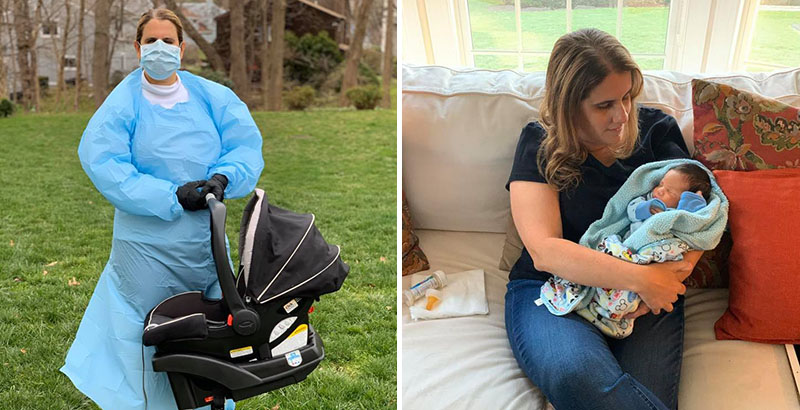 This article is one in a series at The 74 that profiles the heroes, victories, success stories and random acts of kindness found at schools all across America. Read more of our recent inspiring profiles at The74Million.org/series/inspiring.
Let's say you're in a foreign country, seriously ill with COVID-19 and in labor with your second child. Who do you call for help?
Your son's teacher.
That's what Zully, an immigrant from Guatemala who is living in Stamford, Connecticut, did, the Daily Mail reported.
Panicked, sick and needing help with translation, Zully called Luciana Lira, her son's bilingual teacher at Hart Magnet Elementary School, on April 4. Zully asked if Lira would come to Stamford Hospital, where Zully was about to deliver, and help her husband, Marvin, who speaks no English.
But the family needed more than language assistance. Marvin suspected that he and 7-year-old Junior also had COVID-19. He was terrified of taking the newborn home.
No problem, Lira said. She would care for the infant.
For weeks, while Zully was on a ventilator and Marvin and Junior were quarantined at home with the coronavirus, Lira did just that. She made a makeshift nursery in her home and cared for baby Neysel, who was delivered by C-section five weeks early but was perfectly healthy.
Joy Colon, a fellow teacher and Lira's friend, told the story in a Facebook post.
"The nurses at the hospital asked my friend if she was the mother's sister, or perhaps, a cousin as she was listed as the primary contact," Colon wrote. "Luciana Lira responded, 'I'm just a teacher.'"
"She had only known this family since the beginning of the school year, and it was only because their 7-year-old was her student," Colon wrote. "They were virtually strangers to one another. And yet, my friend did what truly good people do. She said yes."
"My retelling cannot do justice to the sound of my friend's voice as she shared the details of the events," Colon wrote. "This is not what anyone imagined. Essential workers are out there working every day. We're all at home, working and groping for an understanding of this new normal that caught all of us off guard. But this unselfish act reminds us that our humanity makes us all essential … to each other. How will each of us respond when we are asked to simply show up and help."
Zully was taken off the ventilator April 19 and got to see her baby for the first time on a video call.
Lira posted an update on her Facebook page April 26:
"I received an unexpected call from Stamford hospital at 2:45 PM yesterday," she wrote. "They informed us that Zully would be discharged in a couple of hours! My heart almost exploded of happiness and anxiety. I could not believe the day we've been praying for was finally here!"
After three weeks in the hospital, Zully was released. She was taken home by ambulance.
"I can't wait for them all to test negative so they can welcome their almost one-month-old baby boy home," Lira wrote.
In the meantime, Lira wrote, she would keep caring for Neysel at her home until it is safe for him to meet his mom, dad and big brother.
Support The 74's year-end campaign. Make a tax-exempt donation now.