If It Cannot Be Wise, It Must Be Sensible: Judge's Withering Words on Connecticut's Public Schools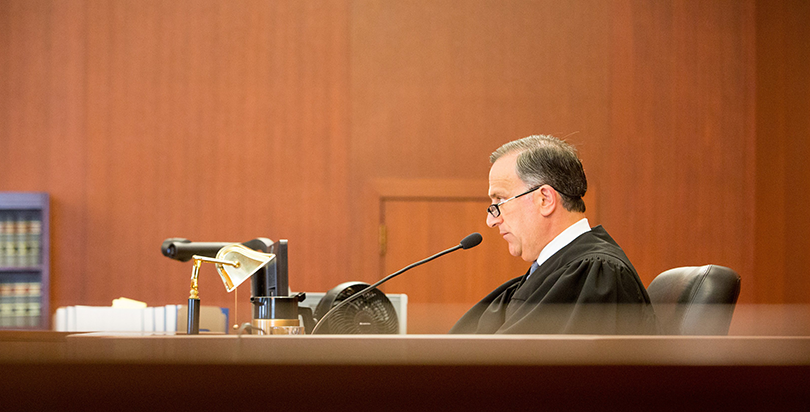 The following are among the most interesting and important aspects of the Connecticut court ruling that promised to send shockwaves through the state's education establishment. The full decision is available here.
Total state spending on schools: No constitutional crisis here
"No witness or document suggests that children lack desks, chairs, pencils, and reasonably current textbooks either. Again, there is some anecdotal evidence that teachers in some schools find themselves using older textbooks and some teachers buy supplies. But there is no proof of a statewide problem caused by the state sending school districts too little money. Many teachers supplement their materials from internet sources and most children have some access to computers. There are certainly some hardships with computers and significant disparities in computer access, but against a minimal standard the plaintiffs have not proved by a preponderance and certainly not beyond a reasonable doubt that there is a systemic problem that should spark a constitutional crisis and an order to spend more on school supplies."
The school funding formula: A great distance between rich and poor
"But a plan that spends a lot of money and is not entirely irrational is still not a rational plan. Without consciously and logically marshaling education aid — if the legislature can adopt principles and then ignore them — the state cannot be said to have a formula at all, not to mention one that takes seriously the [Connecticut] Supreme Court's insistence on 'a program of instruction rationally calculated to enforce the constitutional right to a minimally adequate education.' The General Assembly may have the power to decide how much to spend on education, but the state cannot afford to misallocate it or hide its spending priorities from scrutiny. Without a defensible and discernible plan, no one can be sure what the state is delivering and what lines it may not cross."
…
"Gaps in school resources are grappled to gaps in school results. While reason is needed for an important constitutional action regardless of results, achievement gaps in Connecticut certainly can explain the stakes. The distance between the rich and poor students in this state is great enough to remove any doubt about the importance of being careful to send money where it is most needed."
High school graduation standards: State couldn't even get that job done
"In the end, the state admits it needs new graduation standards. But on this and other subjects it says it's working on the problem and should be free to keep trying. Unfortunately, the 'work' the state cites on graduation standards only highlights its paralysis, not its progress.
"In 2015, the General Assembly launched a task force to study aligning high school graduation requirements with the state's new common core standards. The task force decided that high school graduation standards needed an 'urgent overhaul.' It called for the new standards to have 'rigor,' 'alignment,' and reflect '21st Century skills.' But it spoke mostly in generalities, and while it said 'mastery' is more important than 'seat time,' the only thing it suggested doing about mastery was weakening year-end mastery tests expected to acquire force in 2020. In fact, on the various graduation pathways it envisioned, the task force never suggested any way students would have to show they have mastered high school material. In the wake of this wobbly logic the report made the puzzling disclaimer that 'the task force wishes to make it very clear that it is not denigrating the importance of acquiring academic knowledge and skills.'"
"This seems obvious grounds for relief. And the task force even saw fit to add that, not only were they good, but knowledge and skills should be pursued 'rigorously.' Still the whole thing suggests the report was some kind of spoof. The task force certainly took nothing away from that impression when its biggest thought on how to fix the problem turned out to be another task force. But the state couldn't even get that job done. In 2016, any prospect for another task force along with hope for improved graduation requirements died in a legislative committee — without even a vote."
Teacher evaluation system: Complex but not serious
"The first problem is a dysfunctional evaluation system. Despite a lot of talk, teacher evaluation is still almost entirely local and the state standards are almost entirely illusory. This has left virtually every teacher in the state —98% — being marked as proficient or even exemplary while nothing in the system and no one in the case indicated these results are useful or accurate. The state insists that many schools across the country suffer from this problem, but — as we all learned in school — others doing something wrong is hardly an excuse.
"An inflated teacher evaluation system, like a graduation or grading system where everyone succeeds, is virtually useless. A virtually useless evaluation system is constitutionally inadequate to undergird the state's largest financial commitment to education. As with the other key points, students can't receive a constitutionally adequate educational opportunity when something of this importance to schools has no rational, substantial, and verifiable connection to effective teaching."
…
"In the end, the State Board of Education set its teacher evaluation standards in capitulation to [the state evaluation committee] rather than in consultation with it. The instrument of surrender was a series of guidelines and a sample called the System for Educator Evaluation and Development or 'SEED.' The first article of the surrender is that schools don't have to use SEED at all. They can come up with their own system and use it so long as the Department of Education approves it as meeting the guidelines.
"The main surrender is in the guidelines. Perhaps its authors thought people would assume the guidelines were serious simply because they are so complex. They certainly are complex, but they are not serious."
…
"The state's teacher evaluation system is little more than cotton candy in a rainstorm. Everything about it suggests it was designed to give only the appearance of imposing a significant statewide evaluation standard. These empty evaluation guidelines mean good teachers can't be recognized and bad teachers reformed or removed. As Superintendent Rabinowitz testified, these failures are integral to the daunting task she faces in trying to weed out teachers holding her system back. They run counter to the spirit if not the letter of the Every Child Succeeds Act. And they make a mockery of years of work the state has put in perfecting goals for students and the yardsticks to measure them against. Why bother measuring how students are doing if it never has any direct connection to how they're being taught?
"Beyond a reasonable doubt the state's teacher evaluation system creates no rational, substantial, and verifiable link between teacher evaluations and student learning. It's not merely a matter of the standard being weak. The standard fails the constitutional test because it doesn't even honestly do what it says it's doing."
Special education: Getting picked based on pressure
"Bridgeport Superintendent Rabinowitz said her district spent around $75 million on special education in 2014-15 and got just $1.5 million of it from the federal government and $4.8 million from the state. Because the law makes her spend whatever the IEPs require for special education children, she has less to spend on other children. At great expense — a single student's care can cost $100,000 or even $200,000 — Bridgeport cares outside of the district schools for roughly 300 children that might be called multiply-disabled and incapable of being educated within the system. According to East Hartford Superintendent Quesnel, the only children he's spending more money on each year are children in special education. For years zero-increase budgets for his school system have left him constantly stripping resources from the student population as a whole to meet those things like special education over which he is powerless.
"There are two problems with special education serious enough to warrant constitutional concern. First is the problem of spending education money on those in special education who cannot receive any form of elementary or secondary education. Second is the evidence that shows that getting picked for special education in this state is mostly arbitrary and depends not on rational criteria but on where children live and what pressures the system faces in their name."
The weight of his decision: Change must come
"This case has been fought over for more than 11 years. It started in Superior Court in 2005 and the [Connecticut] Supreme Court sent it here for a trial nearly seven years ago. After the parties spent countless hours gathering evidence and the court heard many motions, it has had 60 days of trial stretching over a six-month period. Over 5,000 exhibits were marked and thanks to nearly 2,000 fact admissions they were whittled down to 826 full exhibits. Over 50 witnesses testified, including nearly 20 education and financial experts. Thousands of pages of briefing have been filed and studied. The court has made 1,060 individual findings of fact in an appendix to this decision.
"So nothing here was done lightly or blindly. The court knows what its ruling means for many deeply ingrained practices, but it also has a marrow-deep understanding that if they are to succeed where they are most strained schools have to be about teaching children and nothing else. If they are to succeed rather than be overwhelmed by demands for alternative schools, public schools must keep their promises. So change must come. The state has to accept that the schools are its blessing and its burden, and if it cannot be wise, it must at least be sensible."
Get stories like these delivered straight to your inbox. Sign up for The 74 Newsletter