'I Will Be Your Valentine': Navy Dad Surprises His 2 Daughters at School After More Than a Year at Sea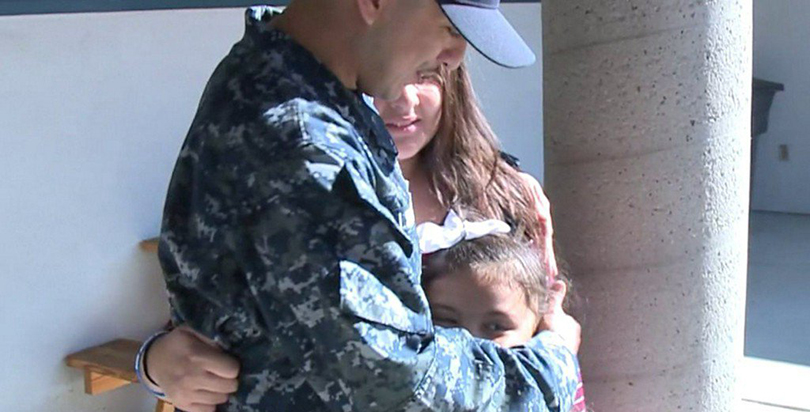 This article is one in a series at The 74 that profiles the heroes, victories, success stories and random acts of kindness to be found at schools all across America. Read more of our recent inspiring profiles at The74million.org/series/inspiring.
Abella Aleman was intently reading her first-grade class a Valentine's Day letter about her love for her dad, Omar, a Navy sailor who had been deployed overseas for more than a year. So intently, she didn't even notice when
he crept into her Rancho San Diego Elementary School classroom
and stood behind her chair.
As she wrapped up her letter with, "You are the greatest dad because you are so special. I miss you and I love you. Thank you for being my dad. Will you be my valentine?" a familiar voice — much to her surprise — answered, "I will be your valentine."
As captured on video by
Fox 5 San Diego
, Abella called out, "Daddy!" and rushed to hug her father. The tears started to flow, and Abella pronounced the embrace "humongous."
But Aleman wasn't finished. He had another daughter to surprise — Alyssa, a student at nearby Hillsdale Middle School. As the kids there prepared for the start of a counseling assembly, Aleman walked into the room with open arms and an enormous smile for his older girl. Alyssa jumped up and ran to give her father a tremendous hug, calling out, "Daddy!" with both excitement and confusion.
---
Military dad surprises daughters after being away for over a year https://t.co/vhxmKUIoOq pic.twitter.com/xngdU54VZb

— FOX 5 San Diego (@fox5sandiego) February 2, 2017
---
"I thought it was a dream. I was so surprised that he was actually here," Alyssa said. "I really missed him, and I just felt like life was more hard without him here."
The girls had expected to see their dad home in March. But Cupid brought them a Valentine's Day gift instead.
Support The 74's year-end campaign. Make a tax-exempt donation now.