'I Don't Think It's Fair to Go Through Life Without Help': New Mental Health Initiative Aims to Give Every Student Access to Immediate Therapy and Crisis Counseling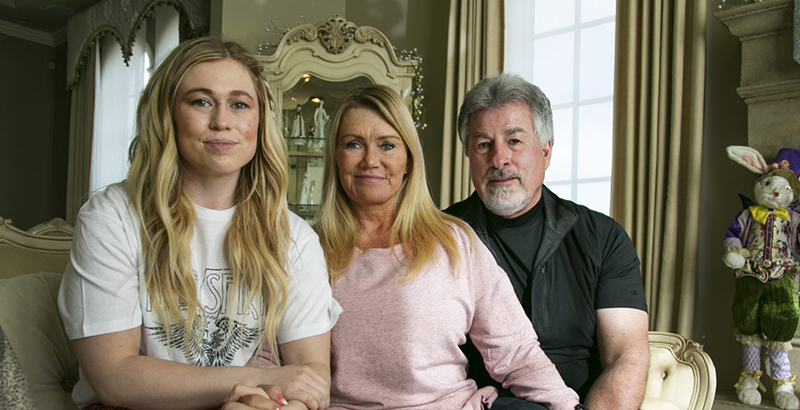 Get essential education news and commentary delivered straight to your inbox. Sign up here for The 74's daily newsletter.
Kẽa Shá Moon could hear it in her dad's voice. Something was wrong.
A middle school student in her hometown of Burley had taken his life. Kẽa didn't know the boy, or his family. But she knew his pain. It called up memories of her own suicide attempt at age 12, and the years struggling with anxiety and sadness before that. It took her back to the bullying that amplified her mental health struggles, and the terrible cycle of cutting and starving herself to try to feel some control over her emotions.
But Kẽa, now 23, made it out. She hadn't died when she tried taking her own life, and she didn't want to. By high school graduation she'd vanquished her darkest days, with the support of her family, the help of a therapist and years of hard work.
"My mental health struggles started at such a young age," Kẽa said. "I don't think it's fair to go through life without help. You need help."
Kẽa's experiences motivated her father, Cassia County school board member Darin Moon, to help other families struggling with mental health. In 2018, Moon and district spokeswoman Debbie Critchfield helped launch the Connect program, an initiative to get all Cassia County School District children access to free and immediate therapy.
Before Connect, it could take families weeks to get situated with a therapist. Now, a student just has to call a phone number where they can receive immediate crisis counseling, and set up an appointment with a local mental health professional. The school district pays for a handful of therapy sessions to start, and if a family needs more help, Connect can help them transition to long-term care.
"We have been to the bottom, and we have hugged each other, and gotten help," Darin Moon said. "We want other people who are struggling with this to know that there are better days ahead. The missing link for you is getting the professional help."
The Cassia County School District doesn't directly facilitate the Connect program, and doesn't know which students have enrolled in therapy. That makes it hard to track the kind of data that would indicate how Connect is impacting students' academic outcomes. Proponents of the program see its impact in the numbers, and the grateful calls and emails they get from parents. Since its inception at least 538 students in the 5,400-student district have accessed Connect therapists.
"We've gotten kids served who might not have ever been served," said Liza Castaneda, a counselor at Burley Junior High.
District counselors see Connect as a valuable tool to help students get help. But they say the pandemic is delaying students' access to therapists, and worry about children's transition to long-term care.
The Cassia County District Is No Stranger to Tragedy
Steve Copmann, a 26-year administrator at Burley Junior High, says he's watched student mental health needs intensify over the last two decades, exacerbated by social media. Bullying that used to end when a student got home from school is now a 24-7 digital reality. The district has suffered a handful of student suicides in recent years.
"There are family life issues happening with divorce and family members dying and some of that natural stuff that happens. Then you throw in social media on top of that and icing on the cake is this whole COVID deal we have going on, and it's a tragedy," Copmann said. "It's tough."
In its 2018 pilot year, Connect was funded for use in three schools, by about $30,000 in private donations. In 2019 and 2020 the program expanded districtwide, funded by $200,000 in contributions by local businessman Ryan Phipps.
"There are very proud people in the state of Idaho and it's hard to sit here and say, 'Hey, my child has mental health issues.' It's hard to bring that into the community — and it shouldn't be," Phipps said. "That's a big part of the reason why I said, let's talk about this. Let's do this."
Cassia County voters agreed to foot the cost of the program in a supplemental levy last year, Critchfield said. The $100,000 annual price tag evens out to about $1.50 per student, per month. The levy passed just before COVID-19 further intensified students' needs.
The district sent information about Connect to students and parents during school closures, and has given out magnets with the phone number in the hopes it'll be readily available when kids need it most.
But Connect saw a decline in students calling for help during the pandemic. Only 164 students called into the program in 2020, down from the 259 students who used the services in 2019.
"At a time when we know mental health issues are at the highest they've ever been in our country, we're not accessing this as much as I would like to see," Moon said. "I wish I had an answer for that…We should be using it more than ever."
Cassia County School District pays Utah-based mental health company Blomquist Hale to facilitate Connect. Intake specialists answer phone calls at any hour and connect families to local providers in the Burley area. Intake calls and therapy services are available in Spanish as well as English, Blomquist Hale business specialist Gia Bower said.
The program is anonymous, so Cassia administrators don't know which students use Connect. The program doesn't track race or ethnicity of callers either, Critchfield said, so the district doesn't know how evenly students from different demographic groups are using the service. Cassia County is about 34 percent Latino.
Cassia County does know that Connect callers have an average age of 12. Girls call in twice as often as boys. And most of the families calling Connect don't have insurance.
Castaneda, the Burley Junior High counselor, appreciates that Connect provides a bridge to get families into therapy, but worries about families' access to long-term care. Students without insurance, even some with Medicaid, could struggle to find a local provider if they need help beyond the districts' free bank of sessions.
"I just don't want that continuity of care to break. That's my concern, because that can be a bad experience with mental health counseling," Castaneda said.
Aimee Hurst, a counselor at Mountain View Elementary, said her families have generally been able to move seamlessly from Connect to long-term care if they need it. Her concern at the moment is that a flood of mental health needs during COVID-19 has created waitlists for local therapists. Connect students who used to be able to get to in-person care quickly have told her they are facing delays. If families aren't dealing with crisis situations, she suggests they try Connect's telehealth services, which sometimes offer quicker access.
Crtichfield said Blomquist Hale is working with local therapists on a solution to the delays. The district is starting to see an uptick in student calls again, after the dip in 2020, and Critchfield doesn't want students to encounter long wait times for therapy — one of the issues Connect was created to avoid.
Whatever its limitations, district staff say they've seen the benefits of the program.
One of the first students to use the program was a sixth-grader at Hurst's elementary school. He was struggling with suicidal thoughts, she said, and his single mom didn't have the means to pay for therapy.
"It was a huge blessing to be able to go to that mom and say: 'Here you go. This is one less thing you have to worry about. Just call the number,'" Hurst said.
This article originally appeared at Idaho Education News and is published in partnership with the Solutions Journalism Exchange
Get stories like these delivered straight to your inbox. Sign up for The 74 Newsletter