Analysis: After Disasters Like Harvey and Irma, the Road to a Child's Emotional Recovery May Start at School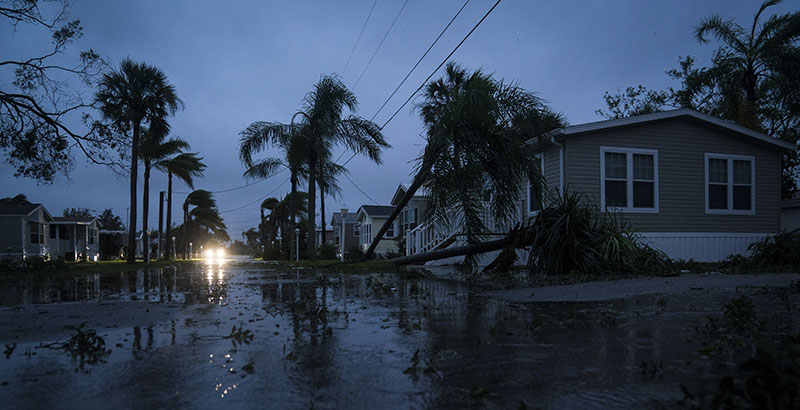 Andrew, Hugo, Katrina, Sandy, Harvey, and now Irma. We have some history in this country with educational systems striving to recover after they, and their cities, have been inundated with the devastating winds and rising floodwaters of hurricanes. Post-Harvey, the education headlines are focused on getting schools open and Houston's students in the doors. It's a critical start and consistent with stories that arose in the weeks and months after Katrina's devastating hit on Louisiana: Schools needed to reopen, teachers and students were displaced, school systems and policies were being reconceived. But the recovery process can't end with logistics, because the very children returning to these schools may present with varying symptoms of emotional trauma that could unfold over several years.
Natural disasters can abruptly detach children from the pillars that support their ongoing development and their everyday mental health: the care of families, the familiarity of communities, relations with their loved ones, their pets, their comforting belongings, and their daily rituals. Children can experience hurricanes and natural disasters as layered, large-scale traumas, and the pace at which the situation improves can be painful and slow. As they process their emotional distress, they may be required to do so in a new city, with unfamiliar people and routines. As a result, post-disaster, young children may show the same signs of post-traumatic stress we have historically associated with shell-shocked veterans of war, such as agitation, intense fear, anger, sadness, avoidance of people and places, withdrawal, and detachment. Adolescents may have their own version of these symptoms, showing irritability, engaging in risky behavior, and escalating conflicts with authority.
One year post-Katrina, half of the children surveyed in New Orleans qualified for referral for mental health services; a year later, over 40 percent still did. The symptoms, their severity, and their duration vary according to factors that are both intrinsic to each child and representative of their environment. Children who are younger, are female, or have experienced prior trauma are more vulnerable, as are those whose families experienced significant personal or property loss, who have been separated from caregivers, or who are living in temporary shelters. Children who have made emotional progress can experience setbacks when faced with triggers that are predictable but uncontrollable: thunderstorms, strong winds, and, naturally, hurricane warnings.
Schools and teachers have the opportunity to provide an early and, importantly, sustained role in the recovery process for children under these circumstances. They can't do it all, but given the significant support schools provide across a number of developmental pillars, they should recognize the assets they bring to bear. Many characteristics of high-functioning schools, designed to benefit the entire school community, are also well-suited for students with psychological distress. These include providing students with a sense of safety and community, fostering healthy relationships, and introducing and reinforcing positive routines and habits of mind. Within schools, children benefit from social supports that include interacting with professionals who see them daily, are sensitive to their developmental needs, and may be the first to identify signs of distress.
For students suffering from acute or chronic symptoms, schools may provide services through their own staff members and programs or through partnerships with mental health providers. Ensuring these services are easily accessed is critical in the post-disaster environment. Learning remains a priority in schools after a disaster, and for students struggling to engage and focus, their performance may suffer. This can become an additional worry for children that contributes to their long-term distress. But well-timed instructional responsiveness may provide academic and emotional dividends. In a study with post-Katrina students in New Orleans, when eighth-graders with test-taking anxiety and PTSD participated in an intervention targeted to minimize the test-taking stress, student achievement increased, test-taking anxiety decreased, and though not directly addressed, PTSD-related symptoms decreased as well. It seems that even as trauma impacts the many layers of children's lives — emotional, social, and academic — the interrelationship of these layers also presents a variety of entry points to recovery.
Educators consumed with the push to open school doors after recent devastation must address what is manifest: facilities, materials, transportation, teachers. They may be forgiven for not thinking deeply about the emotional needs of their students. (After all, there are well-meaning guides, created to aid schools with the disaster response process, that virtually ignore the psychological after-effects for children.) But we know better, and educators can benefit, through this country's recent history with disaster, from the work of researchers, and from organizations developing resources designed specifically for schools. These include: 
• National Child Traumatic Stress Network: Schools can access background research, succinct guides, and toolkits in English and Spanish that provide a basic foundation for emotional responsiveness and recovery, including a toolkit delineating child psychological and behavioral symptoms of trauma at various developmental stages and related ways to support them at the school and classroom levels.
• Treatment and Services Adaptation Center: Experts on school trauma and crisis response have cultivated a website rich with information and resources for schools, educators, and mental health professionals to help them be "trauma-aware." These include schoolwide intervention approaches and a resource center with quick-tip guides and video presentations that can be topically sorted.
The headlines will flip and the news cycles will churn on. But our children, post-Harvey, post-Irma, and beyond, will have sustained needs.
Schools, as part of our layered children's support network, must provide an avenue for stability, predictability, community, and healing.
Get stories like these delivered straight to your inbox. Sign up for The 74 Newsletter