Hundreds of Los Angeles High School Students to Cast Their First Ballot at This Week's 'Ready to Vote Party'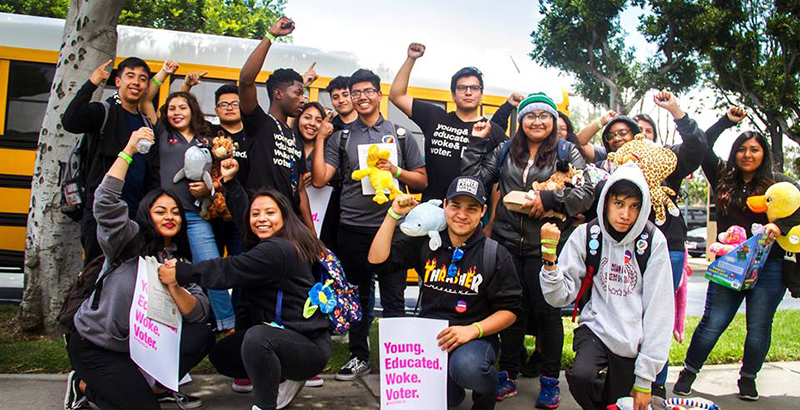 This article was produced in partnership with LA School Report.
This is the first year that early voting centers are open in California, and a group that is working to reach every young adult in Los Angeles County — and 100,000 throughout the state — is holding an early-vote party Wednesday that will draw hundreds of Los Angeles high schoolers.
Students from seven L.A. high schools will be among about 400 young people who are already registered and pre-registered to vote in the upcoming elections who will cast their ballots at the event. Key races that will affect education in California are for governor and state superintendent of public instruction.
The Ready to Vote Party is hosted by Power California in partnership with the L.A. Unified School District and the Los Angeles County Registrar's office in Norwalk, where the event will take place. Students will hear from community leaders, including L.A. Unified's board president, Mónica García. There will also be mobile game centers, art-making stations, and voter education activities for the students before and after they cast their ballots.
L.A. Unified is promoting civic engagement and get-out-the-vote efforts outlined in a school board resolution that also declared a High School Voter Registration Day last month, when students were able to pre-register and register to vote. Since 2015, 16- and 17-year-olds in California have been able to pre-register to vote, and a new law this year automatically registers teens 16 and up to vote when they get their driver's license or state ID card.
The event is part of the efforts of Power California, a statewide civic engagement organization, to mobilize young voters of color ahead of the midterms. In partnership with other community organizations across the state, it aims to reach 100,000 youth in California this fall, including all 52,000 young people ages 18 to 24 in Los Angeles County.
"We're pretty excited because almost two-thirds of them will vote for the first time this November. We will be calling every young person in L.A. and Orange County, the Central Valley and Riverside. And we're going to do it!" said Luis Sánchez, co-founder of Power California.
This year, with funding from The California Endowment, Power California commissioned a survey of more than 2,000 young people of color in the state between the ages of 16 and 24 about their civic engagement. The survey results show that 72 percent of 18-to-24-year-olds say they will "definitely" vote in November, and 82 percent said voting makes a difference.
According to the organization, studies show that if young people vote in two consecutive elections, they are more likely to become voters for life.
The issues that matter the most to them are immigration, housing, the environment, and education, the survey found. Half the respondents consider themselves part of the Black Lives Matter movement, LGBTQ Equality, and Undocumented and Unafraid social movements.
L.A. County will open early voting centers at 10 locations for the next two weekends.
Support The 74's year-end campaign. Make a tax-exempt donation now.