Hulse & Bradford: Families & Kids Have Been Flexible with Every COVID Curveball. Schools Haven't Been Nearly as Nimble. Time to Start Funding Families & Students Directly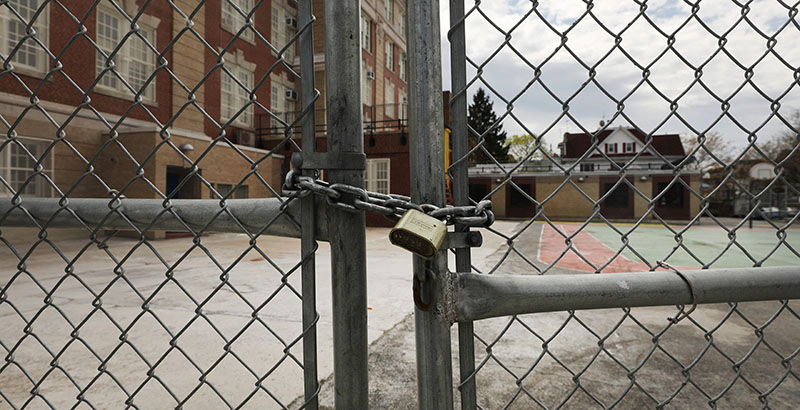 Support The 74's year-end campaign. Make a tax-exempt donation now.
The COVID-19 pandemic, which began as a shock to our lives in 2020 and continues to affect everything we do as a nation, changed the fabric and rituals of daily life across this country. Nowhere is this more true than among K-12 students, millions of whom endured a year or more of closed or sporadically open schools, poorly implemented virtual learning, social isolation, and lost educational and extracurricular opportunities.
It was not supposed to be this way. Among numerous bipartisan federal aid packages, Congress provided hundreds of billions of dollars to the nation's schools to improve connectivity and school safety, and — most importantly — to keep schools open for students who need in-person instruction. This included over $129 billion in the last round of education funding alone. Between the federal relief funds and unanticipated increases in state revenues, unprecedented amounts of money are available to overcome the challenges faced by students. Yet schools are still closing, with many children simply not getting any of what we, as a nation, have paid for.
Families and kids have been through so much these last few years. They are true heroes. And they adapted and have been flexible with every curveball thrown their way. Education consulting group Tyton Partners estimates that parents spent $20 billion last year in new out-of-pocket education expenses to make up for COVID-related disruptions. This is a historic investment from families of different races in different places and of all income levels across America.
Conversely, billions have been sent to schools whose doors have been closed and whose practices haven't been nearly as nimble. We should acknowledge this. And we should support the hard work and commitment of families as they solve day-to-day challenges and navigate an education landscape that looks to be permanently disrupted because of this reality. We owe families this.
A good place to start is to fund families and students directly. This way, they can solve a wide range of educational problems on their own without the politics that have taken over discussions about the nation's schools. And a few forward-thinking states are enacting programs that help families do just that:
In 2020, the Idaho state Board of Education approved Gov. Brad Little's $50 million "Strong Families, Strong Students" initiative. The program used federal relief funds to provide $1,500 per eligible student — up to a maximum of $3,500 per family — for certain educational equipment and services. The program proved so popular that Little proposed an additional $50 million this year.

In Kansas, with bipartisan support, the state recently approved a $50 million initiative that will use federal relief funds to provide $1,000 per eligible student for tutoring and certain types of educational equipment, like laptops.

In Nebraska, Gov. Pete Ricketts is dedicating $60 million in federal COVID relief funds to low-income students, providing $2,000 directly to kids whose education was disrupted by the pandemic.

In Ohio, legislators and Gov. Mike DeWine approved a 2021 budget that established an Afterschool Child Enrichment Educational Savings Account for families. This program provides $500 — using federal relief funds — directly to parents for each eligible K-12-age child to pay for specified educational enrichment activities, including tutoring and extended day and summer programs.
While funding families directly may seem like an out-of-the-box approach, the American Rescue Plan Act of 2021 designates these funds precisely for these purposes. Guidance from the U.S. Department of Education specifically says a portion of the billions of dollars in federal funding sent to states can be used for efforts that:
Address the impact of lost instructional time by supporting opportunities that respond to students' social, emotional and academic needs.

Provide afterschool, or other out-of-school time, programs that address students' social, emotional and academic needs.

Provide students with summer learning and enrichment programs, including through partnerships with community-based organizations.
Families are well equipped to make appropriate decisions to help themselves. The three rounds of federal stimulus payments, in March 2020, December 2020 and March 2021, demonstrated the importance and efficacy of getting funds directly into the hands of the people who need it. There is no reason to treat K-12 education funds differently.
Whether it be those who did not consistently participate in remote instruction, those who are now at higher risk of dropping out after long-term school closures or those in demographic groups disproportionately impacted by COVID-19 — such as students in low-income families, students of color and students with disabilities — America's kids need our help, and they need it now. Supporting a family's decision-making in the moment as they solve the educational challenges their children face is one of the best things we can do.
Everyone can be a part of this solution. If there is any positive to the pandemic, it is the civic and local organizations joining the effort to keep the country's kids happy and whole, such as non-traditional out-of-school learning or one-on-one tutoring, like math help from Kumon, Mathnasium or Russian Math School; physical education from a soccer club, AAU basketball or yoga; or activities sponsored by a local Boys & Girls Club, the YMCA or mission-driven organization like 4-H. Embracing policies that give families resources weaves together, a richer tapestry of solutions for all children.
With most state budget surpluses at nearly all-time highs, the choice should be clear for policymakers. Trust and fund families. They will take care of the rest.
Craig Hulse is director of government affairs at yes. every kid. Derrell Bradford is president of 50CAN.
Support The 74's year-end campaign. Make a tax-exempt donation now.