What Do Parents Think of AI? They See Its Value but Worry About What It Can Do
Weber: Poll shows majority want government regulations to keep artificial intelligence from doing students' work and replacing teachers.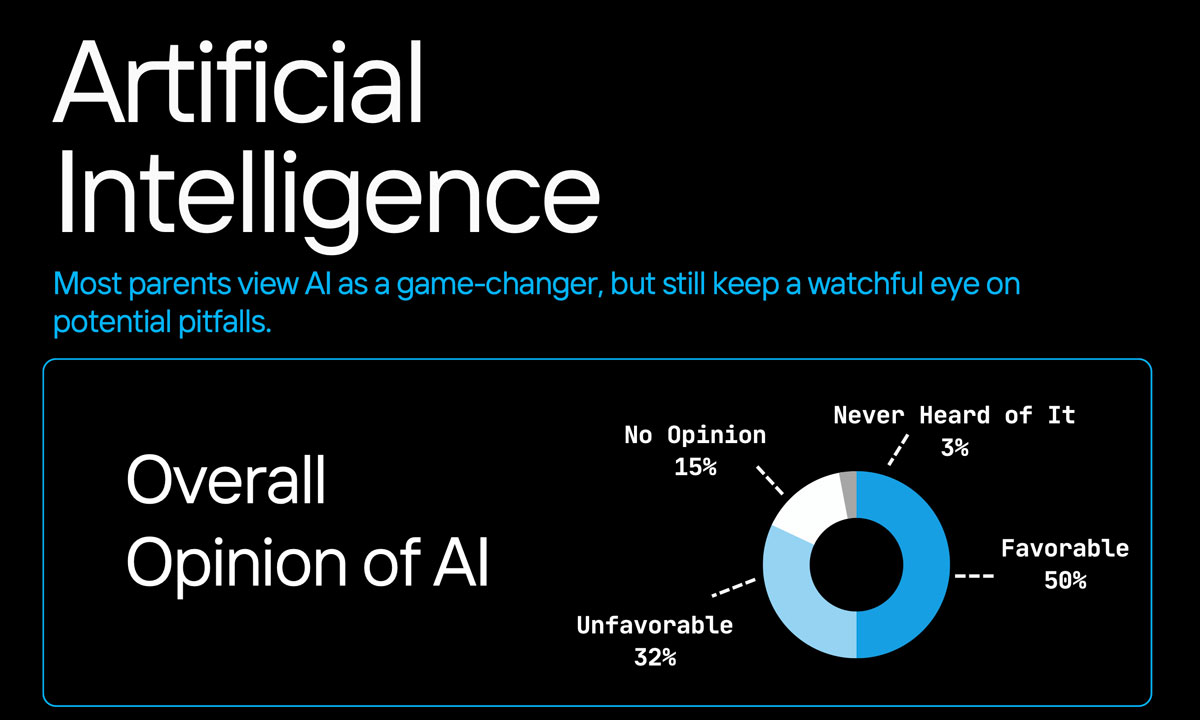 Support The 74's year-end campaign. Make a tax-exempt donation now.
In an age where technology is advancing at an unprecedented pace, the incorporation of artificial intelligence in K-12 education has sparked both excitement and concern among educators, policymakers and parents alike.
The National Coalition for Public School Options recently commissioned a study to gauge exactly what parents of school-age children think about this issue and its potential impact on how young students learn. Conducted in August, the survey contacted 1,000 parents of children in grades K-12.
The results revealed a mixed bag, underscoring the potential value of AI in K-12 education, but parents clearly worry that AI may threaten teacher jobs, as well as job prospects for their children one day. For this reason, they see the need for strong government regulation over AI in education and the workplace.
Parents certainly understand the technological implications, with nearly 72% saying artificial intelligence will usher in a new revolution of technology. But an almost equal number (71.5%) are concerned. Interestingly, parents largely support teachers using AI to write lessons and develop class materials (53.4%), but less than half want the technology directly evaluating their child's work (45.1%).
Parents split on whether students should be allowed to use AI to help with their schoolwork, with 43.2% opposed and 42.9% in favor. But in broader terms, it's clear that many simply aren't familiar with it. Roughly 41% had a "favorable" reaction to Chat GPT-4 overall, but 43% had never heard of it or had no opinion. Half had never even tried the AI platform.
With so much uncertainty, 58% of parents believe strong government regulation must be in
place to keep AI from doing the work for students, replacing real teachers and potentially
costing their children jobs in the future. Only 19% opposed regulation, while 15% had no opinion and 7% were unsure. About 68% said they are concerned that AI will eventually interfere with their child's career opportunities after school with companies phasing out the
need for human work.
There were similar responses when it comes to teacher jobs. When asked to respond to the statement that, "Although AI is generally new, it is already impacting jobs from a variety of industries. K-12 education is no different — without regulations, AI could transform the K-12 education system overnight and thousands of teachers could be replaced by AI instruction," over 70% of parents found such a scenario more likely or much more likely.
Over 80% believed that providing access to AI platforms would hurt students' learning potential because the technology would do their work for them, such as writing essays. Smaller classes would also be threatened: 76% said they thought it would be more likely or much more likely that AI's ability to reach hundreds of students at once will take away one-on-one teaching that is available only with a human educator. Parents don't want students to lose the opportunity to interact with their teachers — 69% believe this could lead to their children struggling.
Respondents also showed concern for special needs students. In all, 71% believe it is more likely or much more likely that special needs students would suffer with AI because their unique learning needs require "extremely personalized educational options. Without oversight, AI could replace special needs teachers without parents knowing the future consequences and potential for learning loss."
While parents recognize the potential benefits of artificial intelligence, it's evident that concerns about job opportunities, student learning and one-on-one instruction time with teachers persist. AI continues to move forward at a rapid pace in all areas, including K-12 education. This survey provides a unique window into how parents — and taxpayers — are feeling about it.
We urge lawmakers and policymakers to provide parents with a seat at the table as discussions continue regarding AI's use in K-12 education. The AI issue should undergo robust debate, and parents are ready to provide their feedback about one of the great education issues of our time.
Support The 74's year-end campaign. Make a tax-exempt donation now.