HS Senior's Research on COVID in High-Needs Areas Adopted by Congressional Coronavirus Task Force — & Puts Her in the Running for Top Science Contest Prize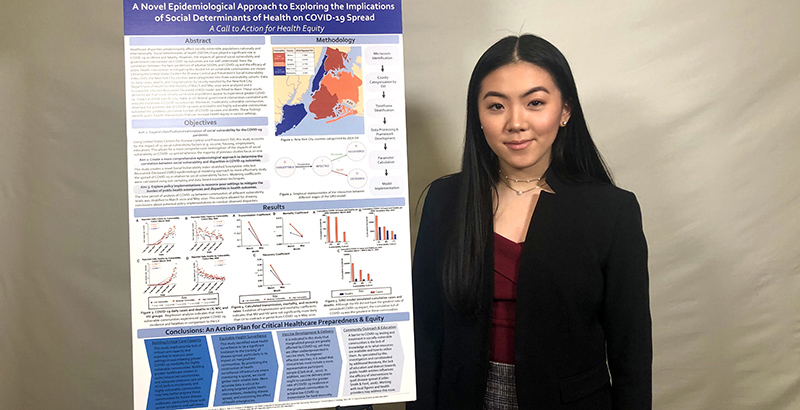 When high school senior Vivian Yee started researching the health disparities in underprivileged communities during the pandemic, she hoped to eventually help minimize inequities among the socially vulnerable. She didn't have to wait long — her new, comprehensive approach to studying the impact of infectious diseases is being used by the congressional Coronavirus Task Force to guide both relief legislation and changes for future efforts.
Her project uses the U.S. government's Social Vulnerability Index to demonstrate the greater impact of COVID-19 on socially vulnerable communities and identifies public health policies that can potentially improve health care responses and diminish inequalities.
"They actually accepted it to be used to guide the design of relief legislation," she says. "I also wrote a lot about long-term changes that need to be made. As they continue to discuss, in the long run, how we can better prepare for the next outbreak, that is also something they are going to take into account."
Yee, a senior at International Academy in Bloomfield Hills, Michigan, did an internship last summer through the Department of Defense with the U.S. COVID Response Team and was encouraged by staff to work on her own experiments. With an interest in social justice and cell biology, Yee started looking at the pandemic in a way that brought together her interests.
"I have always been interested in science policy," she says. "I was disheartened by the way the governmental officials were handling the pandemic and relying on speculation as opposed to science."
While most studies explore just one or two key factors, Yee expanded her research to include 15 social factors to "paint a more thorough picture."
Using New York City COVID data, she explored everything from poverty rates to racial demographics. Along with socio-economic and minority status, the Social Vulnerability Index includes housing type (how much crowding there is in apartment complex corridors, for example), transportation choices (do people have access to their own vehicles or are they sharing space on public transportation?), age, education levels and health insurance coverage.
"You can more easily see the disparities between the communities and see relative trends and the evolution of how a disease impacts a community," Yee says. "I also wanted to see if governmental health interventions were effective in slowing health care disparities." By tracking different areas over time, Yee says, she can gauge how the disparity gap evolved in relation to interventions.
"We have seen a lot of speculation by politicians who haven't seen enough data," she says. "Having seen through the modeling where the problem areas are, I was able to come up with four areas based on the data I felt would be most impactful to ensuring emergency preparedness and health equity."
Her main conclusions include improving critical care in resource-poor areas to handle an initial outbreak of disease; having surveillance methods that track socially vulnerable areas more effectively to provide better real-time data for guiding public policy; using community transmission rates to guide a vaccination rollout; and increasing outreach and education in vulnerable communities so people trust health care providers and are aware of resources.
Yee's project earned her a spot as one of 40 finalists in the Regeneron Science Talent Search, the nation's oldest science competition, run by Society for Science & the Public. Each of the 40 finalists earns at least $25,000.
Maya Ajmera, the society's president and CEO, says that during the pandemic, she has seen "extraordinary ingenuity and curiosity in STEM fields" and that students have shown a sense of urgency to make progress amid the public health crisis. Two other Regeneron Science Talent Search finalists also have COVID-19-related projects.
Yee's move from working in a lab to discovering a project that merged her passions — and that she could do from home — impressed Ajmera. "This took immense determination, thoughtfulness and creativity," she says. "Her persistence to make compassionate change went a step further when she brought her work to the attention of the Coronavirus Task Force to inform future relief legislation."
Yee, who wants to pursue a career in biotechnology or public health and hopes to one day work at the World Health Organization or Centers for Disease Control and Prevention, is now updating research. Using the vaccination rollout as her data set, she's looking at how inoculation distribution can help slow the pandemic's spread in underserved communities.
Yee believes her modeling can be used for any future outbreaks of disease. "In order to do effective work," she says, "we need the best data possible."
Get stories like these delivered straight to your inbox. Sign up for The 74 Newsletter