How's This for a Yarn? School Bus Driver Crochets a Personalized Toy for Every Student on Her Route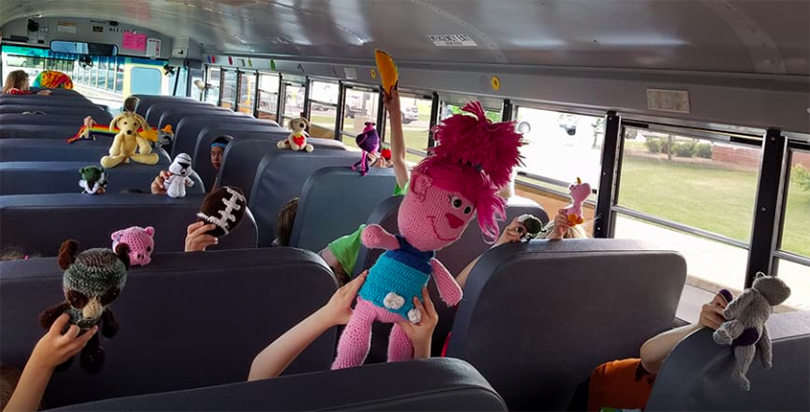 This article is one in a series at The 74 that profiles the heroes, victories, success stories, and random acts of kindness to be found at schools all across America. Read more of our recent inspiring profiles at The74million.org/series/inspiring.
Like any good story, the account of bus driver Trudy Serres starts with a taco.
As a driver for Oconomowoc Transport Co., serving Summit Elementary School in Wisconsin, Serres helped pass time waiting on her route by crocheting.
The elementary school kids took notice, and one boy dared her to try to make him a taco.
---
---
She could. And did. And then followed it up with 34 personalized crocheted toys, one for every child on her route.
"My elementary students see me crochet and they thought they could challenge me," she wrote on her Facebook page. "It all started with a taco, and it ended up being 34 items."
Vincent Lamon, the taco boy, was so impressed she'd pulled off the feat that he showed his new toy to everyone on the bus. At that point, Serres knew she needed to come through for all the kids on the route, mostly fourth-grade students.
---
Meet Trudy Serres, the Waukesha bus driver who crochets toys for every kid on her route https://t.co/VCLpeIoESP pic.twitter.com/iK4m5A8liy

— WISN 12 News (@WISN12News) July 10, 2017
---
She crocheted dogs, a double-scoop ice cream cone, four Yodas with light sabers, plenty of other movie characters, a chocolate-covered strawberry, and a unicorn.
"All loved them," she wrote. "[I] found out from parents that some take them to bed, some go to church with them. Some had to go on vacation with them. [It] makes my heart melt that these little items mean so much to these beautiful children."
---
---
Parent John Londt told
Lake Country Now
, "She is really an amazing bus driver. I can't believe how much time and effort she put in for these children to make each one of them their own cushioned stuff animal; it's pretty amazing."
"I get joy out of seeing them smile," Serres told Lake Country Now. "So when I would finish it and they'd come around every morning and see how progressed I got on their little creature or whatever they got, and when that was done, I would set it on my dashboard when I got to the stop, and they would see it and be smiling all day with it and they would take it into the school and they'd still have a smile on their face when they came back out."
---
---
Each student got to pick what he or she wanted.
"One day a boy came up to me and said, 'Mr. Stuckey, look at what my bus driver made me!' and he showed me his stuffed animal Trudy had created just for him," Brian Stuckey, Summit Elementary School principal, told
ABC News
. "The boy was so proud, and you could tell the pride he had in this little gift. The last few years we have been working to build connections and relationships between our school and our fabulous bus drivers, and Trudy has taken that to a whole new level."
---
---
Get stories like these delivered straight to your inbox. Sign up for The 74 Newsletter