How Schools Can Help Overloaded Teens
Does your child's school prioritize their mental health and well-being? Here are key changes schools can make to increase sleep and reduce stress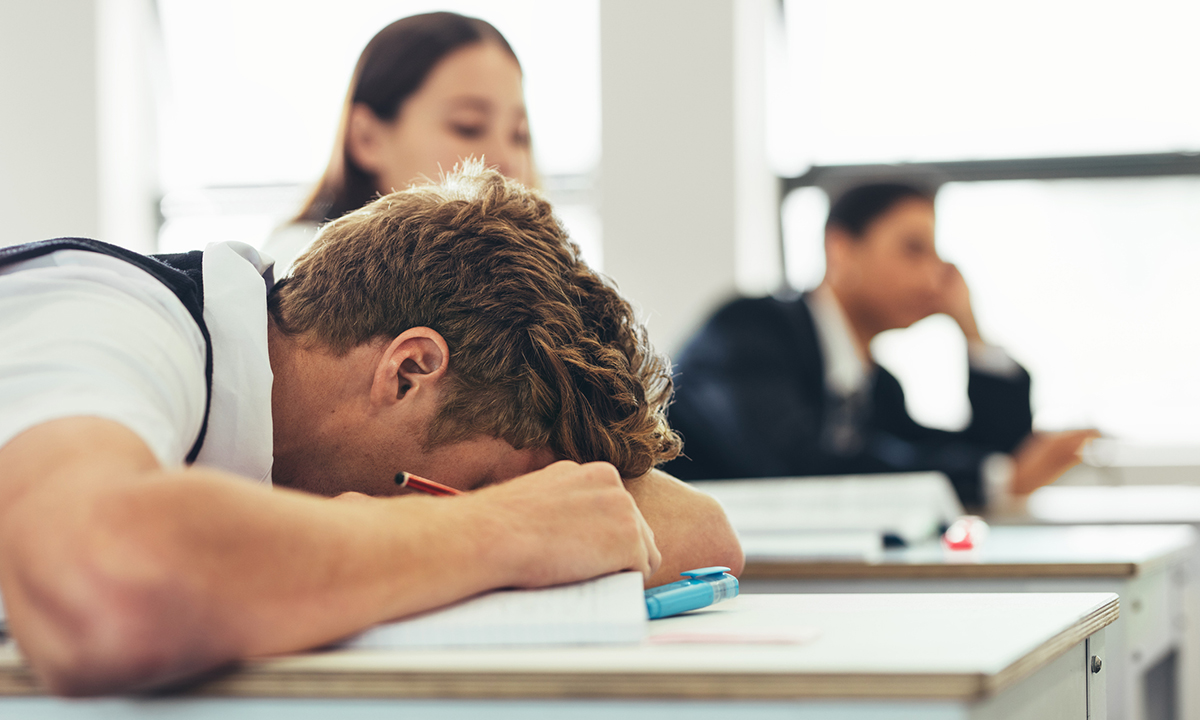 Support The 74's year-end campaign. Make a tax-exempt donation now.
Updated Jan. 6
Teenagers need 8 to 10 hours of sleep each night to be at their best, but few get anywhere near that amount. That's often due to factors outside their control, like school hours and homework levels.
Many schools have been taking notice — and making changes to promote teen sleep.
Even before COVID-19 was added to the mix, teen stress and anxiety were at record levels. In 2019, 36.7 percent of high school students said they felt sad or hopeless, and close to 19 percent had seriously considered suicide, according to 2019 data from the Centers for Disease Control and Prevention.
Meanwhile, teen sleep was at record lows, with just 22 percent of high schoolers getting at least 8 hours of sleep on an average weeknight, the CDC found. Not getting enough sleep is a major contributor to anxiety and other serious mental-health issues.
Given the growing awareness of the importance of teen sleep, schools around the country (and around the world) have pushed back their start times to more teen-friendly hours, in accordance with the recommendations of the American Academy of Pediatrics and other major medical and public-health medical organizations.
Last year, California became the first (and only) state in the nation to enact statewide requirements for its public secondary schools. Those changes — requiring school start times no earlier than 8 am for middle schools, and no earlier than 8:30 am for high schools — went into effect just before the 2022-2023 school year and have prompted similar proposed legislation in New York and New Jersey.
Meanwhile, some schools are making additional modifications to address teen sleep and stress.
Changes schools are making to increase teen sleep and reduce teen stress
Implementing block schedules
In place of a traditional schedule, in which students attend every class every day, block schedules are a way to modify class frequency and duration. For example, students may attend half of their classes one day and the other half of their classes the following day, but have longer class periods. With a block schedule, "homework workload may not decrease in terms of hours… but it will decrease in terms of how many subjects you have to hit each night," says Denise Pope, co-founder of Challenge Success, an organization that advises schools, students, and parents about more effective approaches to education that incorporate student well-being. While students still have the same amount of homework, focusing on fewer subjects "is better from a brain-efficiency standpoint," she says.
Two schools that have worked with Challenge Success and subsequently moved to block schedules are Burlingame Intermediate School, a public school in Burlingame, CA, and Notre Dame High School, a parochial school in Belmont, CA.
Reducing students' workload
Another option Challenge Success recommends is re-evaluating overall homework levels, which can include capping the number of Advanced Placement (AP) and honors classes that students take. It's an option that's increasingly being instituted at many schools, including Beckman High School, a public school in Irvine, CA, which limits freshmen to two AP or honors classes and allows one additional class each year. Students who wish to add another advanced-level class must sign a waiver (as must their parents). The change was one of several instituted at the school after consulting with Challenge Success to help reduce stress levels and allow students to get more sleep.
Limiting sports practices
At Biddeford High School, a public school in Biddeford, ME, the focus on teen sleep included restricting morning and evening sports and extracurriculars. The changes took place in 2016 to coincide with the start time shift from 7:15 am to 8:30 am. "During the school year, all morning practices are off limits," says Jeremy Ray, district superintendent. (Previously, swimming and ice hockey had practices as early as 5 am.)
Evening practices now have a 9 pm ending time, although occasionally games end later than that when travel time is factored in, Ray acknowledges. Still, "I would say 95 percent of our season works within those parameters," he says.
Using schedule simulators
At Woodson High School, a public school in Fairfax, VA, student programmers launched an online schedule simulator in 2017 that allows students to estimate their total time commitments for school-related activities. The simulator was based on data gathered by polling teachers and students and includes classes, sports, and school clubs.
Shadowing students
As part of the planning process, some teachers even opt to spend an entire school day experiencing what it's like from a student's perspective. These "shadow days" can be a good reality check, Pope and her co-authors note in their 2015 book, Overloaded and Underprepared: Strategies for Stronger Schools and Healthy, Successful Kids. As one middle school teacher quoted in the book sums up: "It was a really overwhelming day! The students have so many things they're trying to do every day, and it was just exhausting for the teachers to be the student for the day and try to follow."
While shadow days and schedule simulators may not be the norm at every school, there are still ways for students and their families to apply these same principles when planning class schedules. Pope suggests that students talk to peers to get a sense of the workload of various classes, then create a mock schedule listing the estimated time commitments for all of their proposed classes and extracurriculars, making sure to slot in enough time for sleep.
Sharing information about teen sleep
Regardless of which strategies schools use, there's an additional approach that can help set the stage for success: educating teens and the broader community about the importance of sleep.
One initiative, Sleep 101, was first rolled out at the college level and is now being expanded to middle and high schools. The content was developed in conjunction with Brigham and Women's Hospital's Sleep Health Institute. It's available for free via Let's Sleep and was designed so that teachers can integrate it with each state's health curriculum, notes Pallas Ziporyn, project manager.
"Education is a key component in promoting awareness about how critical teen sleep is," adds Joy Wake, California outreach coordinator for Let's Sleep.
Next steps
For parents
Inquire about the guidelines your teen's school has in place to address workload issues like teen stress and teen sleep. For resources, including a time-scheduling worksheet, visit Challenge Success's resources page.
For teachers and administrators
Read about effective homework and how to manage student workloads in Challenge Success' blog, Effective Homework Practices During COVID and Beyond. For more information about incorporating information about teen sleep into school activities and classroom instruction, visit Let's Sleep.
Support The 74's year-end campaign. Make a tax-exempt donation now.