How Republicans' Bill to Replace Obamacare Could Cut Billions of Dollars From America's Schools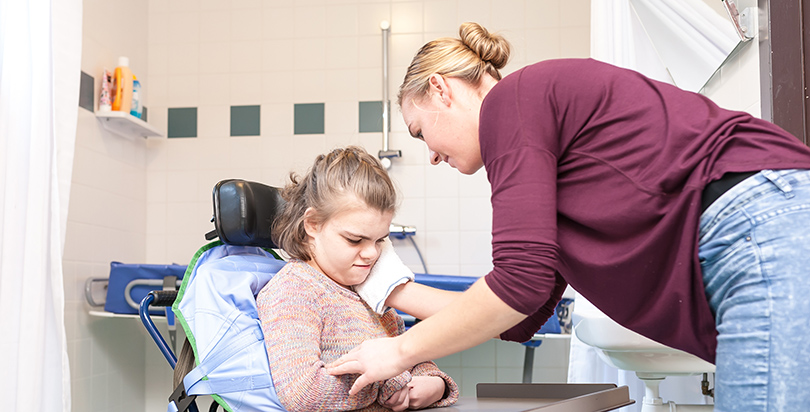 Updated May 4: The House voted Thursday to repeal the Affordable Care Act by a narrow 217-213 vote. CNN reported that the bill to replace Obamacare faces "daunting challenges" gaining passage in the Senate.
Schools across the country are being asked to do more for disabled students following a recent landmark Supreme Court ruling. But if a Republican proposal to kill the Affordable Care Act reaches President Trump's desk, schools may have to do more with less.
The bill could prompt nearly $840 billion in cuts to Medicaid over the next decade, jeopardizing health coverage — both in doctors' offices and in schools — for more than 30 million children, roughly 40 percent of Americans 17 and younger. The White House
expects the House to vote
on the health care bill this week, according to Reuters.
If the measure becomes law, schools could see reductions in funding for special-education services such as speech therapy; salaries for school nurses and counselors; eye exams, hearing tests, and dental screenings; and regular check-ups for low-income kids, according to
a new analysis
by the Center on Budget and Policy Priorities, a progressive think tank based in Washington.
In a January
survey
of school chiefs by the School Superintendents Association, 69 percent said they use Medicaid money to help pay health professionals' salaries and 45 percent said they use the funds to expand health services offered to children at school.
Medicaid paid for nearly $4 billion in school-based health care services in 2015, according to the center's analysis. Although that's less than 1 percent of the total Medicaid price tag, it's a third of the $12 billion the government shelled out in 2015 for Individuals with Disabilities Education Act services. That funding allows schools to partially subsidize the costs of special education and other health care services and shift the savings to other education priorities, according to the report.
The cuts could also jeopardize student performance, said Jessica Schubel, a senior policy analyst who wrote the report. "Having Medicaid coverage as a kid has long-term benefits," she said. "As an adult, they have better health, they have fewer hospitalizations, ER visits. They also earn more, they pay more in taxes, and they're more likely to graduate from both high school and college. Investing in a child early on has long-term benefits for them as an adult and for society at large."
The proposed replacement for the Affordable Care Act, known as the American Health Care Act — which came to a screeching halt in March following opposition from Democrats and some Republicans — was revived last week through
an amendment
that moved the legislation further to the right. The
changes
include a state waiver from key Obamacare rules, including provisions requiring insurers to charge people with pre-existing conditions the same rate as the general population, and mandating that they cover "essential health benefits" like emergency room visits, maternity and newborn care, and mental health services.
The updated proposal, written by Republican Rep. Tom MacArthur of New Jersey, retains deep cuts to Medicaid that helped fuel moderate Republicans' opposition to the original bill. Over the next decade, it would reduce Medicaid spending by $839 billion while eliminating services for 14 million people,
according to a report
by the nonpartisan Congressional Budget Office. The plan contrasts sharply with Trump's campaign promise to replace the Affordable Care Act without cutting Medicaid.
About 73 million people, roughly one in five Americans, rely on Medicaid for health care, costing taxpayers $532 billion in 2015. Some conservatives
have argued
for years that Medicaid is a bloated program that exceeds its original mandate to insure "only the truly destitute and needy."
The Republican repeal-and-replace bill would eliminate a 2010 extension of Medicaid eligibility and alter the program's financing structure, issuing funds to states through a block grant or giving states a certain amount per beneficiary.
"In states that opted for a block grant, children would likely be left with few federal protections related to their Medicaid coverage because states would no longer have to comply with most federal Medicaid requirements," according to the center's report.
If enacted, the new law would run counter to the more rigorous standards set by the Supreme Court in
a unanimous March decision
for providing services to disabled children in schools. At a time when schools are being asked to do more for special needs students, Medicaid cuts could force districts to slash special education services, the center's report argues.
The superintendents association agreed. "Schools have a great responsibility to provide educational opportunities for children, particularly impoverished children and those with special needs, to ensure they become productive, civically oriented members of society," its survey said. "Meeting the health and wellness needs of students in school is a necessary and effective approach to reducing educational barriers for children and ensuring America's economic dominance in the 21st century."
Support The 74's year-end campaign. Make a tax-exempt donation now.