How Parent Power Won Increased Funding for Wisconsin Schools
Kinser: What is possible when schools and families work together — not just at the local level, but all the way to the state Capitol and beyond.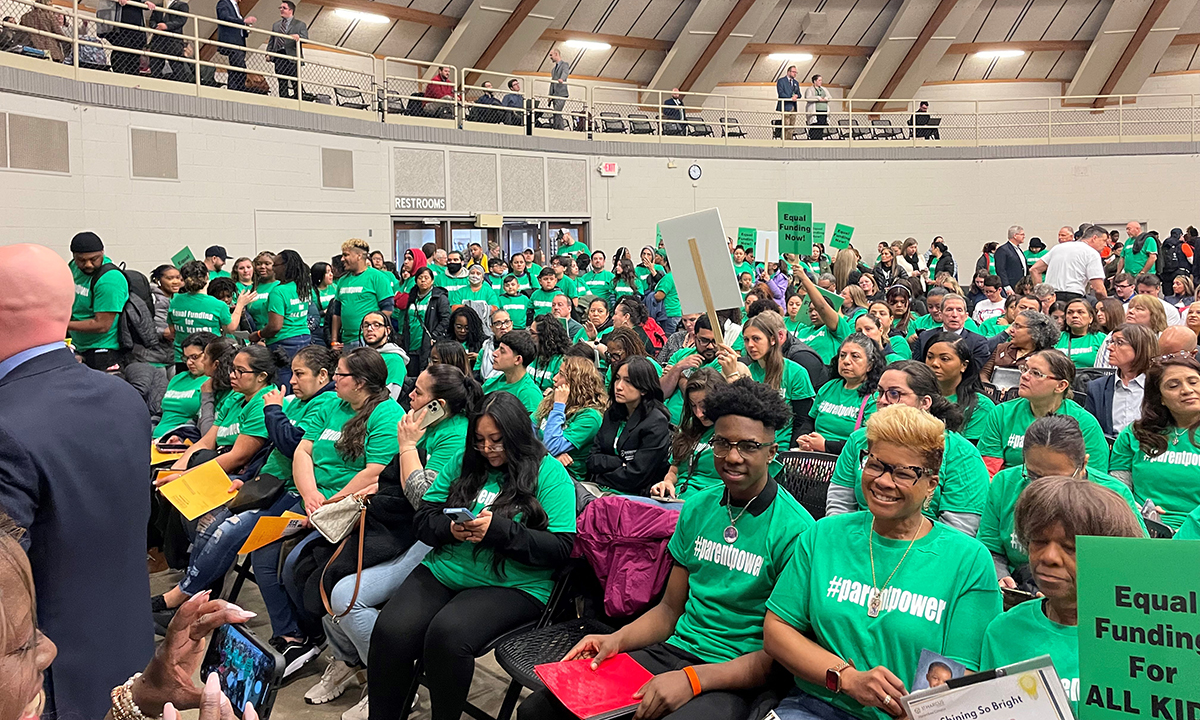 Get stories like these delivered straight to your inbox. Sign up for The 74 Newsletter
Wisconsin lawmakers have given schools in Milwaukee, and all across Wisconsin, a historic boost. As part of a bipartisan deal, state legislative leaders and Gov. Tony Evers announced a major investment in schools across the state. In addition to an overall increase for all public schools, it includes a gap-closing increase in per-pupil funding for charter and private schools that participate in the state's parental choice programs.
This is incredibly important for the sustainability of the public charter and parental choice schools that serve nearly half of all Milwaukee students, as they have historically received an average of 25% to 35% less in per-pupil funding than traditional district schools.
Thousands of parents rallied to make this win for Milwaukee and Wisconsin's kids possible. Families knew something had to be done to deliver equal funding for their children and close the gaps that were robbing their kids of opportunities and sapping their educational outcomes.
Through this deal, public charter schools will receive a per-pupil funding increase of more than $2,500, and private schools will receive $2,000 to $4,000 more per child. This investment is long overdue. Milwaukee was one of the birthplaces of private school choice in the late 1980s and charter schools in the early 1990s. The funding gaps have existed since the inception of both programs but have grown wider in the past five years, even as the students' needs have grown due to the pandemic.
Together with a broad coalition of partners, City Forward Collective has been working in a sustained, bipartisan effort to transform school funding in Wisconsin. This required effective, direct advocacy — and that meant getting parents involved from day one.
We started this year by giving school leaders financial support and training for nine family liaisons, who were crucial in ensuring that parents understood the legislative lay of the land and how to engage with lawmakers effectively. Families learned about the per-pupil funding gap and its impact on school budgets, how the state budget process works, who the key legislators and decisionmakers were, how to develop and share their personal testimonies and how to hold a meeting with elected officials and press them on key issues.
Our team also helped ensure families could attend legislative committee meetings, coordinating with school leaders and legislative staff on hosting parent-led research sessions at their schools with key legislators – members of the budget-writing Joint Finance Committee, education committee members and Milwaukee legislators — and providing Zoom access for parents who could not attend in person.
We worked with over 1,000 parents and family members who were fired up on the issue of unequal funding. These parents led meetings with 15 legislators and organized a letter-writing campaign to legislators on the finance committee, state Senate and Assembly leaders of both parties, the governor's office and Milwaukee's mayor. In total, more than 5,500 letters were sent from more than 600 parents. Busloads of families drove for hours to rally outside legislative hearings, and more than 50 parents testified before the finance committee.
Lawmakers listened. During the debate on the bill, legislators of both parties cited their engagements with parents as a critical factor in their vote to support increased funding.
Rep. Robert Wittke spoke on the Assembly floor about the impact of his visits to schools and shared the promise he had made at one of our parent-led meetings: "I will keep a commitment that I made to 15 mothers that I sat down and talked with at the Rocketship school in Milwaukee. Their only parting words to me were that they wanted equalized funding so that their children and this school could continue to grow, and serve all of their children moving forward."
Assembly Majority Leader Tyler August asked, "How can any one of us look these parents in the eye and tell them no?"
After meeting with several parents, state Sen. LaTonya Johnson, a Milwaukee Democrat, delivered a passionate floor speech, revealing that she had utilized the Milwaukee Parental Choice Program to enroll her child in a private school. "I'm not going to sit up here and consider rooting for charter or public or choice," she said. "I'm not going to sit up here and make our children winners and losers. Because if they're coming from communities where their access to public education is failing, they have already lost."
For Milwaukee's public charter and private schools, this funding increase will help keep the doors open — especially critical after several schools in Milwaukee have closed in the last three years due to financial shortfalls. Dr. Howard Fuller, national education leader and founder of the Howard Fuller Collegiate Academy, a charter school in Milwaukee, said it best during his testimony in front of the Assembly Education Committee: "The reason this is a lifeblood issue for us — this bill — is because we can't continue to raise $600,000 a year. It's not sustainable."
It will help address pay gaps for Milwaukee educators, ensuring that schools are able to recruit and retain diverse, high-quality faculty and staff. And it will help stabilize our city's ecosystem of high-quality school options while expanding access for even more families. This win shows what is possible when schools and organizations get parents involved and amplify their voices — not just at the local level, but all the way to the state Capitol and beyond.
Get stories like these delivered straight to your inbox. Sign up for The 74 Newsletter