How One Program Is Closing the College Persistence Gap for Needy Students With Financial Aid, Social Supports, and a Powerful Data Tracker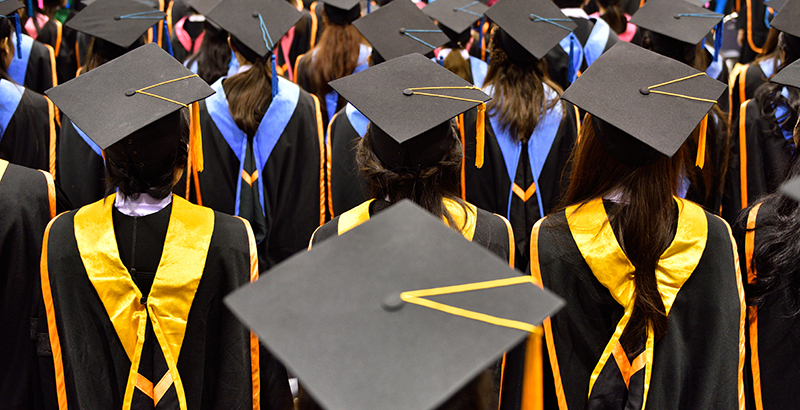 A program that supports low-income college students with intensive data tracking and financial and social supports is helping to close the achievement gap by improving graduation rates and overall college performance, a promising find as persistence rates widen between disadvantaged and wealthy students.
Students in the Dell Scholars Program — the majority black or Hispanic, many the first in their family to attend college — are 23 percent more likely than their peers who aren't in the program to earn a bachelor's degree in four years, according to research in a forthcoming paper in The Journal of Human Resources. Program participants are also 53 percent more likely to graduate if they attend a less-selective college, are more likely to have a higher GPA, earn college credits faster, and are less likely to take on student debt.
Participants receive not just financial aid — each gets $20,000 in scholarships and a laptop — but services like help finding daycare for their children, mental health support, and continued assistance even if they don't maintain a specific GPA.
"What sets us apart from a lot of other programs, particularly university-based programs, is we focus on what's happening outside of school," said Oscar Sweeten-Lopez, president of college success tools at the Michael & Susan Dell Foundation.
Despite having only four employees, the Texas-based Dell Scholars team monitors its 1,800 students across their U.S. colleges using data-tracking software that catalogues their GPA, whether they've dropped classes and are on track to graduate, their financial aid status, and information from well-being surveys that identify whether a student may be depressed or is feeling supported.
Sweeten-Lopez helped create the database tracking system in 2005, and Dell Scholars is now sharing a version, called GradSnapp, with other college support organizations that want to better monitor their students. The possibility of sharing this tool is exciting to researchers like Stacy Kehoe, report co-author and senior adviser at the nonprofit Education Northwest.
"We're hemorrhaging [low-income] students in these higher ed institutions, and GradSnapp offers a unique opportunity to see how the program model can work in other settings," she told The 74.
Programs like these are important, as the graduation rate for low-income students has risen minimally since 1970 — only 3 percentage points — while the rate for wealthy students has jumped 33 points in that same period. Very few low-income students graduate from college: The National Center for Education Statistics tracked their eight-year rate at 14 percent.
By contrast, 47 percent of Dell Scholars graduate in four years, and 78 percent graduate in six. The average participant in the program accumulates $7,800 in debt, compared with the national average of $37,000.
Study co-author Lindsay Page, an assistant professor at University of Pittsburgh, said the research showed that college support programs should serve low-income students in a more holistic way.
"What is potentially intimidating from a policy standpoint is that [these programs] are more expensive to operate, but in the long run, there's a much bigger impact in terms of degree attainment," Page said.
Applicants are selected for the program based not on academic merit, but on their financial need and demonstrated ability to overcome adversity. Some of the students have children, and others work to support their families while taking college classes.
Some participants end up not needing the safety net the program provides. But when the Dell Scholars tracking system identifies students in need, staffers will reach out and recommend supports, like a daycare center for a student's child, or advice on which college loans to apply for.
"I am in awe of how they are able to overcome the stuff they've overcome, how they are able to navigate the responsibility they have now," said Kehoe. She recalled a student she interviewed for the study who commuted 50 miles to school every day, while supporting his mother and siblings by working as a janitor after class four days a week.
Although wealthier, more prestigious schools generally have resources for students from disadvantaged backgrounds, the smaller, less wealthy schools the Dell Scholars are likely to attend don't often have supports, such as academic counseling or daycare, to help them, Kehoe said.
Kevin Byrne, managing director of U.S. programs for the foundation, who founded Dell Scholars, said he knew from the beginning that they would have to create a college support system that didn't rely on individual advisers in order to scale the model. The program began with 90 students in 2004 and now accepts 500 students in a class. Since its inception, 3,800 students have been Dell Scholars.
"You can accomplish a lot of this for not a lot of money if you're able to leverage some of the technology that not only personalizes the interaction but makes you more proactive to help students before there's a crisis," Byrne said.
The study examined Dell Scholars Program data from 2009 to 2012 using two methods: a regression discontinuity and a difference-in-difference comparison. Researchers compared program participants with students who just missed the selection cutoff, then matched both groups against a national data set of students who were similar in terms of GPA, race, ethnicity, and selectivity of college they enrolled in. This was to make sure that the positive results weren't merely a result of a sample of self-selected, motivated students who had applied to the program.
Get stories like these delivered straight to your inbox. Sign up for The 74 Newsletter