How Little Kids Rock Is Bringing Music Back to School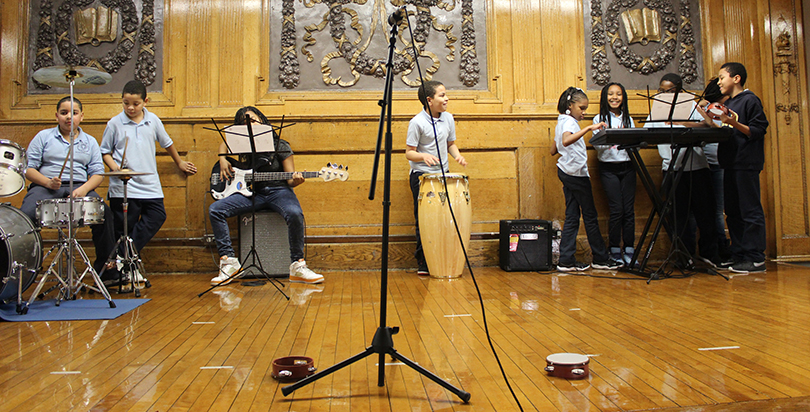 Brooklyn, New York
Dorothea Young knows the power of music. When she was in elementary school, the glee club was what motivated her to show up to class every day.
"It saved me," she said.
Young is now the secretary at Public School 149, the Danny Kaye school, in Brooklyn's East New York neighborhood. Like many city public schools, Danny Kaye didn't have a full-time music program when she started working there in 2010. So when she heard about Little Kids Rock, a national nonprofit that provides free instruments and music instruction to schools, she signed up.
Seven years later, the school is living up to its musical namesake. One Thursday afternoon, nearly a dozen kids in grades 3 to 5 swung drumsticks and strummed guitars on a red-curtained stage in the auditorium, practicing the 1950s classic "Yakety Yak." Music teacher Will Mosley halted the squirrely intro to the song. "OK, stop," he said. "When's our performance? February 17. We've got to get ready. Imagine this room filled with people."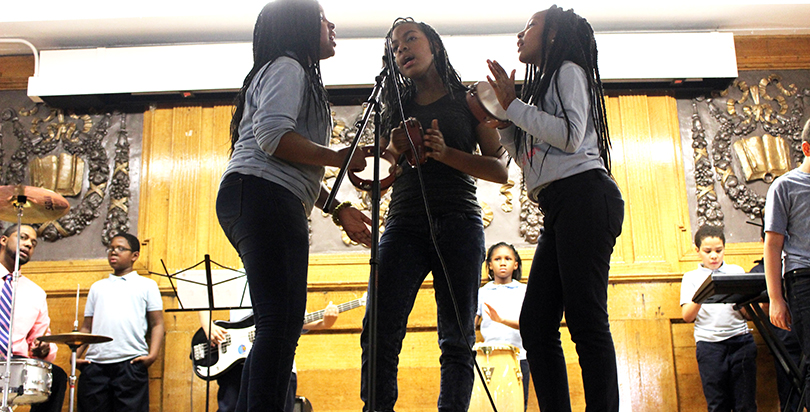 Until Little Kids Rock, having an auditorium full of audience members eager to hear a student concert would likely never have happened at Danny Kaye. The students are mostly black and Latino, and 94 percent qualify for free and reduced-price school lunch — exactly the type of school that is least likely to offer a music program, according to a 2012 report from the National Center for Education Statistics.
That lack of opportunity for low-income kids was what inspired elementary school teacher David Wish to create Little Kids Rock. Frustrated that his California school had no funding for music education, he started an after-school guitar class that grew in popularity until he decided in 2002 to make a national nonprofit dedicated to teaching music to young kids across the country.
After 15 years, the free program — designed for schools where at least half the students are eligible for free and reduced-price lunch — has taught music to more than a half-million students in 2,300 schools across 25 states.
Though it is based in New Jersey, Little Kids Rock's biggest reach is in New York City. In 2014, the city Department of Education partnered with Little Kids Rock and Berklee College of Music to form Amp Up, a $4.5 million initiative that has reached nearly 600 schools, including Danny Kaye.
Little Kids Rock teaches music differently than most programs. Rather than learning to read music, students are taught how to place their hands to play chords, which are a group of notes played simultaneously. It's faster and easier, which keeps students motivated, said Kat Kelly, marketing and communications manager at Little Kids Rock.
"We want the kids to be able to succeed on the first day," Kelly said. "They walk away from it and realize … 'I have the ability to make music.' "
---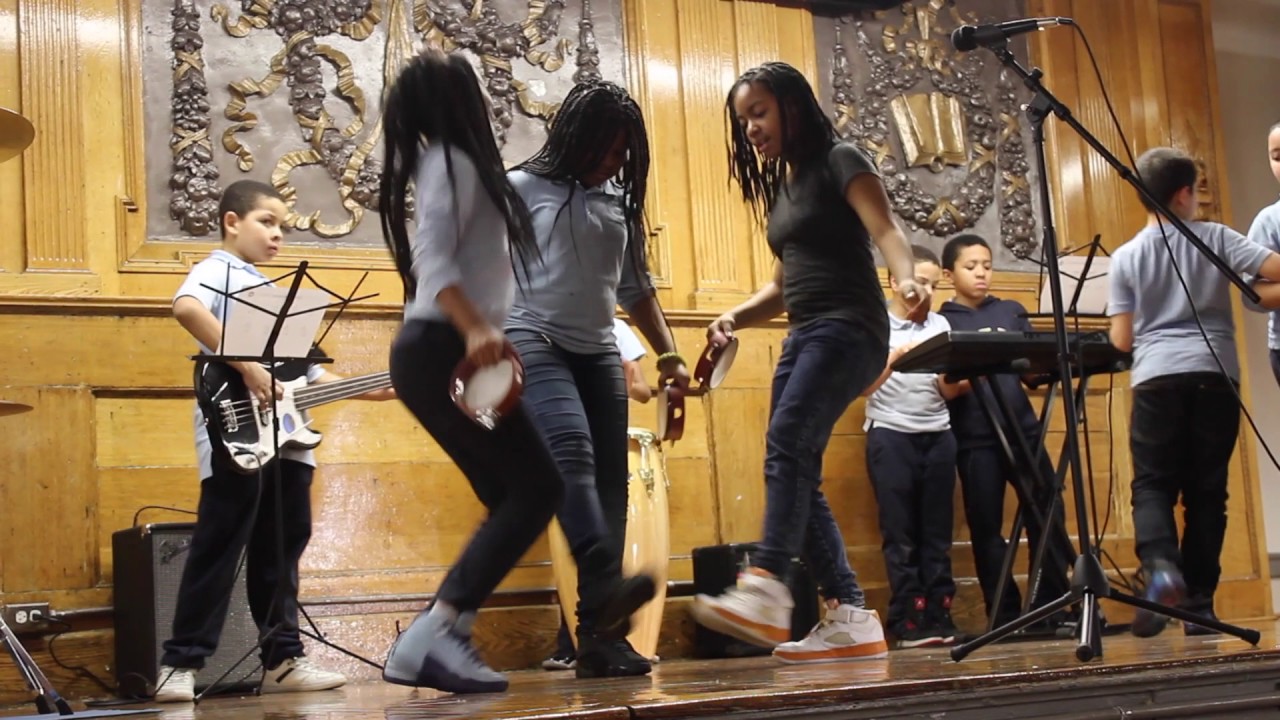 ---
At first, Young ran the Little Kids Rock program at Danny Kaye. But when Mosley signed on as the school's music teacher in 2014, he took over after training in the nonprofit's unusual approach to music education.
Mosley was raised in the neighborhood — though his classroom is lined with pictures and autographs of well-known musicians, he says the best part of the room is the view from the window of the apartment building where he grew up. A career in music wasn't something that had occurred to him, so he took a job at a travel/finance firm. But after the terrorist attacks of 9/11, he was motivated to find a career he was passionate about.
So, 14 years ago, Mosley became a teacher. He sees music programs as extremely important for showing students they can have a career in something they love — and for boosting his students' self-confidence.
"If they fail a math test and get down, well, here's what it sounds like to hear a room full of people clapping for them," he said.
Research bears this out. To measure the success of its Amp Up program, Little Kids Rock partnered with the Center for Arts Education Research at Columbia Teachers College to conduct surveys, end-of-year assessments and interviews. They found that of the students who participated in the program, 97 percent were more likely to express themselves and their emotions, and 82 percent were more engaged with their school community.
"What we've seen in our studies is, our students are more engaged in our schools, and they're more engaged with each other," Kelly said.
In addition to social and emotional benefits, research has long shown that music provides academic advantages. It can help
language processing
,
math performance
and
cognitive development
. But fine arts programs are often the first to go when school budgets shrink. The new federal administration has recently proposed that the National Endowment for the Arts and the National Endowment for the Humanities programs
get the ax.
For Mosley's students, their school's music program brings with it experiences they would never otherwise be exposed to. The kids have performed at events for the Office of the Brooklyn Borough President, retirement homes and New York University. Most recently, they sang and danced in rooster masks for the Chinese New Year Countdown at Brooklyn Borough Hall that was
broadcast in Beijing
.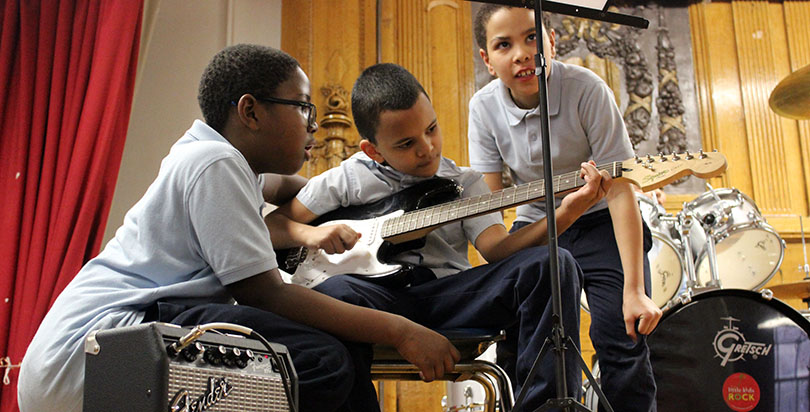 Every Thursday, for two hours, they rehearse their technique and prepare for the next performance.
On a recent Thursday, Mosley redirected his three lead singers and tambourine shakers around their microphone. One of them, fourth-grader Rayneice Shepherd, said she joined the band because she wanted a way to express her feelings. Rayneice has a big stage smile and isn't afraid to sing and stomp loudly during practice, though she describes herself as shy.
"Music is important in schools because some kids, they just do better at music," she said, adding that it helps them to de-stress.
Fifth-grader Elijah Galarza, who was playing the keyboard during practice, had never played an instrument before joining the band. But as he helped Mosley carry the instruments one day, he became interested.
"It's not hard. The hardest part is switching chords," he said, adding that the drums were the most challenging of the instruments.
Fifth-grader Jandel Martinez remembers watching the band perform and itching to try the bass guitar. He also has played the keyboard, but during practice he was singing and dancing to his own choreography for "Yakety Yak."
"Schools should have music so students can have a future of playing music and performing for people," Jandel said.
At Danny Kaye, music education doesn't end when the school day is over.
"Don't forget your homework. YouTube. The Coasters. 'Yakety Yak,' " Mosley told the students as they packed up their instruments. "Listen to the song every day."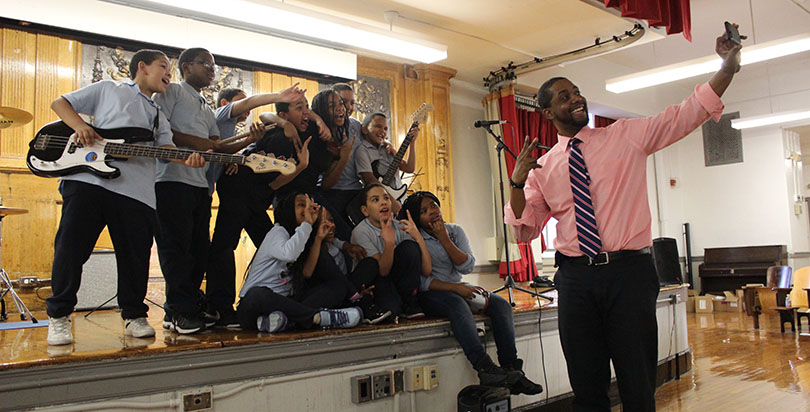 Get stories like these delivered straight to your inbox. Sign up for The 74 Newsletter