How Are This Year's Spelling Bee Champs Spending Their Summers? Not Spelling, That's for Sure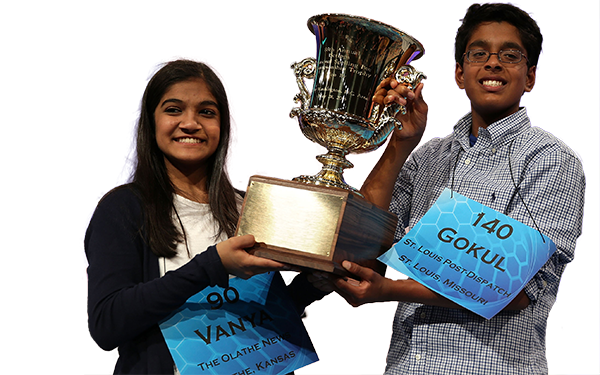 Dolphins. Mickey Mouse. LeBron James.
Easily pronounced and without an obscure Latin root in sight — these are the words filling the heads of this year's Scripps National Spelling Bee winners now that the heat from the lights and the pressure from being on a national stage has cooled.
It's a little more relaxing than spelling "scherenschnitte," a form of German paper cutting, as Vanya Shivashankar did correctly. Or "nunatak," the rocky part of a ridge or mountain, as Gokul Venkatachalam did right after her, beating out 283 other spellers to be named co-champions.
It's rare to have a tie in the national spelling bee — the finalists must exhaust a list of 25 championship-level words without making a mistake — though it actually occurred in 2014 as well. Before that though, you have to go back to 1962 to find the last time two spellers shared the title. The co-champions each received $35,000, a complete Merriam-Webster reference library and other prizes.
So now that Shivashankar and Venkatachalam have "retired" from competitive spelling, they answer the inevitable question: What are you doing this summer?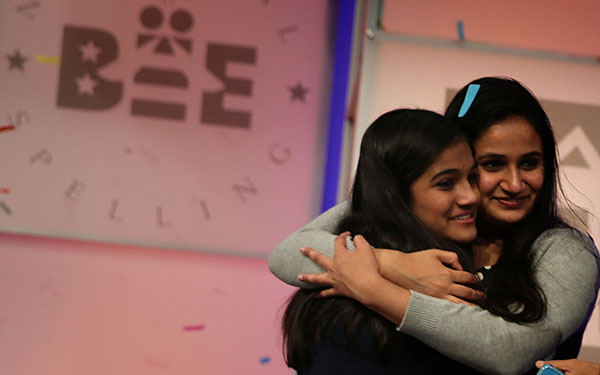 Vanya Shivashankar:
Swimming with D-O-L-P-H-I-N-S
When Vanya Shivashankar became a co-champion of the 2015 Scripps National Spelling Bee, she made history.
Shivashankar became the first sibling of a past champion to also win the bee. Her college-aged sister Kavya — her role model — won the national spelling bee back in 2009.
"Before she went to college, she definitely was quizzing me and helping me find root words," she said. "Even when she came back from college over winter or spring break, she always helped me."
Shivashankar said she always wanted to win the national spelling bee, studying year round. Because it's "impossible" to memorize every word in the dictionary, she said she focused on understanding languages and root words. She competed in the competition five times before coming out on top.
Now that's all over.
Although she said she hopes to stay involved in local spelling bees, she herself has stepped down from competitive spelling. Because of her age — and because she was victorious this year — she is ineligible for next year's bee.
Until her first day at Olathe North High School in Kansas, the 13-year-old is spending her summer in the sun. At the beginning of July, she went on a cruise to Mexico with her family and visited Disney World in Florida.
"In Mexico, we got out and I got to swim with dolphins," she said. "I love animals, all types of animals, so it was a really great experience for me."
But her summer hasn't been entirely free from spelling — putting her expertise to use on a trip to Los Angeles, Calif.
Last year, Shivashankar competed in an eight-week reality television competition, Child Genius, which appears on the Lifetime channel and tests some of America's brightest children on math, spelling, literature and other topics. After winning that in 2014, she returned to California this summer, to give the next round of Child Genius contestants a pep talk on spelling.
Without the pressure to practice for future spelling bees, her schedule will make way for other activities including Science Olympiad and theater. Performing on her high school stage will be a breeze after appearing on Lifetime and ESPN, which broadcast the national spelling bee from National Harbor, Md.
"I like being on stage," said Shivashankar, who wants to become a cardiac surgeon. "I'm not afraid of the lights and the cameras. I'm not afraid of being in the spotlight."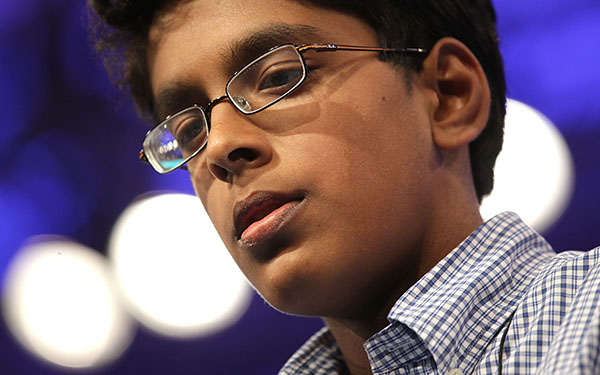 Gokul Venkatachalam:
Smooth Like L-E-B-R-O-N
As Gokul Venkatachalam stepped up to the mic in a slick pair of Air Jordans, the spelling bee champ payed homage to his favorite basketball player — LeBron James.
During the 2015 Scripps National Spelling Bee in May, Venkatachalem wore the basketball star's jersey under his button-down. Now that he came out victorious on the national spelling bee stage, he's working on his moves on the court.
Venkatachalam, 14, used to study spelling and vocabulary for four hours every single day. These days, he is gearing up for his first day of high school and focusing on his other favorite hobby, preparing for basketball tryouts at Parkway West High School in suburban St. Louis.
"I always said I would maintain my spelling, but I don't need to study any more spelling," he said. "I like basketball because it combines skill and athleticism."
Venkatachalam said he has made time to review his math skills in preparation for school to start, but for about three hours each day this summer, he's working to be more like LeBron.
"He dominates in everything," said Venkatachalam, who hopes to one day pursue a career in business. "And that just amazes me."
Get stories like these delivered straight to your inbox. Sign up for The 74 Newsletter