How Are DC Schools Regaining Progress for Students? New Dashboard Has Some Clues
Educator's view: Only by addressing pandemic-related harms and pre-existing policies can the district make progress on longstanding opportunity gaps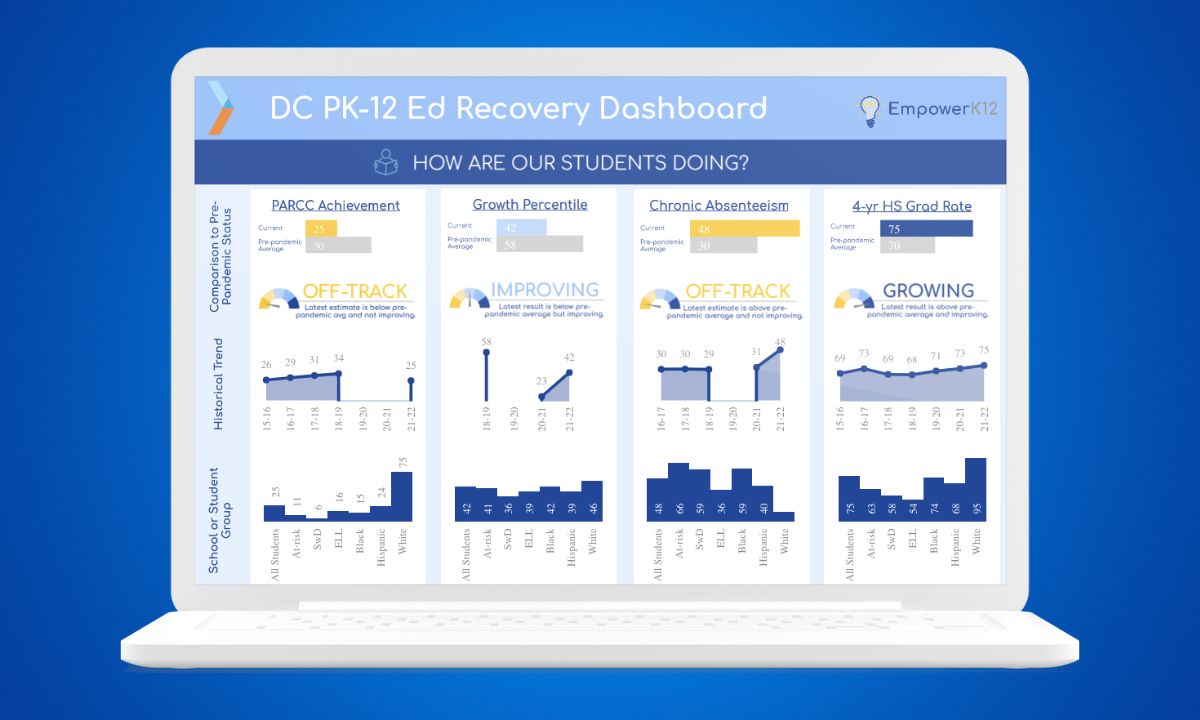 Support The 74's year-end campaign. Make a tax-exempt donation now.
Before the pandemic, Washington, D.C., was making substantial progress in better serving its students and preparing them to achieve. Data from 2019 on both PARCC and NAEP indicated that D.C. students across grades and demographic groups were closing the gaps with their national and urban district peers.
Roughly a year after most students in the District returned to full in-person instruction, the picture is quite different. The latest exam results show fewer D.C. students on track for college and career. Less than 15% of D.C. fourth graders from low-income households reached proficiency in reading on NAEP, and the gap between them and their peers nationwide nearly doubled compared with 2019.
The results highlight significant gaps between where D.C. students are today and the District's goal of ensuring every child is prepared to achieve economic success, power and autonomy in their lives. In particular, the results confirm the need to remain focused on those students who are furthest from opportunity. D.C. leaders must urgently provide the resources, learning supports and enrichment opportunities that all students need to succeed, feel valued and pursue their personal aspirations.
Fortunately, there are some early indications of academic and social recovery in D.C.. EmpowerK12's latest Unfinished Learning brief found that student growth in key grades and subjects had returned to pre-pandemic levels by spring 2022. Student well-being also significantly improved. But students furthest from opportunity experienced that growth more slowly. Those designated as at-risk in the District's school funding formula, based largely on poverty, are an average of 15 to 18 instructional months behind, while students who are not classified as at-risk are about four to five months behind pre-pandemic national averages.
Those students who are "at-risk" for academic failure, as well as those with disabilities, and English learners, are disproportionately children of color who face pervasive, systemic racism. As the District works to recover from the short-term impacts of the pandemic, leaders must also look honestly at how, even before COVID, public schools in the nation's capital came up short for too many students. Only by considering both the short-term, pandemic-related harms and the pre-existing policies that kept students from success can the District make progress on longstanding opportunity gaps.
To that end, Education Forward DC, the organization I lead, recently launched an ongoing dialogue — our Better Than Before series. Since June, over 300 students, parents, educators, school leaders, policymakers and advocates have come together at three convenings for discussions led by education leaders, data experts and students themselves. A fourth and final gathering is planned for the end of April. Through these conversations, members of the District's policy and advocacy communities are collaboratively working to understand the pandemic's impacts on student success and how the District can build a school system that serves its students even better than it did before COVID-19.
During these discussions, we have heard directly from students and school leaders about the complex challenges they face. Students raised concerns about safety in their neighborhoods and in their schools, increased workloads, longer commutes, and teachers and peers experiencing emotional and behavioral challenges. School leaders pointed to the need to better support students' non-academic needs, such as making them feel loved and supported in school, and addressing food and housing insecurity. In both cases, these factors were highlighted as major barriers to academic growth and social well-being. Future events in the series will include the release of a new snapshot of data examining students' well-being after returning to in-person learning.
Taking on these numerous and complex challenges will require a clear understanding of where students are, in real time. In support of that, Education Forward DC partnered with EmpowerK12 to launch the D.C. Education Recovery dashboard. In addition to assessment data, the dashboard provides an at-a-glance look at key metrics to better understand how students are doing — including growth percentiles, chronic absenteeism and graduation rates. The dashboard also provides insights into the health of the District's education system, including enrollment figures, per-student investment, and teacher and leader retention trends. The D.C. Education Recovery dashboard provides parents, educators and leaders with an accessible and comprehensible data set, regularly updated, to create a shared understanding of where D.C. as a city must collectively focus its resources, efforts, and energy across what will likely be an extended period of recovery.
It's encouraging to see some metrics already improving. Since returning to school, students are learning again. However, there has been a troubling increase in chronic absenteeism, with 48% of students missing 10% or more days of school. Those considered at risk of academic failure have seen a 16-point increase in chronic absenteeism from before the pandemic.
To address these persistent challenges, there is not a one-size fits all solution. The diverse needs of students require a wide range of solutions, expanded high-quality options so all students can find the best educational fit for their unique needs and accountability for the entire system when those needs are not met.
Funding, too, is a crucial starting point. Mayor Muriel Bowser's proposed budget for next year keeps D.C. on a path of growing local investments in education. With leaner budget times likely ahead, D.C.'s leaders must maintain their commitment to making education a priority to increase equitable funding for all District students.
Before the pandemic, the District saw how the combination of strong investments, high-quality options and accountability can be powerful forces in raising student achievement and outcomes. Now, D.C., must demonstrate that it can deliver on the promise of a truly equitable and just recovery for all students.
Support The 74's year-end campaign. Make a tax-exempt donation now.