How A Student Paper Visualized Gun Violence and Captivated the Nation
'To see such a huge response from our community and also people across the nation has helped us keep going on,' says Daily Tar Heel's Emmy Martin.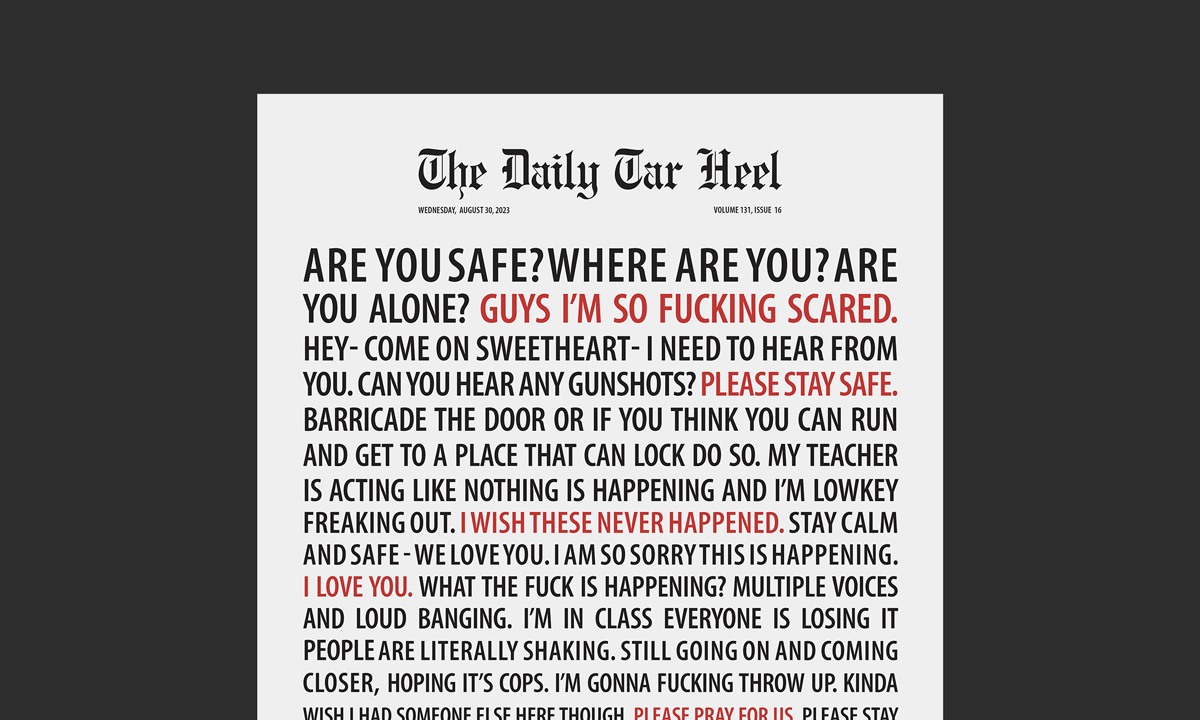 No paywall. No pop-up ads.
Emmy Martin sat two buildings away from a murder at the University of North Carolina campus on Monday, August 28 — locked in a library for over three hours with about 30 peers in silence apart from the confusing updates of a police scanner.
Martin, editor-in-chief of the student paper The Daily Tar Heel, mapped her escape route in case an active shooter broke through the library's glass walls. 
By midnight, Martin was finally alone, safe but at a loss for how to visualize the crisis for the paper's front page.
Scrolling through unanswered texts and classmates' online posts, she found her answer.
"That's when I realized that that is what our front page had to be," Martin told The 74, "because those text messages — the sentiment of 'are you safe' was something that was shared by everyone who experienced this, but also by anyone who has been in an active shooter situation across the nation and across the world."
Within 72 hours, she and her Tar Heel colleagues were thrust into the national spotlight as their front page coverage from the campus shooting went viral, reaching President Joe Biden's desk and amassing nearly 8 million views on X, formerly known as Twitter. During what would've been an open house to attract new staffers, editors instead shared their stories on NBC, CNN, MSNBC and PBS.
In what may be the darkest stream of consciousness to catalog the emotions of a generation constantly plagued by gun violence, the cover strings together text messages between students and their loved ones as chaos unfolded: "Are you safe? I wish these never happened. Someone is already shot. Run if you can. I love you."
As the font gets smaller and smaller, reality sets in: the pain, outrage and fear is endless.
"We wanted to tell the story of three hours and ten minutes. Of just being scared, not knowing how many people may be on campus, not knowing how many people may have died, or been injured," the Tar Heel's print managing editor Caitlyn Yaede told The 74.
@kendallma im still reeling from the events of yesterday. my heart goes out to the family and friends of the victim, as well as the entire chapel hill community. i never thought i would experience something like this and wanted to share my conversation with my mom and dad as the events unfolded. #unc #heelstrong ♬ Fine line – Instrumental – Kapa Boy
The Daily Tar Heel is both a student-run nonprofit publication, independent of university funding, and the only print publication for Orange County, read by locals for generations.
Editors intentionally highlighted messages that would do justice to the full spectrum of emotions, choosing not to censor expletives. News organizations around the country have preserved the graphic's language in its entirety, too.
"We had people whose response was expletives, 'What the F is happening?' And there are people who say, 'I love you, I love you so much, call me.' No matter how you express that stress and overwhelming concern, that's shared humanity. I think that the width of that and the breadth of that and the range of that is really captured in that cover," Yaede said.
Their work struck a chord: Locally, Wednesday's papers ran out by 1 p.m. Faculty, staff, students and community members came by the newsroom on Franklin Street in the heart of Chapel Hill to ask for more copies.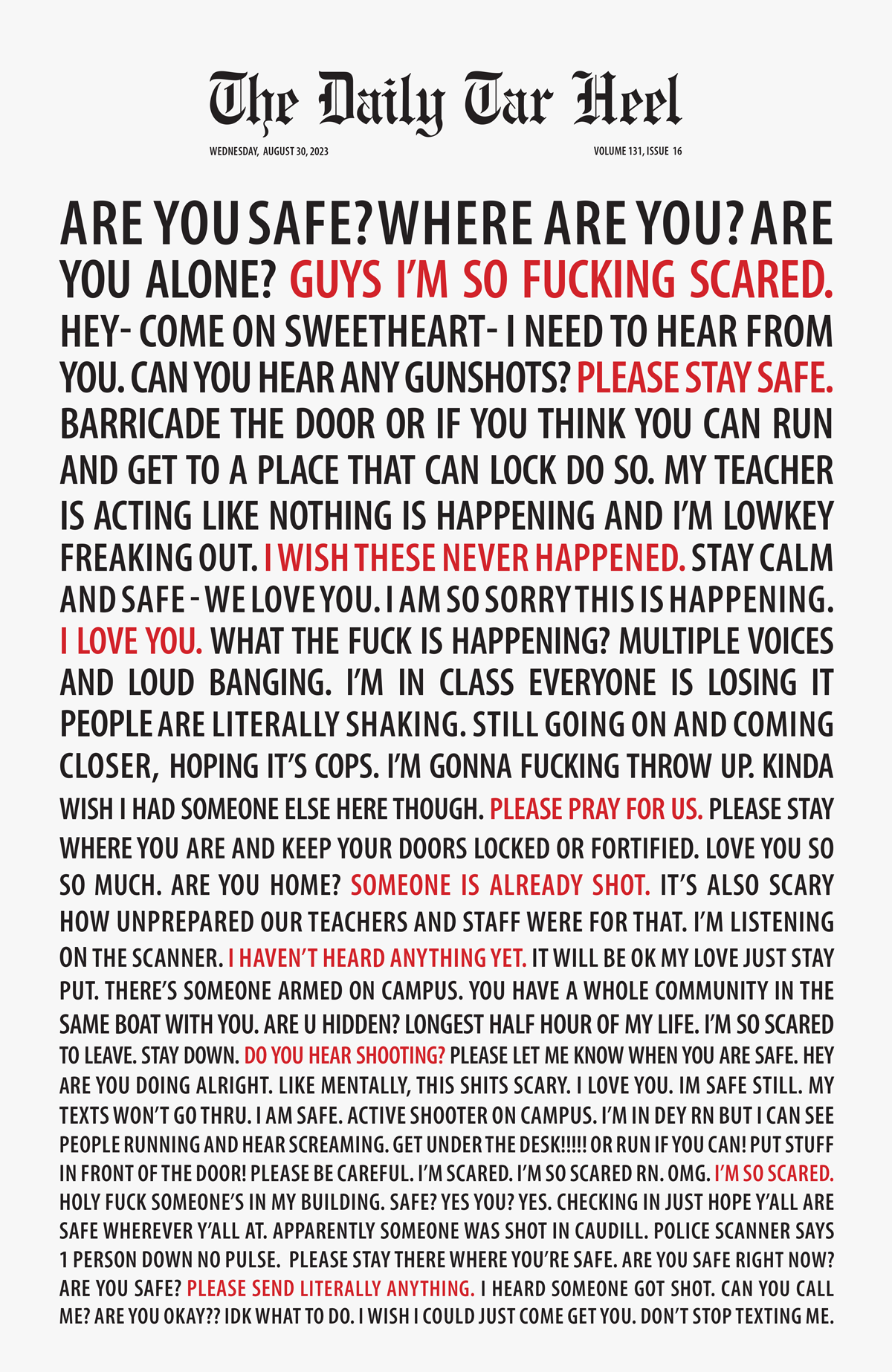 While the nation has been exposed to frantic messages sent during shootings — notably those from Pulse victims and Parkland's Marjory Stoneman Douglas High School students — the cover's unique design landed like a gut punch.
For the first 10 hours, "nothing felt right," Martin said. Editors deliberated and discarded other versions of the front page: a quote spread, or full blank page with key words like 3 hours, 10 minutes, 1 dead — which may have understated the death of associate professor Zijie Yan.
Once they'd agreed on the string of texts, over 36 editors collaborated to gather content, collecting anonymous screenshots from peers. Yaede and Martin weeded through them to find common themes, an order, and begin transcribing.
"If there was a moment when I was going to break down, it was reading those," Martin said. Some of the messages came from close friends. "I can hear their voice."
The order and jumbled nature of the texts was also intentional, "even if it may have not been the most straightforward approach in terms of readability," said multimedia managing editor Carson Elm-Picard. The block mimicked the experience of those on campus sitting in silent, panicked rooms receiving message after message.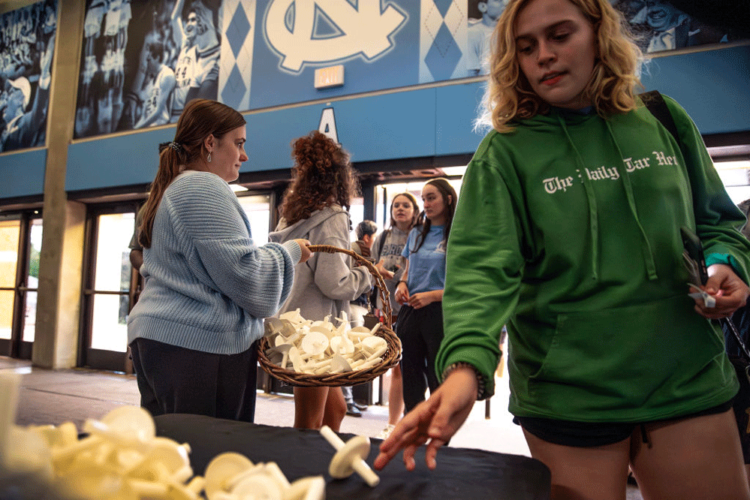 Elm-Picard helped fine tune the design throughout Tuesday, changing what would've been a black background with light blue highlights to the final white background with black and red highlights.
"The association with Tar Blue is something that our students normally think of as a good thing. We're proud of it. It's like our color," Elm-Picard said. "I saw that and I just thought that this event, this isn't something we really want to associate with that."
The Tar Heel's coverage spanned well beyond the graphic cover. This week's stories included how the local K-12 district responded to the shooting threat, flaws in the emergency alert system and training that left many in the dark, and harrowing opinion pieces.
While the coverage has been necessary, it's also been traumatic and draining for everyone involved. Going viral was the last thing staff expected.
"It's hard to say any of this feels good. Because it doesn't," said Elm-Picard, who grew up near Columbine High School in Colorado and is all too familiar with gun violence. He knows the site of the Aurora shooting; many of his friends attend school near the site of the Boulder grocery market shooting.
"Our whole entire generation, it's not really that foreign to us, but it's different when it's where you live and where you feel comfortable," he added.
In the Daily Tar Heel newsroom, staffers share meals, check in with each other and have been encouraged to take time off when needed. Student journalist alumni have reached out with support in droves.
"To be honest, it's been a horrible two days for everyone in the newsroom," Martin said. "To see such a huge response from our community and also people across the nation has helped us keep going on."
Get stories like these delivered straight to your inbox. Sign up for The 74 Newsletter