How a Statewide Entrepreneurship Contest Launched 3 Indianapolis High Schoolers into a Million-Dollar Business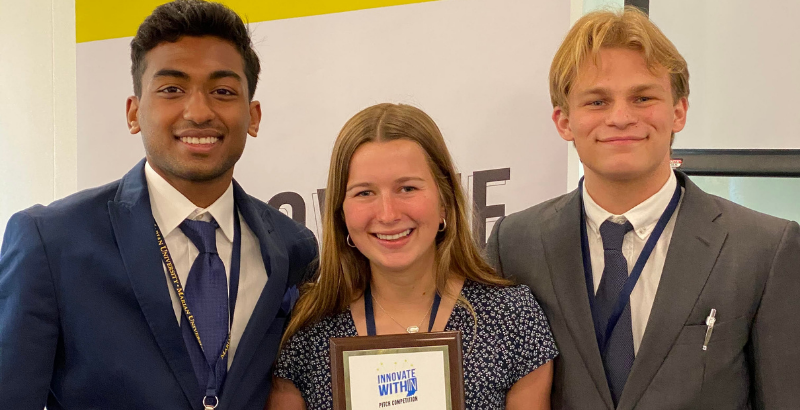 Get stories like these delivered straight to your inbox. Sign up for The 74 Newsletter
If not for a statewide pitch competition for entrepreneurial students, three Indianapolis high schoolers likely wouldn't have started their business. And they certainly wouldn't have seen that company, Find Ideal Applicants, earn $20,000 in early-stage investment that valued the company at $1.5 million.
Their success stems from involvement in Indiana's annual Innovate WithIn contest, which carries a $25,000 prize and offers entrants the chance to work with industry leaders to bring their proposed products to market.

"We were all talking about how we wanted to go into business, and we found out about the Innovate WithIn competition … so we were pretty fired up about the opportunity because it offered a structured environment for startups," says company co-founder Emma Hamilton, a senior at Brebeuf Jesuit Preparatory School, who entered the contest with classmate Krishna Thiru and Isaiah (Izzy) Branam, a senior at nearby Zionsville Community High School. "I would definitely say Innovate WithIn acted as a backboard for us starting the startup."

"This is a state that is very intent on growing their talent pipeline," says Don Wettrick, a former teacher whose classes on entrepreneurship gave rise to the competition. "It has been an all-hands-on-deck with their services. This is a rare state in they are taking students seriously. This is not a cute speech competition. I am really proud Indiana is leading the way to really empower young entrepreneurs and believe in them."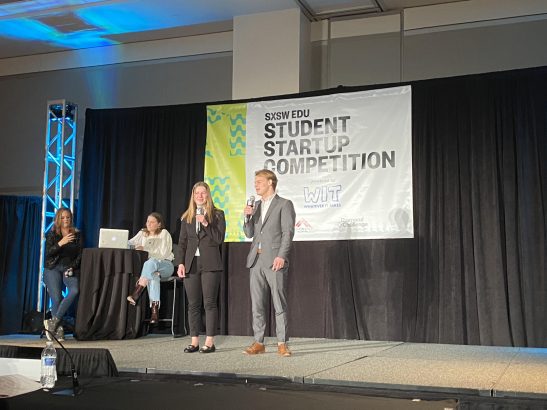 A decade ago, Wettrick was inspired by a TED Talk to teach a course on innovation and open-source learning. If students didn't know how to do something, they found someone — or somewhere — to teach them. "Our students were calling on some real A-list people," he says. Wettrick wrote a book about the process, and folks at the state level came calling. Together, the governor's office and Indiana Economic Development Corp. decided to make a serious run at prepping entrepreneurial minds. Wettrick started as a consultant and by year three was leading Innovate WithIn and heading the nonprofit STARTedUP Foundation, which administers the contest.

State leaders "wanted to see if they could intersect students with entrepreneurship and innovation," he says. Students learn how to see a problem as an opportunity and come up with a plan. Wettrick says the faster students understand the benefits of learning from their mistakes, the more success they will have sooner in their lives.

Now in its fifth year, and with 2,300 students participating, the free competition begins with nine regions hosting 10 teams each, who receive pitch practice, help in determining target markets and mentoring for four weeks. Each region has its own mentors providing assistance to each of the 10 teams. Following the nine regional competitions held on local college campuses, each region's winner — and a 10th wild card team — gain an additional seven weeks of training as they prepare for the state competition each June.

Hamilton says all that assistance led FIA from a basic idea into a real startup. The three founders used the STARTedUP Foundation website to take online business courses, developed an executive summary, drafted pitch decks and created videos explaining the company and its goals. After they won the southern Indiana regionals, which brought a $1,000 prize for each of the three seniors and a free trip to Arizona to meet celebrity entrepreneurs and world-class business leaders, twice-weekly, two-hour meetings started.

"They would bring in special guests and offer guidance to prepare for state, pivots we could make and suggestions that were super helpful," Hamilton says. "I definitely think (the state competition) acted as a motivator for us to continue pushing on and prove our company was viable."

Though FIA didn't win the statewide contest, the STARTedUP Foundation stayed in touch, continuing to offer classes. FIA received an invitation to pitch at the Elevate Ventures Central Region Pre-Seed Awards Competition in November 2021, which they won. From there, Innovate WithIn connected them to SXSW Edu, and FIA pitched at that student competition in March. Though the three didn't win, they met valuable new contacts.

Persuading funders to kick in has made it all quite real, even as the team balances school with refining their software. "Not only did we believe in ourselves, the fact that a venture capitalist firm was willing to invest in us not only made it seem like this is real and time to turn things on. If they were willing to put their money into us, it proved we had something valuable," Hamilton says.

Innovate WithIn now has an alumni program offering continued support. With that help, participation has doubled each year — and is trending younger. First it was only high school seniors, but now sophomores and juniors are in the mix. Wettrick says students see that the contestants are tackling problems in front of them and finding solutions. And it's not just students who are taking notice — four states are working to replicate the program.

"I'm standing on the shoulders of student giants," Wettrick says.
Get stories like these delivered straight to your inbox. Sign up for The 74 Newsletter