How a Murder at a Baltimore School Inspired Classmates to Post Highest Graduation Rate in Years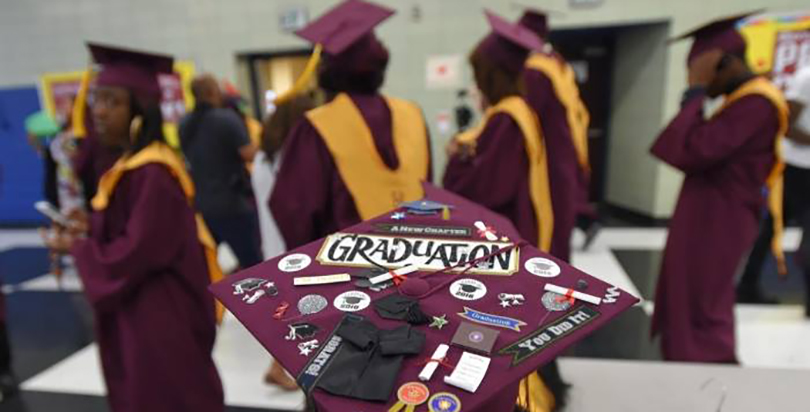 This article is one in a series at The 74 which profiles the heroes, victories, success stories and random acts of kindness to be found at schools all across America. Read more of our recent inspiring profiles at The74million.org/series/inspiring.
By all accounts, 2016 should not have been a record-breaking year for graduates of Baltimore's Renaissance High School in the beleaguered Upton-Druid Heights neighborhood.
The year began in the aftermath of Freddie Gray's death and the subsequent protests. In November, a student was stabbed during a science class and later died of his wounds. Two more students were later shot and killed off campus. Officials slated the school for closure, citing poor student performance.
But in the spring, Renaissance's teachers and staff say they noticed a shift in mood, as well as improvements in academics and behavior. Suddenly, a passing grade of 60 wasn't good enough. Fights died down, and a sense of unity took hold.
Some now credit that stabbing death of 17-year-old Ananias Jolley as the jolt that motivated the wider student body. Jolley's older brother, who had dropped out the school, returned to graduate. Ananias' mentor, Corey Witherspoon, who had screamed to the boy "Fight! You can make it!" started repeating the sentiment to other kids in school.
The Baltimore Sun says it became an unofficial mantra of the class of 2016.
If so, it worked. On June 3, Renaissance's four-year graduation rate clocked in at 82 percent — the school's highest in six years, according to the Sun. Of the 65 graduates, 40 were boys; of those, 35 participated in the mentoring program Seeds of Promise. The program pairs students with "school fathers" who help with schoolwork, food, and clothing.
---
---
When the going got tough, valedictorian Jaylen Myers, 17, stayed put and fought for the school he believes in. He had the opportunity to switch to Baltimore Polytechnic Institute his sophomore year but felt a special loyalty to Renaissance.
"I never gave up on this school because it didn't give up on me. I knew it would mean a lot to stay here," Myers told the Sun. "I inspired myself and others around me. I want all of us to succeed, my classmates, African-Americans, my community."
The road ahead requires the same tenacity the students employed to graduate. Even with financial aid, Myers can't afford his dream of attending Clemson and is headed to University of Maryland Eastern Shore instead. Meanwhile, Ameer Smith, 19, told the Baltimore Sun that his immediate goal is simply to survive.
As they face the challenges that lie ahead, perhaps they will remember Myers' charge during his graduation address, "You are Renaissance strong."
Support The 74's year-end campaign. Make a tax-exempt donation now.