How a Cultural Arts Center Built a High School to Mold Aspiring Artists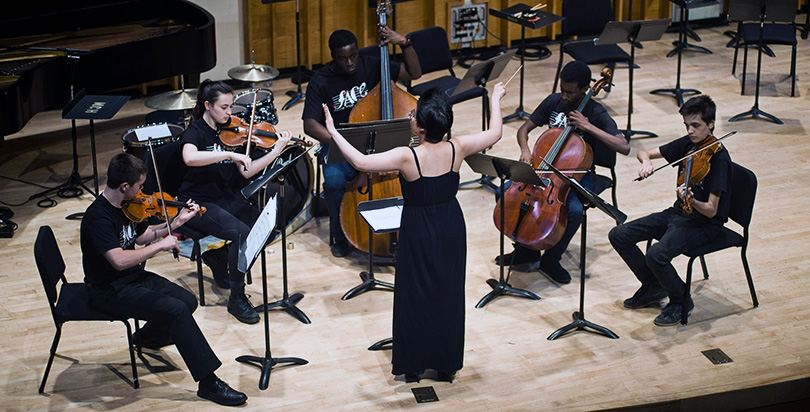 New York City
It's almost the end of the day at the Special Music School at Kaufman Music Center, and that means Luke Schwartz's students have time to take one more stab at a project they have been working on all week: A rendition of "The Four of Us," a melancholy composition made to be played by an electric and jazz guitar ensemble.
Principal Katie Banucci-Smith and music director Igal Kesselman watch in anticipation. The seven boys, mostly dressed in black T-shirts and with guitars of varying types slung around their necks, stare intently at the sheets of music as they begin to strum their fingers across the strings. Schwartz nods his head and snaps his finger to the smooth, rhythmic sounds.
"Pretty good," Schwartz tells them when they finish. "Actually, that might have been the best I have heard it."
Teaching high school students to expand their musical repertoire isn't just an elective at the Special Music School, it's part of its foundation. Through a partnership between the Kaufman Music Center, a New York City–based cultural center that promotes music education and professional performances, and the city's Department of Education, the school admits musically talented high schoolers and gives them a combination of instrumental instruction and rigorous academics.
This year, the Special Music School at Kaufman Music Center will graduate its first senior class — nearly 65 years after the Kaufman Music Center started what is now known as the Lucy Moses School at Kaufman Music Center, a private program that offers music, dance and theater classes for all ages. The Special Music School also teaches K-8 students in kindergarten under the same partnership with the public school system.
"We felt that the dream was to actually be a high school where we would nurture kids because we were on both sides with them: the academics and the music," said Lydia Kontos, Kaufman Music Center's executive director. "That was the real reason for it. To just complete the work we started and guide them through their decisions about their higher education — and then we have to let them go."
When senior Olivia Gordon goes, she hopes it will be to New York University to continue her acting career. The high school senior, who has been interested in the performing arts since she was a young child, has already had a few lines on the TV teen drama Degrassi and an appearance in the crime show Gotham.
But it was during a schoolwide performance her freshman year of Tjak!, a massive choral piece that tells the story from the epic Hindu poem The Ramayana, at the Secret Theatre in Long Island City, that Gordon first learned the ins and outs of vocal performance.
"That's my favorite memory," she said.
The Kaufman Center began to seriously think about creating a high school around 2002 — a time when the city was experimenting with new models of education. With the help of philanthropic funds, then–New York City Mayor Michael Bloomberg's administration was rapidly opening new high schools and closing others.
At first, the Kaufman Center searched for an existing public school to partner with that would provide academic teaching that could be supplemented by the center's music education program. When no public school option was available, the center started paying for private music lessons for the graduates of its Lucy Moses School instead.
In 2012, the city approved the center's application for a music high school and assigned it space in the Martin Luther King Jr. Educational Complex on Manhattan's Upper West Side. It added a grade level each year until now, when the school has about 200 students and its first senior class.
"It was always our intention to have a high school," Kontos said. "There was never any thought not to have a high school."
Admission to the Special Music School is a competitive process. About 500 students apply each year for about 50 spots. Students have to submit an audition piece, take a theory test, go through an interview process and take part in a group improvisation exercise with a teacher.
"The idea behind our school is that students are able to independently create an artistic voice in the high school community," Banucci-Smith, the principal, said of the purpose of the improvisation portion of the admissions process. "Part of that is having a level of responsibility and flexibility in group settings."
Students are also evaluated on their academic accomplishments, including recommendations from teachers. Special Music eighth-graders are guaranteed a spot in the ninth grade at the Special Music School, but Lucy Moses School students receive no preferential treatment.
The admissions process yields a student body that is diverse but, like other admissions-tested schools in the city, doesn't have as many blacks and Latinos as the public school system overall. About 18 percent of Special Music School students are Asian, 22 percent are black, 15 percent are Hispanic and 29 percent are white, according to the district's 2014–15 school-quality snapshots. By contrast, public schools that year were 15 percent Asian, 28 percent black, 40 percent Hispanic, and 15 percent white, according to the city.
Only one percent of the student body are English-language learners, while 14 percent have special needs. Nineteen percent of New York City's students had disabilities and 13 percent were English-language learners during the 2014–15 school year.
Kontos said it was easier to have a more diverse high school student body than a middle school because older kids who live farther away could use public transportation. The center also supports about 60 percent of the student body with full scholarships for weekly music lessons.
The school was designed with a "60-40" principle in mind to balance music and academics in the curriculum. During the first (or 60 percent) part of the day, students take standard classes such as English, history, science and math. After a break and another traditional academic class, the kids switch to music classes. At that time, students are often split up into small ensembles by ability and instrument to be taught by the Kaufman Center's instructors. Other classes, such as music history and entrepreneurship, blend music and academics together.
Students sometimes participate in performances outside of class. Last January, Special Music High School vocal majors performed with gospel musician Kirk Franklin on The View.
---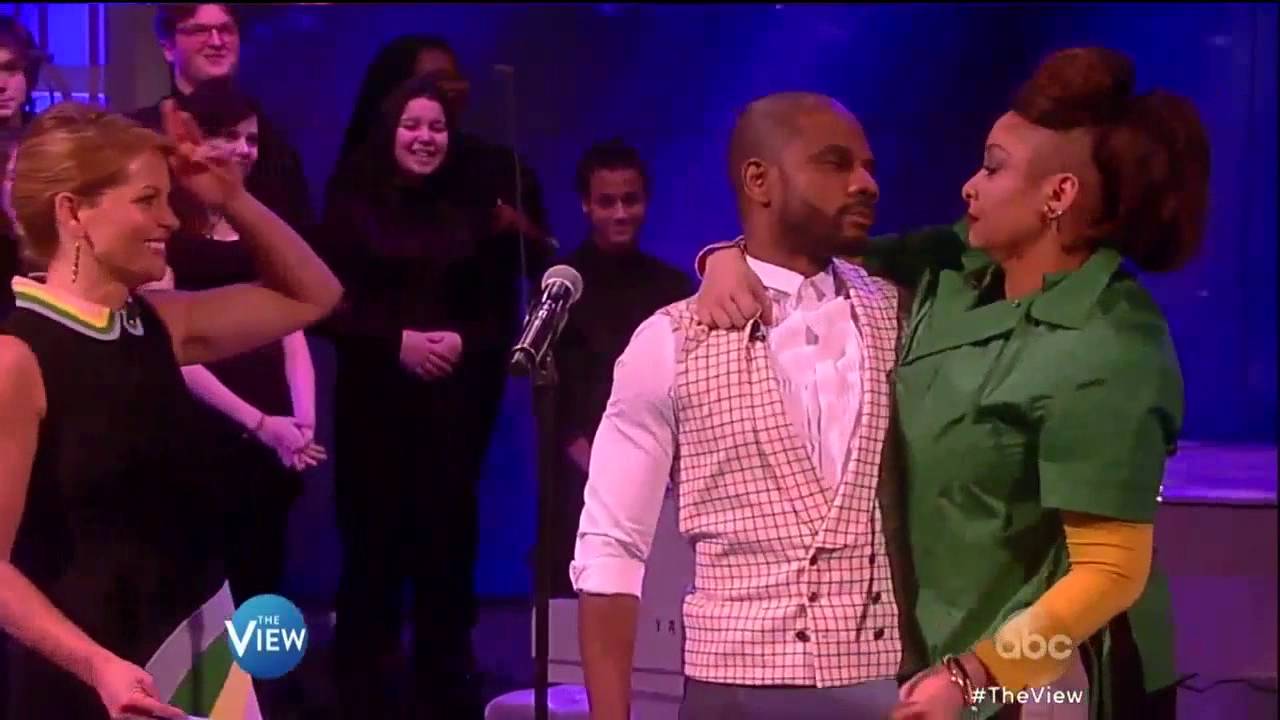 ---
Caitlin Flynn, 17, said she has expanded her vocal abilities since coming to the Special Music School, and she plans to use them in an unlikely career: working for the FBI.
"My mom always jokes, 'I could be a singing undercover agent,' " she said.
Flynn said it's the Special Music School's small, tight-knit community — freer from the normal high school social hierarchies — that has made her experience so worthwhile. Once last year, that social cohesion became obvious when the entire school erupted into an enthusiastic rendition of a Journey song, in a moment that could have come straight out of Glee.
"Most people our age listen to [current] pop music and that's it," she said. "It reminded me of why I came to this school."
Get stories like these delivered straight to your inbox. Sign up for The 74 Newsletter