Houston, Flooded: Twitter Captures Chaos as Some Schools Close, and Other Students Brave the Deluge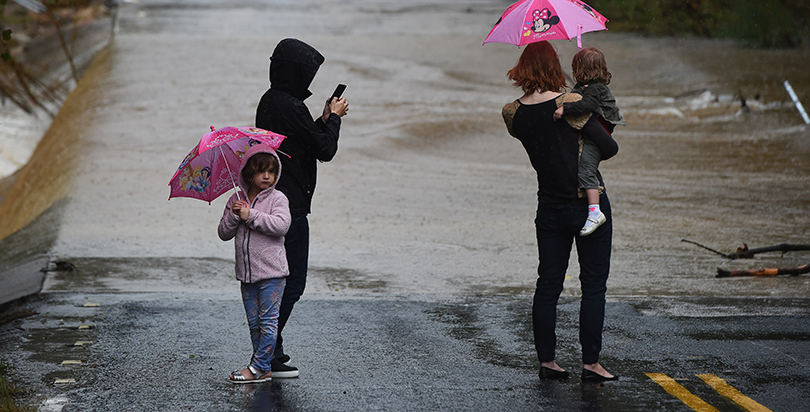 A deluge of 1-2 FEET of rain
brought south Texas to a standstill
Monday, with the resulting flash floods inundating thousands of homes and highways, and forcing more than 100 rescues and the closure of school districts across the area.
Closures included America's seventh largest school district, the Houston Independent School District,
which cancelled classes due to
"severe inclement weather and the related potential for dangerous road conditions."
---
Here are the latest school closures & remember @METROHouston has halted ALL services. #developing #fox26 pic.twitter.com/GFqTK9KNxZ

— Rita Garcia (@TheRitaGarcia) April 18, 2016
---
While many districts across the area shut down, eyeing an additional 8 to 10 inches of rain forecasted today, not all schools followed suit.
---
Flooded at school district. Had to "swim" through. @TheRitaGarcia pic.twitter.com/bXvDk8ZCQf

— Quang Nguyen (@_nguyen_quan_) April 18, 2016
My street was completely flooded you can't even see it @PasadenaISD_TX is this how y'all wanted me to go to school? pic.twitter.com/9neXfJJYMG

— Hilda Rdz (@PaolaRdz21) April 18, 2016
lol @ people who think we're joking about kayaking to school #houstonflood pic.twitter.com/Z92yMY8LeY

— mackenzie (@mackwinkel) April 18, 2016
---
At schools that chose to open Monday, students documented the chaos: Flooded hallways, collapsing ceilings and closed classrooms.
---
i feel unsafe here, my school is flooding. cancel please @DPISD pic.twitter.com/hqk4fK8xm3

— jay razo (@jaasmiinee52) April 18, 2016
Lol but La Porte still had school, makes sense pic.twitter.com/a8E8KnLXPy

— makayla (@justmakaylaa) April 18, 2016
When your school starts to flood but we still here @PearlandHighSch pic.twitter.com/KZ9inPU7kB

— Eli Horne (@beefboyeli) April 18, 2016
---
Students who got to stay home may have been happy about their "rain day," but at least one class still had homework assignments to complete.
---
Hisd: "School is closed due to Severe Weather"
Teacher's: All your assignments are on the HUB, have a nice day
Me: pic.twitter.com/BNcRmFqsD0

— 행복 (@Juanito29434) April 18, 2016
---
Additionally, kids will have to make up the "rain day" at the end of their school year, reported Houston Chronicle's education reporter Ericka Mellon:
---
Here's how @teainfo explained school make-up days to me this morning: pic.twitter.com/1qp6H91dse

— Ericka Mellon (@e_mellon) April 18, 2016
Summer break won't come as quickly for some. Weather make-up day is May 26 for @HoustonISD & June 2 for @CyFairISD, after last day of schl.

— Ericka Mellon (@e_mellon) April 18, 2016
---
A waiver from Texas' Education Commissioner Mike Morath may change that though, according to Houston ISD.
---
For those asking, law requires #HISD to make up today's lost day on 5/26, unless the Tx Ed. Commissioner grants district special reprieve.

— Houston ISD (@HoustonISD) April 18, 2016
Get stories like these delivered straight to your inbox. Sign up for The 74 Newsletter