WATCH: Newly Crowned Homecoming Queen in Mississippi Kicks the Game-Winning Field Goal for Her Football Team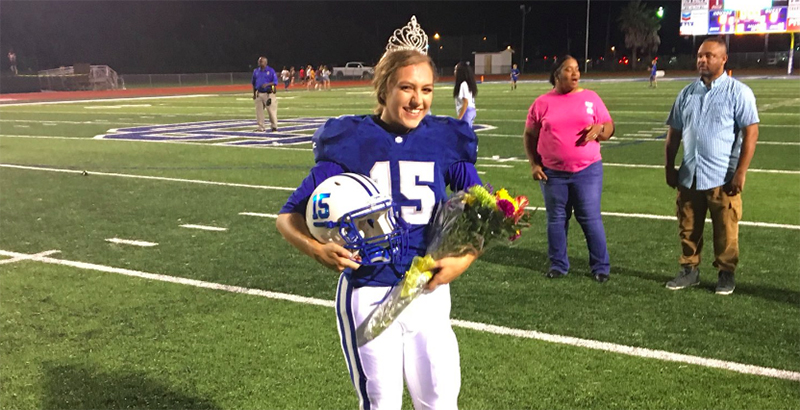 This article is one in a series at The 74 that profiles the heroes, victories, success stories, and random acts of kindness found at schools all across America. Read more of our recent inspiring profiles at The74Million.org/series/inspiring.
It could only happen in Mississippi.
Two weeks ago, Kaylee Foster, 17, donned a tiara and clutched a bouquet as the newly crowned homecoming queen of Ocean Springs High School.
Hours later, she won a football game.
Kaylee kicked two field goals in a game that ended with the Ocean Springs Greyhounds defeating the George County Rebels, 13-12. Her final boot sealed the deal.
"I love football and I love Ocean Springs," Kaylee said after the game, Gulf Live Sports and SunnySkyz.com reported. "I really don't have any words."
"I was pretty sure I wasn't going to be homecoming queen, but I was pretty sure I was going to make that kick."
Kaylee's head coach, Ryan Ross, told Gulf Live Sports, "I'd like to check the whole country and see if it's ever happened before.
"It certainly makes for a memorable weekend for the whole team, but especially Kaylee. It's a big night for her. I'm proud of her and I'm proud of the team."
It was a rough road.
With 40 seconds left in the game, the Rebels were inside the Greyhounds' red zone, but thanks to an interception, the game went into overtime.
Quarterback Blake Noblin found tight end Cade Hurring just shy of the goal line, and Hurring bulled his way into the end zone for the tying score, setting up Foster's game-winning kick.
Kaylee told Good Morning America she didn't realize she'd won the game.
"When I looked up from my kick, I saw this big guy with his hand up. I was like, 'He just blocked it. He did. We have to go into the second overtime.' And then he didn't block it. It went in."
A 9-year-old girl heard from her father that the homecoming queen had kicked a field goal for Ocean Springs, and said, "That's the kind of girl I want to be."
"Oh, my goodness," Kaylee said. "I love that. I think that is so special. I hope she really does decide to play football, because it's been wonderful and taught me so much."
Get stories like these delivered straight to your inbox. Sign up for The 74 Newsletter