Holiday Gift Guide — For Your Favorite STEM Student: 9 Fun Toys That Also Teach Science, Engineering, and Computing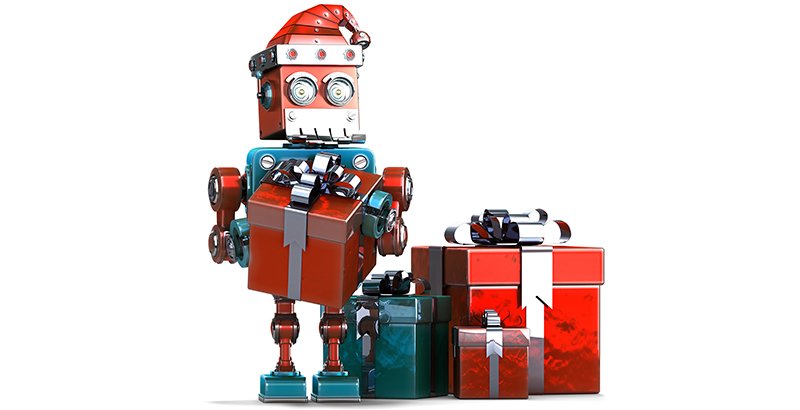 What sort of gifts do teachers wish for for their students? This holiday season, STEM is the big draw — and not just computer-science-related toys, but also simple games involving blocks that can lay the groundwork for coding skills.
Here are some of the top educational gifts for the budding scientists, engineers, and mathematicians in your life, courtesy of Project Lead the Way, a nonprofit that promotes K-12 STEM education:
Ages 6 and under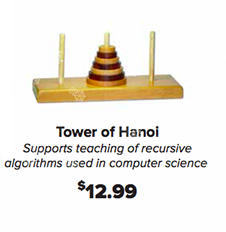 Tower of Hanoi, $12.99
An ancient strategy puzzle with many levels, ranging from simple shifting of rings among three towers to intricate solutions requiring 255-move maneuvers. Arranging the rings in specific ways takes logical thinking that is essential to understanding computer science.
Gears! Gears! Gears! Super Building Set, $49.99
Simple mechanics and science — including physics — power this toy that encourages problem-solving and creativity as children design and build using colorful gears. The simple act of construction teaches important concepts like "push and turn" that are needed to understand how gears work. The play can be as simple or as advanced as children make it.
Think & Learn Code-a-pillar, $49.99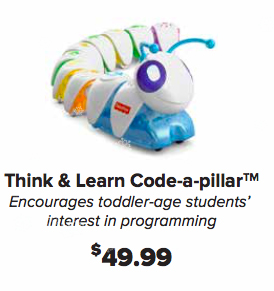 Kids can arrange the eight parts of Code-a-pillar in numerous combinations to move the cute multicolored caterpillar forward, left, or right. Programming a path for the toy opens the door to problem-solving using planning and sequencing skills. And with endless paths and segment connections, there's always a new challenge to conquer.
Ages 6–10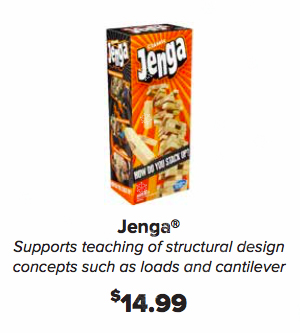 Jenga, $14.99
Jenga's stackable wooden blocks come crashing down at some point in every game — but delaying the collapse as long as possible takes more than just a calm hand under pressure. This classic tower-building game helps students understand loads, cantilevers, and physics as they study the growing stack of teetering blocks and decipher where science allows for the safe removal of the next piece.
Master Detective Tool Kit, $49.95
Through roleplaying and imaginary adventures, children get to experiment with equipment and techniques used by real detectives, and see how forensic science can answer questions and solve crimes. The game presents a mock crime, which student-detectives must unravel through observation and problem-solving skills. An accompanying experiment book guides the investigation with step-by-step instructions.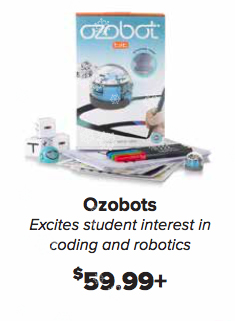 Ozobots, $59.99
Coding Ozobots requires nothing more than a marker — draw a color code, and Bit the bot does what it's told. The toy was designed for simplicity for easy first-time use, but its highly programmable versatility lets children write programs to manage Bit's behavior as they advance. Ozobots was named Best Robot Toy by KAPi and CES, and is used in 9,000 schools nationwide.
Ages 10 and up
Google Cardboard, $15.99
Turn your smartphone into a virtual reality experience that will immerse students in 3-D. It takes just a moment to assemble the machine-cut cardboard into a viewer that brings the entire world of the internet into clear, three-dimensional focus.
StemBox, $25+/monthly
Designed as a way to encourage girls to get involved in STEM — and with an endorsement from Melinda Gates — the subscription box, complete with artistic wrapping, sends a new prepackaged experiment to your door each month. It's geared toward girls' interests, but StemBox works equally well for boys.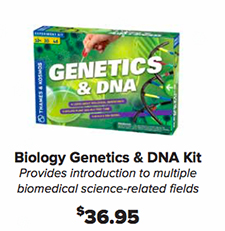 Biology Genetics & DNA Kit, $36.95
Students learn to isolate DNA from a tomato, build a DNA model, and breed bacteria as they gain an understanding of how genetic engineering informs many biomedical- and science-related fields. They can even analyze evidence to identify suspects and solve a crime by studying genetic codes in their very own labs.
Get stories like these delivered straight to your inbox. Sign up for The 74 Newsletter