High School Graduation Rate Hits New High as Obama Credits Federal Investments in Education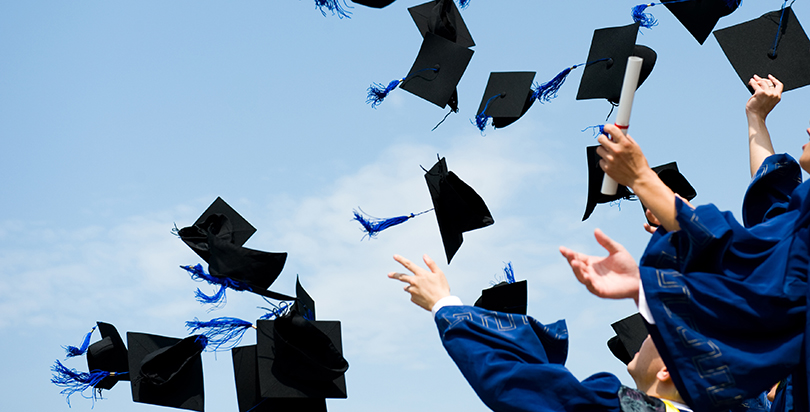 The national high school graduation hit an all-time high for the 2014–15 academic year, the Obama administration
announced Monday
, as it highlighted federal efforts to boost preschool, school turnarounds and other areas of educational improvement.
The overall graduation rate was 83.2 percent for 2014–15, up one percentage point from the year before and 4-point increase over the 2010–11 year, when all states adopted a comparable, standardized calculation method. Gains were recorded among all demographic groups of students, and achievement gaps narrowed, although disparities remain.
The graduation rate isn't just a statistic, Education Secretary John King said on a call with members of the press: "It represents real students in real cities, towns and rural communities who are better prepared for success in college and careers. It represents greater opportunity."
Administration officials also touted federal investments in preschool, innovation grants, high school redesign, teacher training and broadband in schools. A White House press release trumpeted federal efforts to improve higher education, such as new federal loan repayment plans, increases to Pell Grants, the "College Scorecard" to help rate institutions and a proposal to make community college free.
(The 74: The White House Reflects on Education Victories — What Obama Did for Dropouts, Standards, Pre-K)
During the press call, King pushed back against the idea that graduation rates lag several years behind the policies that affect them and so the current statistics are really the result of work done during the George W. Bush administration under No Child Left Behind. King cited federal investments that prevented large education budget cuts during the Great Recession and funded school improvements. The turnaround money, he said, "undoubtedly contributed" to closing so-called dropout factories that graduate fewer than two thirds of students.
"Our work builds on the work that was done by previous administrations, but ultimately, credit goes to teachers, parents and students," King said.
Despite the new high, gaps remain across groups, with Asian (90.2 percent) and white (87.6 percent) students graduating above the national average, and Native American (71.6 percent), Hispanic (77.8 percent) and black (74.6 percent) students graduating below it. The disparities between racial groups, low-income and more-affluent students, English-language learners and native speakers, and disabled and non-disabled students have all narrowed since the 2010–11 school year.
"These new data show that our nation is preparing more students to succeed, but we have more to do," King said.
President Obama spoke later on Monday at a high school in Washington, D.C., the jurisdiction with the fastest-improving (7 percentage points) but still lowest (68.5 percent) graduation rate in the country last year.
Cecilia Muñoz, director of the White House Domestic Policy Council, called the progress in D.C. "extraordinary" and drew a direct line between those improvements and the District's adoption of reforms that the Obama administration advocated.
D.C., a second-round winner of a Race to the Top grant, adopted tough standards, a new teacher evaluation system and school turnaround practices. In particular, Muñoz highlighted D.C.'s universal public preschool program, which enrolled 86 percent of 4-year-olds and 64 percent of 3-year-olds last year.
(The 74: Washington, D.C. — The Pre-K Capital)
"Progress like this doesn't happen by accident," she said.
States with the lowest graduation rates included Nevada (71.3 percent) and Oregon (73.8 percent). The states with the highest graduation rates last year were Iowa (90.8 percent), New Jersey (89.7 percent) and Alabama (89.3 percent).
Support The 74's year-end campaign. Make a tax-exempt donation now.