Helping Students Feel Seen and Heard: Along, a New Digital SEL Tool, Helps Teachers Engage Their Pupils — and Unlock Better Learning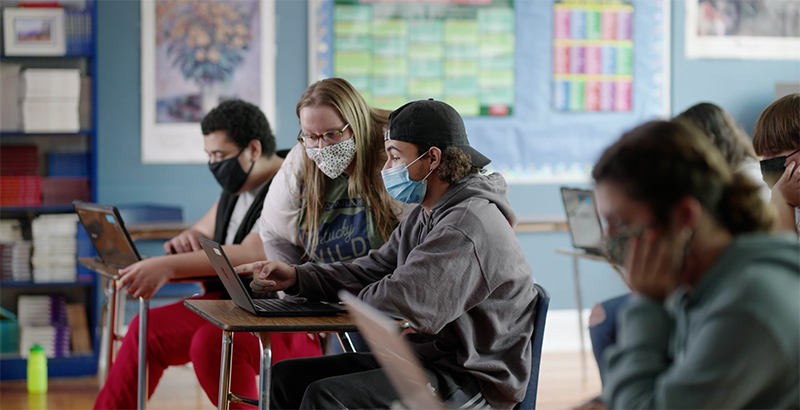 Get stories like these delivered straight to your inbox. Sign up for The 74 Newsletter
Teachers' ability to connect individually with students went from tricky to downright challenging during the pandemic. But a new digital reflection tool, Along, can help teachers create personal relationships with students while allowing each student to feel seen and understood.
After a pilot program with hundreds of teachers last school year, this summer's launch of the free service invites teachers to send multimedia conversation-starting questions to middle- and high-schoolers via school email and have the students respond directly back, with video, audio or text.
"It is so great that you connect with your students weekly," says Dr. Stacy Perez, principal of Classical Academies in Escondido, California, who participated in the pilot. "Building that trust is so important in that world right now."
Samia Zaidi, director of educator success at Gradient Learning, which created Along in partnership with Chan Zuckerberg Initiative, says the tool is straightforward to use. Educators log in and select from a series of reflection questions, or create their own with the assistance of the program. The question can be about anything, such as asking what students value and why, or having them share a positive moment they recently experienced. The educator records a short video asking the question and answering it, to help open the dialogue. The video is then emailed to whomever the educator chooses, inviting a response and opening the door for further interaction.
"It has been fascinating to see the different ways people have used this," Zaidi says. The most common practice during the pilot was for educators to ask a small group of students one question a week and to request a response back within a couple of days.
"I didn't really know what to expect at first," says Perez, who used the tool in the pilot with nine students. "Within the first two reflections, I started getting positive feedback from the students and their parents. They loved the weekly check-in and just couldn't wait for 8:00 on Friday," when Perez sent her email. "They were looking forward to my videos and questions. It was one minute of my time that was coming back tenfold."
Sandra Liu Huang, head of education at the Chan Zuckerberg Initiative, says that with so much recent disruption for both teachers and students, CZI started to focus on tools that offered practical solutions to help educators in the moment. "Teachers are losing the in-person connection with students," she says. "Even in normal times, teachers could use support and tools to really unlock a deeper relationship with more of their students. That was the genesis of Along."
CZI had partnered with Gradient Learning on the Summit Learning platform, and engaged the nonprofit again to tap its educational knowledge, technical expertise and research depth to build Along.
"I think the core goal of Along is to help teachers help their students feel more seen and heard," Liu Huang says. "What we understand from teachers is that feeling seen and heard is foundational for relationships and that relationships help unlock better learning for students. Our goal is to equip teachers for this and see students have more access to relationships."
At the same time, "Teachers don't have tons of extra time in the day," Liu Huang says. "Along is a place that lets them create that one-on-one feeling with directed videos and gives students the space to respond as they have time and comfort. We are making it easier for teachers and students even though teachers' time is limited."
Perez says she's planning for all her school's 44 staffers to use the Along tool this year. "When we saw the effectiveness of it, I will hands-down continue to use it," she says, "and encourage others to use it."
Disclosure: The Chan Zuckerberg Initiative provides financial support to The 74.
Get stories like these delivered straight to your inbox. Sign up for The 74 Newsletter