Heitner: For Kids, 'Doing School' at Home Can Be Difficult. Some Ways That Parents and Teachers Can Help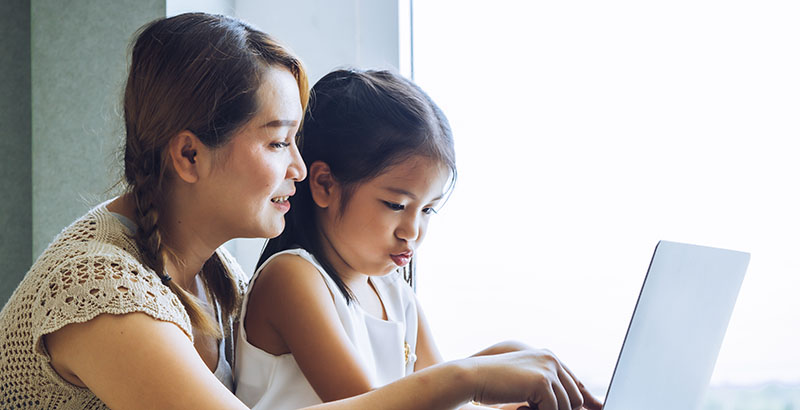 We're in month two of staying at home, and parents are reaching a breaking point. At the schools I'm Zooming into, parents look tired. "We want the teacher to know we have three kids of different ages and we are working full time too … this just isn't possible," they tell me. "I'm worried that I am hurting my relationship with my child as I am alternating between neglect (I have to work!) and nagging. …"
Many kids are resistant to remote learning or unable to focus on "doing school" right now because of anxiety, missing friends or direct effects of the health and economic crisis. With all family members in the house 24/7, there's no place for kids to blow off steam. This can result in a power struggle about every little thing, and parents are receding from the fight. It's exhausting.
As the parent of an only child during COVID-19, I'm also my kid's playmate, since hanging out with his friends is off-limits. That means a quick and tricky transition after morning soccer into boss mode: "Now you will watch this video and write an essay in Google Classroom."
Even if parents can get kids to do their assignments, it might not be quality work. Some kids are rushing through just to get it done, and parents are reluctant to keep hounding them to "do it better." Developmentally, children always seek greater independence and autonomy. But now, much of that has been stripped away. It's a source of great stress.
This manifests in different ways. Kids may not say, "I'm stressed," but their irritable or regressed behavior can indicate that they are. Refusing to complete tasks is one way some kids are attempting to assert autonomy.
Giving kids a true choice in what they have to do may help them regain some sense of control and reduce overall stress levels. This is a time for tapping into students' intrinsic interests and motivation. If classwork loses all interest for students once the glory of honor roll or the threat of a low grade have been removed, then the material should change. Could it focus instead on questions that hold inherent interest for students? Could they be designing games to play in lockdown? Writing fiction stories that offer alternative endings to the current scenario? Investigating the history of other pandemics? Making their own quarantine kitchen cookbooks?
Options like these can give children and teenagers much-needed opportunities to express their feelings. Students are dealing with loss right now. They are grieving the loss of all the things they were anticipating: debate finals, school plays, softball season, graduation. Giving students alternative ways to honor and mourn these rites of passage is more important than making sure they log the right number of minutes of Geometry Dash.
While no one can make up for missing graduation and other important milestones, it can help if students can process these losses in creative ways. A thoughtful example came from my son's teachers, who had the students collectively write a letter to the COVID-19 virus to express their feelings.
The students had just learned that school was closing, that the fifth-grade school play was canceled and that all the other end-of-year activities were off. Many of these children had been looking forward to the "nature overnight" since kindergarten. Quite a few of them started to cry. Writing the letter provided a supportive space for the kids to be angry and sad. Having the chance to collectively respond was empowering, and it served as a bonding experience: "We're in this together."
Another way to support families in their current reality is by acknowledging and supporting the contributions kids are making in helping their parents at home. Children feel good when they contribute, so formally recognizing their efforts around the house is important. A sixth-grader who helps a sibling practice fractions while mom is on a conference call is aiding the whole family. And many siblings do much more.
Kids can sort laundry, do dishes or help prepare meals. These life skills will be useful even after schools reopen, but they are crucial now as parents struggle to keep working without any respite from child care. In the long term, high schools that offer community service credit for sibling care and other domestic labor — or for helping communities by, say making masks or reaching out to the elderly — would give colleges more equitable ways to consider young people who shoulder extensive responsibilities but cannot access prestigious unpaid internships or expensive extracurriculars.
Activities that contribute and connect boost a sense of belonging and could help students find an empowering role at a time when many of us feel powerless. Students who question the importance of filling in endless online worksheets could well find meaning by contributing in other ways.
Parents appreciate the ways educators are making huge efforts to get our kids through this crisis, and I hope we'll come through this as a nation appreciating teachers' expertise more than ever.
The most powerful communication I received from my son's teacher came after the first week of remote learning. She asked us for feedback. "How is this going? How can I make this work better for all of you?" I opened her email and started to cry. In the rush of moving an entirely in-person curriculum online, pausing to ask that question made me feel like we were a team and that we would get through this together. It's simply a matter of staying connected and working together to make sure kids are getting what they need.
Devorah Heitner is the author of "Screenwise: Helping Kids Thrive and Survive in Their Digital World." She speaks about social-emotional learning and technology at schools and has been published in The New York Times, The Washington Post, Time and Education Week.
Get stories like these delivered straight to your inbox. Sign up for The 74 Newsletter