Head Start Study Reveals Surprising Gains for Virtual Learners During Pandemic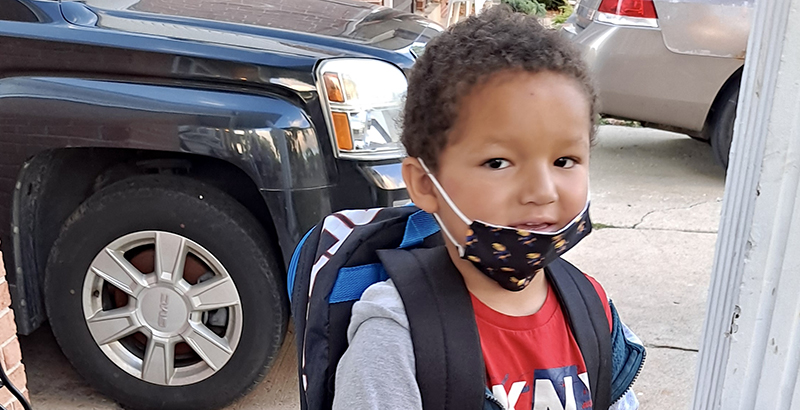 Get stories like these delivered straight to your inbox. Sign up for The 74 Newsletter
When 5-year-old Avarian Delray met his teacher on the first day of kindergarten this fall, his grandmother Sharon Larson knew she wouldn't have to worry about him.
"He looked at me [and said], 'Mama, I'm ok. You can leave now. This is no different than my other school. I'm good,'" said Larson, who is raising him.
She gives Avarian's Head Start program in Racine, Wisconsin, a lot of the credit for his self-assurance, despite the fact that interaction with his preschool teacher from the program last year often took place through a screen. Like many preschoolers nationwide, children in the Grand Avenue center spent much of the 2020-21 school year at home. It's a period that research generally projects will set young learners back academically, socially and emotionally. But a recent report on Acelero Learning, the New York City-based company running Grand Avenue and 43 other Head Start centers in four states, offered a more hopeful outlook.
Preschoolers who attended the centers in person most of the year made significant gains in three areas of school readiness, but those in the virtual model kept pace with their peers, showing strong progress in two areas — early reading and math skills. In addition, the infants and toddlers served in Acelero Learning's Early Head Start programs developed language skills beyond what is expected for their age.
"We serve a population that is typically struggling when there's not a pandemic," said Cate Smith Todd, Acelero Learning's vice president of monitoring, systems and analysis. "We were super proud to see that the kids were learning at home."
The study doesn't compare children's growth to that of their peers before the pandemic. But in a year when many preschool programs operating virtually saw a sharp decline in participation among families, the results provide some direction if classrooms need to close again, said Susanna Loeb, director of the Annenberg Institute at Brown University and a co-author of the study.
The findings, she said, show "the importance of in-person educational experiences for young children, but when those are not possible, other approaches including virtual classes, can support child development, particularly if coordinated well with families."
Serving over a million low-income children annually, Head Start has long been the subject of partisan debates over whether the program lives up to its promise. Skeptics point to research showing any academic benefit children gain from the program disappears once children attend elementary school, and Republicans have often voted in favor of cutting funding to the program. Other data, however, shows there is a long-term, positive impact on participants that can last into adulthood.
Deborah Bergeron, deputy director of community engagement and innovation at the National Head Start Association, added that Acelero's response to families reflects Head Start's whole-child approach.
"Head Start is certainly about school readiness, but we get to that through comprehensive family support," she said.
Acelero staff delivered meals and baby formula, and it wasn't unusual for staff meetings to start with a tally of how many diapers the centers had distributed to families, Todd said. Avarian's center provided Pull-Ups training pants, which Larson said were as hard to find in the early days of the pandemic as toilet paper.
They followed up with tablets and hotspots, dry erase boards and bags of crayons, paper and small pompoms for counting activities.
Reflecting Head Start programs overall, an association survey released in June 2020 showed that 93 percent of programs were still in touch with the families enrolled in their programs, 73 percent were interacting with children online for at least an hour per week and 53 percent had organized virtual groups for parents.
Head Start's connection to families during the pandemic is one reason why Bergeron — a former high school principal who led the Office of Head Start during the Trump administration — has stayed involved with the program.
'A huge value' to K-12
Since the beginning of the pandemic, Head Start has received $2 billion in relief funds, which grantees could use for an array of costs related to enrolling children, meeting families' basic needs, implementing COVID-19 mitigation measures and supporting staff. Acelero, part of what Loeb called a "research-practice partnership" with the Annenberg Institute, also used relief money to fund the study. Victoria Ankrah, a vice president who oversees 16 Acelero Learning centers in Camden and Philadelphia, said despite the disruption, leaders felt it was still important to assess children's progress.
Congress is now considering a budget reconciliation bill that includes additional funds for Head Start as part of a $200 billion plan to move toward universal preschool for 3- and 4-year-olds. The proposal calls for $15 billion to increase pay for Head Start staff and would ensure that Head Start programs reach full enrollment before state pre-K systems add more children. Finally, the president's fiscal year 2022 budget recommendation adds another $1.4 billion, which would increase annual Head Start funding to $12.2 billion.
Michael Maxwell, a vice president who leads Acelero Learning programs in Clark County, Nevada, said outside of Washington, there's "an appetite" for expanding early-childhood education programs.
"You're seeing it at the city and county level, especially here in Las Vegas," he said. "They've realized that kids coming into kindergarten ready to learn are a huge value to the K-12 system."
Created as part of the war on poverty in 1964, Head Start has always focused on the broader needs of children, including health, nutrition, mental health and employment support for families. But like most schools in the U.S., many Head Start programs didn't have a lot of experience with delivering services virtually.
Ankrah said staff members in her centers were just beginning to use the Remind app to communicate with parents before the pandemic but accelerated use of the program when centers shut down. Teachers held virtual classes each day — usually less than two hours — and Acelero developed digital tools to give families access to activities such as ebooks and Khan Academy Kids, a preschool version of the popular online education website.
At Avarian's center in Racine, children learning remotely also had the option of morning or afternoon sessions. Larson, who had to leave her job to stay home with Avarian, said she appreciated that teachers tried to accommodate parents coping with distance learning for the first time.
Avarian, she said, is usually "bouncing off the walls," but his teachers were able to hold his attention. "Everyday they reinforced counting and the alphabet and sang a greeting song," she said. The children couldn't see each other on the screen, but Larson said her grandson would get excited when he heard the teacher sing one of his friend's names.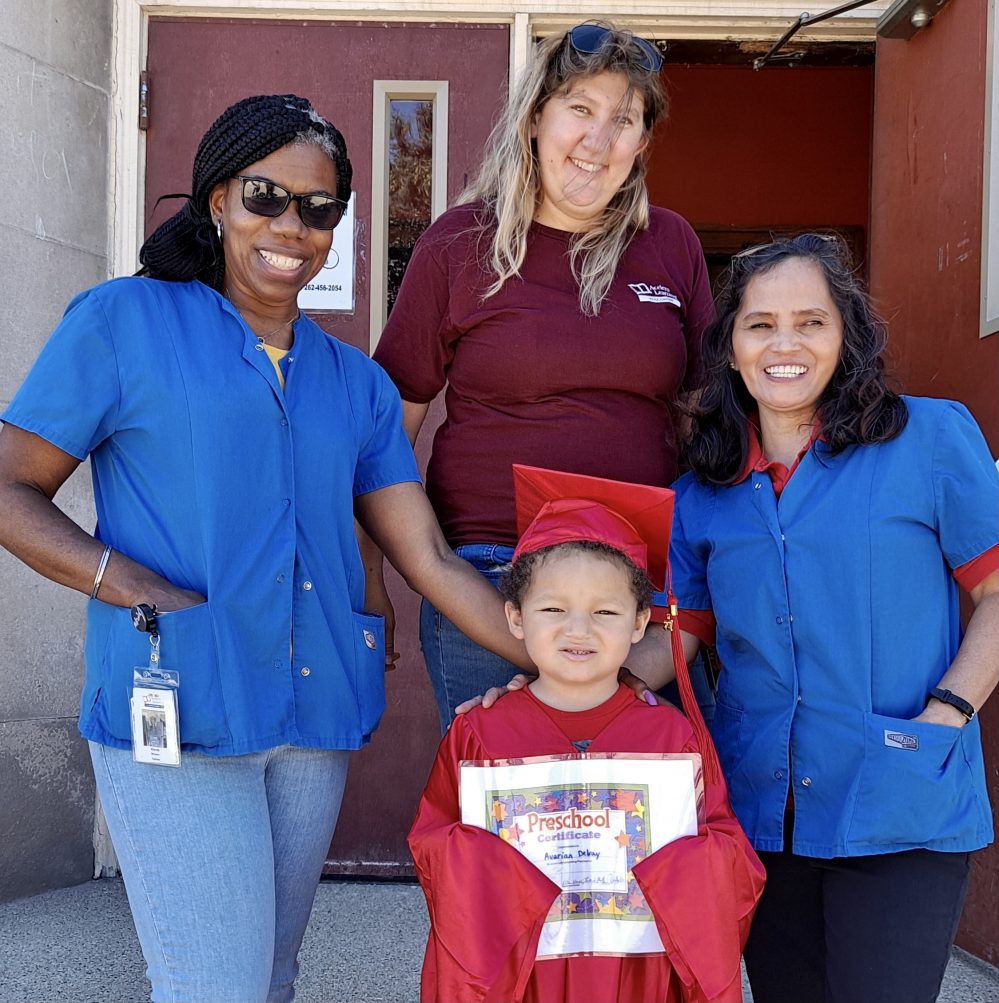 Centers shifted parent meetings, another major component of the Head Start model, to an online platform.
"We wanted to make sure parents still had a voice in this," Ankrah said.
Bergeron expects Head Start's leap into technology to be a lasting impact of the pandemic across the majority of programs — not just Acelero's. Virtual meetings allow more parents to participate and children have gained technology skills they might not have learned until they were older.
Like all early-childhood programs that shifted to a remote format, Head Start centers still saw less participation among families with school-aged children learning at home and from those facing COVID-related sickness and trauma. In the June 2020 survey, 72 percent of programs reported providing consultations with disability or mental health counselors on the need for mental health services for families and 22 percent said they had noticed an increase in domestic violence or child abuse during stay-at-home orders.
But Bergeron said, "When you provide parents with the support they need, they will rise to the occasion. There is so much to learn about what it means to have strong, trusting relationships with parents."
Get stories like these delivered straight to your inbox. Sign up for The 74 Newsletter