'He Can Wear My Shoes' — Virginia Teacher Comes to the Rescue of Fifth-Grader Who Broke His Just Before Walking Onstage for Graduation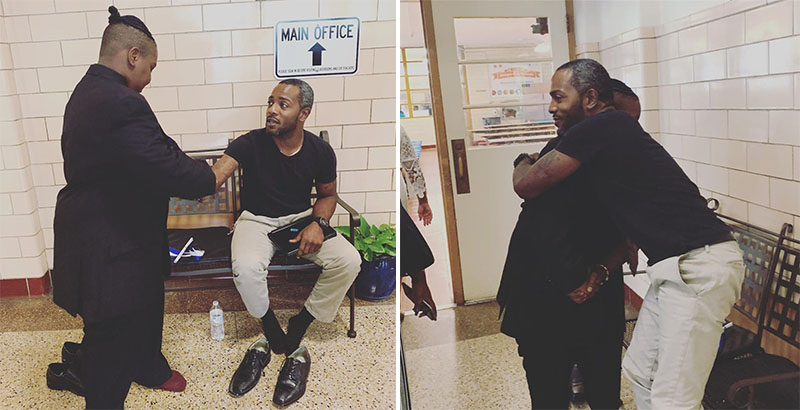 This article is one in a series at The 74 that profiles the heroes, victories, success stories and random acts of kindness found at schools all across America. Read more of our recent inspiring profiles at The74Million.org/series/inspiring.
Teachers across America perform small acts of kindness every day. But one substitute teacher's spontaneous generosity extended from deep in his heart to the soles of his feet.
Vohn Lewis was substitute-teaching at George Mason Elementary School in Richmond, Virginia, when he heard a commotion as fifth-grade graduation was about to start.
The shoe of one soon-to-be graduate had broken just before he was to walk across the stage. Guidance counselor Natalie Battle and art teacher Bradley Kopelove were scrambling to figure out if they had anything to fix it with.
"Our guidance counselor brought the student and his mom to me and said, 'Help! We need any supplies that you have,'" Kopelove told WTVR, the CBS affiliate in Richmond.
Lewis asked what size the child wore. When he learned that he and the boy wore the same size, he gave the student the shoes off his own feet so he could walk across the stage proudly and get his diploma.
"You don't have to do all that," Lewis told Battle and Kopelove, according to NBC Washington. "I wear a size 10 and he can wear my shoes."
"I wasn't thinking. I just moved with my heart," he added. "People will never forget how you make them feel. Character is so important in life, you should always be willing to give and always willing to be a blessing to someone else."
Principal Rose Ferguson told the Today show she was proud to have a substitute teacher like Lewis.
"He demonstrates my mantra: Children First!" Ferguson said in a statement. "He serves with a true heart of passion! We're not surprised at his actions yesterday, and we're proud to have him as part of the Mason Family!!"
Art teacher Kopelove shared photos of the act of kindness on Facebook.
"Mr. Lewis gave the shoes off his feet to help a student who's shoe broke right before 5th grade graduation!" Kopelove posted. "#thisiswhatarealmanlookslike#integrity#rolemodel made my day! Thank you for looking out for our boys and creating a positive moment during a potentially terrible one for our students."
Lewis, who became a substitute teacher at the school in February, is also a mentor with the school's Brothers United Mentoring Program for young men and boys of color.
"We wanted to be sure we put them with somebody that was going to be able to follow them all the way through their elementary school careers," Derrick Bates, who is also involved with the program, told WTVR.
Lewis has received an outpouring of support on Facebook.
Even the Richmond school superintendent, Jason Kamras, weighed in:
It's fitting that Lewis is getting attention for his shoes — he told WTVR that he always reminds students of the importance of showing the world their best selves.
"If I see a child with shoes untied or their collar messed up, I let them know," he said. "That's just me."
Get stories like these delivered straight to your inbox. Sign up for The 74 Newsletter