Hawaii Teacher Wins $100K Grant for State-of-the-Art STEM Lab — and the Whole School Celebrates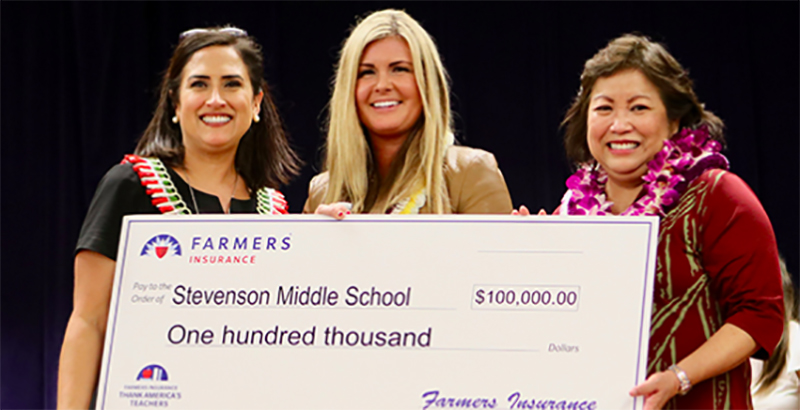 This article is one in a series at The 74 that profiles the heroes, victories, success stories, and random acts of kindness to be found at schools all across America. Read more of our recent inspiring profiles at The74million.org/series/inspiring.
Stevenson Middle School STEM teacher Patricia Morgan didn't know why she was on the auditorium stage tearing at a huge sheet of blue wrapping paper. But she quickly realized what her colleagues already knew: She had won $100,000 to fund an "Innovative Invention Imaginarium" at her Honolulu school.
Then, to celebrate, she did what every $100,000-grant-winning educator would do — she ran around the assembly, high-fiving more than 650 surprised students while waving the oversize check in the air.
From 15 finalists nationwide, Morgan was one of five winners chosen for this year's Farmers Insurance Thank America's Teachers Dream Big Teacher Challenge. She is the first teacher from Hawaii to win the grant.
"[The money is] going to support the coding, the 3-D modeling. Those are the skills the kids need nowadays in order to thrive," she told KHON.
Morgan plans to stock her STEM lab with technology that will teach not only coding but also programming, robotics, and app creation. "They can walk out [into the world] and find solutions," she says in a video describing her plan. "This would bring our community together as a culture of innovators, and we can come together as problem solvers. They need a space to become out-of-the-box thinkers."
With equipment promoting computer-aided design, 3-D printing, lasers cutting, and video game creation, the Imaginarium will also be a resource for students at district elementary schools and nearby Roosevelt High School, with Stevenson serving as a center for building career skills in science, engineering, technology, and math.
"It's very important to start STEM learning early with our students. This is when we start to pique their interest, have them explore possible future careers and become 21st century problem solvers," says the school's principal, Linell Dilwith. "We are really excited that our proposal includes a K-12 continuum, where we'll invite our feeder schools into Stevenson Middle to be mentored by our current students, as well as bringing high schoolers back to Stevenson to mentor our students."
The entire Stevenson Middle School community celebrated its big win. "The Innovative Invention Imaginarium Lab will be built, live on strong, and give our students an incredible new experience," the school wrote on its Facebook page.
Of the award, Morgan said, "I believe we are going to cash that thing right away. We have big plans."
Get stories like these delivered straight to your inbox. Sign up for The 74 Newsletter