Hawaii Hopes $35 Million School Kitchen Will Be Boost for Oahu Schools & Farmers
The department is focused on centralizing food operations, arguing the current model is ineffective when it comes to getting local food into schools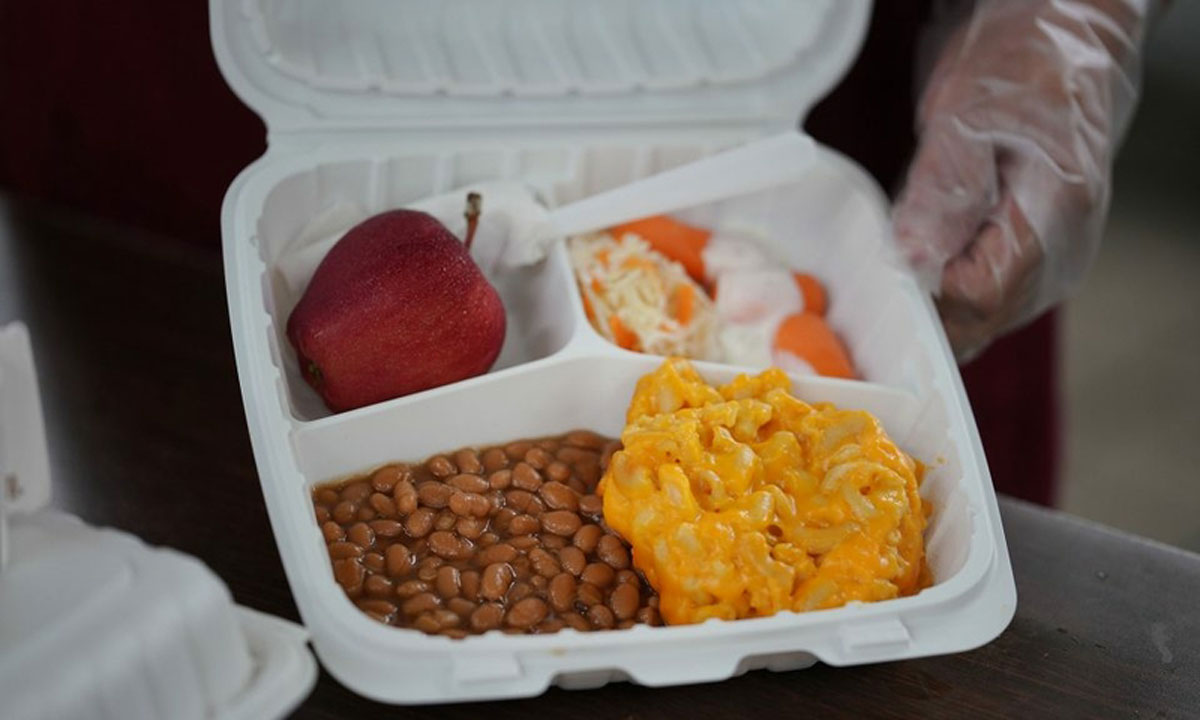 Get stories like these delivered straight to your inbox. Sign up for The 74 Newsletter
Mililani High School had one chef's knife in its kitchen before joining the Aina Pono Farm to School program in 2018.
The 2,000 daily meals made for the school complex were mainly made with food from cans hailing from the continental U.S.
"Some of it looked a lot like dog food," assistant principal Andrea Moore said in an interview. "And that's just shameful, to tell you the truth."
Upon joining the Aina Pono initiative, the school upgraded its kitchen, trained its staff and started cooking from scratch, feeding its own students as well as Mililani Uka Elementary and Mililani Waena Elementary.
It still does, using as many local ingredients as possible.
Mililani High School is the DOE's second largest food production site, but despite its apparent success, the department is focused on centralizing food operations, arguing that the current model is ineffective when it comes to getting local food into schools.
The DOE is under a time crunch to spend 30% of its annual food budget on local produce by 2030, though the farm to school initiative has been in development for years.
The department sees several hurdles: It needs a consistent supply of local food, which it says farmers cannot meet. It needs to assure food safety, which many farmers cannot do. It needs food service staff, which it predicts will be down by 30% in the next five years.
But evidence of these concerns is lacking, according to farm to school advocates, and a detailed plan to implement the central kitchen model has yet to be shared by the DOE.
The $35 million centralized kitchen on Oahu is being built in Wahiawa. There would be one on each island and potentially two on the Big Island, costing a minimum of $15 million each.
The DOE's assistant superintendent for Office of Facilities and Operations, Randall Tanaka, says all the other details are in development.
"I don't have a plan. What I have is a road map: This is where we are, this is where we need to be," Tanaka said in an interview. "And I'm going to fill in the blanks as I continue to research and get things in there."
In recent testimony, Tanaka told the House Finance Committee that Oahu's centralized kitchen would be operational in two and a half years.
The DOE's track record in managing its school food program is driving much of the current concern, having missed out on more than $200 million in federal funding since 2000, and it has struggled to track school food spending effectively, which it is now trying to address.
Delegating Kitchen Tasks
Rep. Amy Perruso has introduced a suite of bills aimed at addressing the longstanding issues within the DOE's food system, including House Bill 248, which would empower school complex area superintendents to take more ownership of their schools' meal programs and local food purchases.
Just under 200 Hawaii schools have kitchens, though some need to be renovated or retrofitted to allow for cooking from scratch, which advocates of farm to school food programs generally prefer.
The package of bills aim to build on the Aina Pono Farm to School program, which Mililani High School was part of, by renovating existing infrastructure, among other things.
"We have the data, we know it works. We know what the next steps need to be," Perruso said. "That's renovating our school production kitchens that already exist – 193 of them."
The DOE requested the $35 million for the proposed Wahiawa facility last year but former Gov. David Ige did not release the funds, which Perruso says was wise because it is an unproven concept.
Many of the 40-odd organizations already part of the Hawaii Farm to School Hui agree.
Tanaka says it will cost billions to do the work Perruso and advocates are seeking.
"Best case scenario, we're going to spend $10 million for each kitchen to repair, which is like $2.5 billion versus a centralized kitchen (on Oahu), which will run us from $35 to $45 million," Tanaka said.
But in 2020 an assessment found it would cost a little under $800,000 to bring 11 Kauai public schools kitchens up to standard.
Tanaka says his $10 million-per kitchen figure is an "estimate based on needed equipment and electrical upgrades."
Ulupono Initiative, which was a key supporter of the Aina Pono program, has raised concerns about how the DOE manages its cafeterias and the information about the food they use.
"We encourage Hawaii DOE leadership to develop a clear strategic plan to meet its farm to school goals, including exactly how its proposed centralized kitchen strategy will avoid putting local agriculture producers at a disadvantage," said Jesse Cooke, vice president of investments and analytics.
Getting Local
Tanaka has regularly raised concerns that Hawaii's farmers cannot produce enough to fulfill DOE's $45 million annual shopping list, saying that Hawaii's farmers are unable to provide the consistency of products that DOE requires for cyclical menu planning.
While that may be the case, the DOE only needs 30% of its food to be local. Last year, 6.2% of its food was local — 1.9% on local fruits and vegetables and the rest on ground beef.
Hawaii's vegetable crops were worth $73 million in 2022, according to the U.S. Department of Agriculture.
Some producers have expressed frustrations trying to work with DOE, which many say could be addressed by decentralizing school meals.
Food hubs have been identified as a potential conduit for small farms' produce, to provide more assurance to both producers and DOE's kitchens.
One such hub is Hawaii Ulu Cooperative, which signed on in 2018, first as a "harvest of the month" special, and later as a regular on school menus until its contract was nixed in 2020.
The cooperative supplied almost 100,000 pounds of pre-prepared frozen breadfruit, papaya, sweet potatoes and bananas worth a total of $380,000.
The cooperative has expanded exponentially since losing its contract with DOE.
Cooperative general manager Dana Shapiro says the power of achieving a contract with DOE means farms can expand and invest in their operations, as they did.
Shapiro keeps reaching out to the DOE because she wants children to learn about the state's staple crops and the value of them, to create a more sustainable future food system.
"It's so frustrating," Shapiro says. "We don't need the DOE. We've moved on. The reality is that we have a much more robust and diversified customer base without them."
Tanaka says he wants to reengage the food hubs.
The farm to school coordinator role would have been responsible for such relationships, though the role has not been filled since 2020.
School Meals Become Political
Tanaka says it's not just up to DOE to help farmers become profitable — they need a bigger market akin to New Zealand's export dependent agricultural industry.
"For some reason (Tanaka) gets into ideas and arguments of why farmers should export their food," said Saleh Azizi, Hawaii Food Hub Hui coordinator.
"That's really a strange thing for him to get into when the only reason they're being approached by local food (producers) is so that they might buy a little bit more local food," Azizi said.
But Tanaka says the pushback is purely political.
"If I say left or if a senator says left, the other person's going to say right," Tanaka said.
Perruso agrees the process is politicized, but that the centralization idea is vague and an "idea of a few people in positions of power."
Meanwhile, Mililani High School continues to follow their training that came with the Aina Pono program by purchasing as much produce as they can locally, through DOE-approved local suppliers.
If the centralized model goes forward as it is currently being floated by DOE, assistant principal Moore says Mililani could go out on its own.
Moore says following that model would mean the work the school has been doing since 2018 has been for nothing and the quality of food would go down.
"We do have the ability to go autonomous. We're a big enough school with a big enough budget," Moore says.
"Hawaii Grown" is funded in part by grants from the Ulupono Fund at the Hawaii Community Foundation, the Marisla Fund at the Hawaii Community Foundation, and the Frost Family Foundation.
Civil Beat's education reporting is supported by a grant from Chamberlin Family Philanthropy.
Get stories like these delivered straight to your inbox. Sign up for The 74 Newsletter