Hauptman: Biden's American Rescue Plan Presents an Opportunity to Heal the Country Through National Service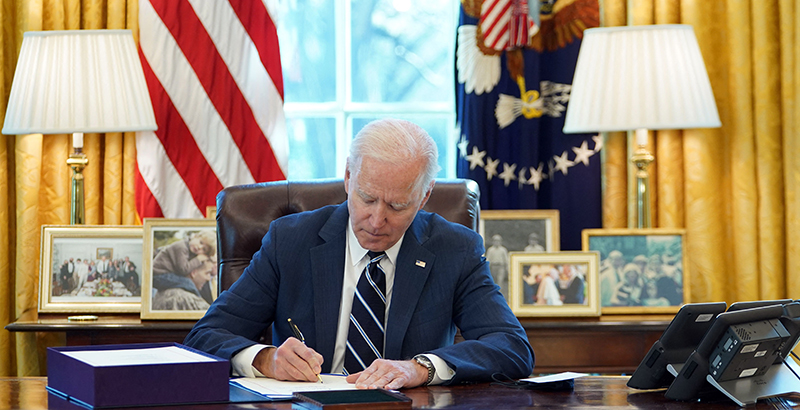 Get essential education news and commentary delivered straight to your inbox. Sign up here for The 74's daily newsletter.
The American Rescue Plan Act initiated by President Joe Biden and shepherded by House Speaker Nancy Pelosi and Senate Majority Leader Chuck Schumer has the potential to trigger a meaningful and measurable national reset on equity, opportunity and inclusion for generations to come. With $1 billion of new funding providing a major boost to the long-term expansion of AmeriCorps, the country's national service umbrella organization, this landmark legislation could prove transformational by directing resources to underserved communities that have been disproportionately affected by the impact of COVID-19.
During the past year, our country has seen firsthand the vital role that national service has played in supporting communities and filling critical gaps created or exacerbated by the pandemic. City Year is one of the many AmeriCorps organizations on the ground doing this crucial work. Providing employment experience and essential skills training to young citizens ages 18 to 24 during their year of service, City Year positions them for opportunity, independence and civic engagement through work that directly benefits communities.
City Year AmeriCorps members are recent high school and college graduates who serve for a year, often in neighborhoods where they grew up. Corps members receive in-depth training in order to provide students in grades 3 through 10 with academic assistance in English and math, social-emotional support and one-on-one tutoring, as well as organize schoolwide events and coordinate afterschool services.
AmeriCorps members earn a taxable living allowance as well as health care benefits. Members who complete a year of service receive an education award of approximately $6,000 that can be used for tuition or to pay off qualified student loans. AmeriCorps has a high return on investment: Every taxpayer dollar invested in programs like City Year returns $17 in benefits to society, program members and government.
State leaders and policymakers are also seeing the value of investing in national service. In his 2020 budget, for example, Gov. Gavin Newsom made California the first state to offer supplemental awards to AmeriCorps members to use for education expenses. More states should follow in providing critical support to these emerging community leaders.
I have witnessed the transformational power of national service directly over the course of my many profoundly rewarding years of involvement with City Year, both in Los Angeles and nationally.
In L.A., 58 percent of our corps is made up of native Angelenos, and 46 percent attended the city's district schools, making them uniquely positioned to support students who face similar circumstances as they did and who look like them. The remainder of our corps comes from various areas of the country.
National service helps young people develop into leaders, problem solvers and active citizens. In a country fraught with division, there is something undeniably unifying about the idea of young people from all backgrounds coming together to serve, restoring the social compact that has been frayed by the division and discord of the past few years. Nine out of 10 AmeriCorps alumni report that their service experience improved their ability to solve problems. Eight out of 10 say that if they were confronted with a community issue, they could confidently develop a plan to address it and get others to care. National service offers critical workforce development opportunities for young people in this time of economic uncertainty as the country continues to recover from the ongoing impacts of the pandemic, so they will be better equipped to pursue successful careers after their year of service.
Inspired by the work of AmeriCorps teams during the pandemic, Sens. Chris Coons and Roger Wicker introduced the Cultivating Opportunity and Response to the Pandemic through Service (CORPS) Act last summer with a group of 16 Democratic and Republican co-sponsors, underscoring broad, bipartisan support for national service. The bill, reintroduced in Congress on April 15, proposes an infusion of resources into the national service system across the country to scale up service opportunities and increase the benefits for those who serve, so that more young people of diverse backgrounds have the opportunity to do so. It also removes the tax on the education award AmeriCorps members earn. The $1 billion investment in the American Rescue Plan for national service is a strong start, and Congress needs to take up the CORPS Act this year to ensure that national service continues to grow and help the country rebound from the pandemic.
Over the past year, young people across the nation have made clear, through courageous and consistent political activism, that their vision for the future of this country is built on the values of equality, equity, justice and participation. The American Rescue Plan is a solid foundation for bridging divides and building once-in-a-generation opportunities by bringing people together in national service that fosters that vision: connecting individuals and organizations to help communities, both rural and urban, tackle their toughest challenges. I cannot think of a more important investment than their futures.
Andrew Hauptman is a charter trustee of City Year Inc. and co-founder and chair emeritus of City Year Los Angeles. He is chairman of Andell Holdings.
Support The 74's year-end campaign. Make a tax-exempt donation now.