Harvard-MIT Personalized Learning Program to Help Early Readers Gets $30M From Chan Zuckerberg Initiative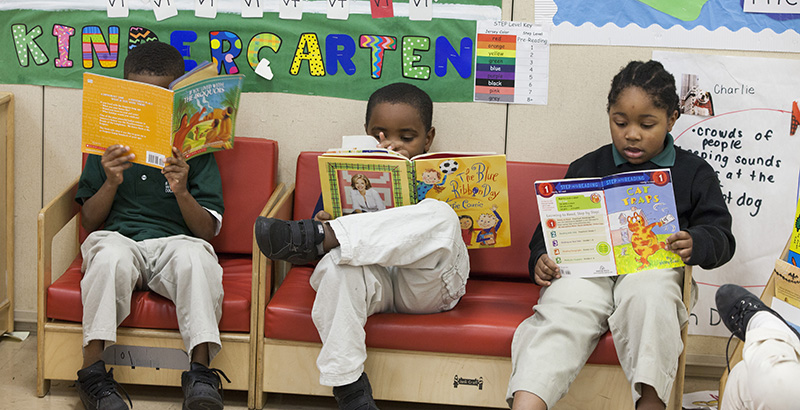 A new initiative aimed at transforming reading intervention for early learners is receiving $30 million from the Chan Zuckerberg Initiative with the goal of creating a scalable program that can help students nationwide.
It's called Reach Every Reader, a five-year partnership between MIT and Harvard that will work with several school districts to create personalized solutions for identifying and serving children who are struggling with reading. The initiative will combine experts in education, science, and technology to develop a web-based screening tool that identifies at-risk readers and provides solutions for students to use both at home and at school.
Starting with Charlotte-Mecklenburg Schools in North Carolina, researchers will work primarily with students in kindergarten through third grade but will also incorporate children as young as 18 months into their work, said Elizabeth City, executive director for the program and senior lecturer at Harvard.
"I see this as a way to, over time, shape the way learning happens inside and outside of schools," City said. "We're excited to help the field get unstuck around early literacy and help a lot of children become strong readers."
She said advancement in reading intervention remains stagnant due to a lack of collaboration among researchers, educators, community groups, and parents. Test scores are partial evidence for this: Only 36 percent of fourth-graders scored proficient on the National Assessment of Educational Progress in 2015, virtually the same as in 2013.
The initiative hopes to break down those silos. Researchers will analyze how to identify what aspects of reading children are good at and what they struggle with, and tailor solutions for both home and school. They will also tap into what motivates young learners.
Developmentally, it's important to provide literacy support as early as possible, City said. Research shows that reading abilities in early grades have significant effects on student outcomes: Children who can't read at grade level by third grade are four times as likely to leave high school without a diploma as those who can.
"We are excited to support the launch of Reach Every Reader, a unique combination of cutting-edge education and neuroscience research to better understand how we can help every kid stay on track to reading on grade level by the end of third grade," Priscilla Chan, co-founder of the Chan Zuckerberg Initiative, said in a press release. "It's this type of bold, innovative thinking that we believe will help build a future for everyone and enable transformative learning experiences."
Get stories like these delivered straight to your inbox. Sign up for The 74 Newsletter