Hanna Skandera Steps Down as New Mexico Education Secretary, 'Finishing Strong' After Lifting Student Scores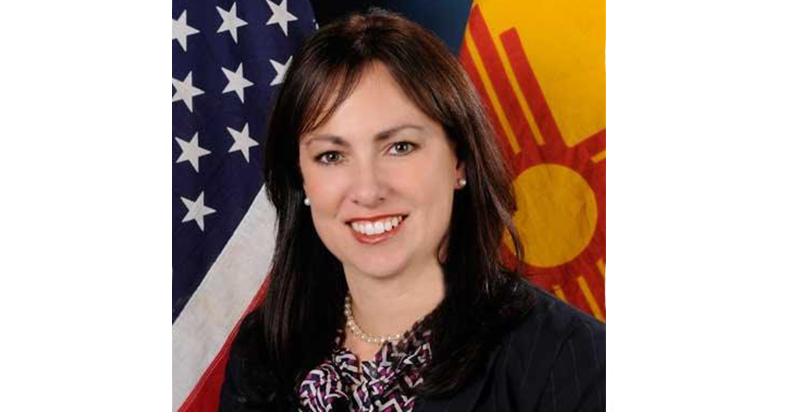 New Mexico Secretary of Education Hanna Skandera is stepping down after 6½ years on the job, she told The 74. Her last day will be June 20.
"It's the right time," Skandera said in an interview. "It's the end of the school year. We just turned in an ESSA plan. We have a strong foundation and are ready and poised to lead across the nation. We are up in every objective measure in 2016, so we have a great foundation … I really believe in finishing strong."
Skandera, 43, will be leaving a year and a half before the conclusion of Gov. Susana Martinez's second term. But the Santa Rosa native has surpassed the average term of state education school chiefs, which is usually about two years and four months, according to the Council of Chief State School Officers. Currently, she is the third-longest-serving state education secretary in the country.
"She's a total pro, and she has done a tremendous job," said Margaret Spellings, president of the University of North Carolina system and former U.S. secretary of education, whom Skandera once worked for. "She's gotten incredible results out there. She's a leader and a driver for poor and minority students and all students. … Scores are up, school grades are up, all the arrows are green pointing in the right direction."
Skandera declined to say what her next move will be but confirmed that it will not be with the federal Department of Education. In March,
Politico reported
that Skandera had been considered for a position in the department, but she wasn't nominated because Republican lawmakers said they couldn't support someone who favored Common Core.
She set rigorous expectations during her term, a move that earned her both praise and criticism. But the state has seen growth in its education benchmarks. Graduation rates rose from 63 percent in 2011 to 71 percent in 2016. More students in the state than ever before took Advanced Placement tests — a 17 percent increase that was the second-highest in the U.S. And of the 21 subjects and grades measured on the PARCC exam, student scores have increased in 19, putting 12,000 more kids on grade level, Skandera said.
Skandera transformed New Mexico from a state that is "lagging behind the nation to one that is experiencing remarkable growth across every objective measure of student success," Chiefs for Change CEO Mike Magee said in a statement.
To accomplish this, Skandera told
The 74
, New Mexico invested in truancy coaches and early-college high schools. The state education department also pays for 10th-graders to take the PSAT to better prepare them for AP tests.
As states left the PARCC consortium, Skandera stuck with it, becoming chair of the governing board. She even set a graduation goal that by 2020, students must earn a 4 or 5 on the PARCC to earn a diploma — an incredibly high, and some argue unrealistic, bar.
"It is absolutely unacceptable that 50 percent of our students, when they graduate high school, need remediation when they go to college," Skandera told The 74 in
an extended interview
in February. "When our high school students walk across the stage and receive a diploma, they should be confident that they are truly prepared for success in life."
Still, Skandera admitted there's a long way to go when it comes to performance: New Mexico's students are 27 percent proficient in reading and 19 percent proficient in math. Her department created a principal mentoring program to help schools with the largest majority of low-income students close the achievement gap. "I want to be clear that even though graduation rates improved, we still have work to do, a lot of work to do, but I believe teachers and students across the state are owning the work," Skandera said.
Since her appointment at the end of 2010, Skandera has been a contentious figure in New Mexico education. State Senate Democrats refused to hold a confirmation vote for four years, meaning she held the role of secretary-designate until 2015. Her critics, especially the teachers union, object to her use of student test scores and sick days in teacher evaluations as well as the A–F school grading system.
"You see this kind of constant, constant, constant defunding, blaming, shaming and coming up with top-down rules," Randi Weingarten, president of the American Federation of Teachers, told
the Albuquerque Journal
last week about the state's education leadership. "Their knee-jerk reaction is to blame teachers in classrooms. … It is a toxic environment."
Skandera has defended the reforms, but the department also made changes recently. After a community listening tour, she announced that the number of sick days teachers can take without hurting their evaluations would increase from three to six, and student test scores would be weighted at 35 percent rather than 50 percent of teacher evaluations. This week,
Skandera said
students will spend less time taking tests and, therefore, have two additional weeks of learning.
"It's not backing down," she said of the changes. "It's about embracing and owning."
The sick leave policy reduced the number of teachers who were missing 10 or more days of school from 47 percent in 2012 to 12 percent this year, Skandera said, which saved $3.5 million in substitute teaching costs. Still, in April, a
class-action lawsuit
was filed against Skandera and Martinez arguing that teachers should not be punished for taking the nine days of sick leave they are allowed per year.
Before her tenure in New Mexico, Skandera worked for former governor Jeb Bush as Florida's deputy commissioner of education. In a statement emailed to The 74, Bush called Skandera "one of our nation's most effective and dedicated education leaders."
She also worked for former California governor Arnold Schwarzenegger as undersecretary for education and served in the U.S. Department of Education under President George W. Bush, working as the senior policy advisor and deputy chief of staff.
"She's hung in there through some tough times," said Chris Minnich, executive director of the Council of Chief State School Officers. "The mark for me is whether or not their kids are doing better … I think she can walk ahead with her head held high that New Mexico kids are doing better because she was there."
---
---
Get stories like these delivered straight to your inbox. Sign up for The 74 Newsletter