Handcuffs on Students? Florida Lawmakers Hope to End Practice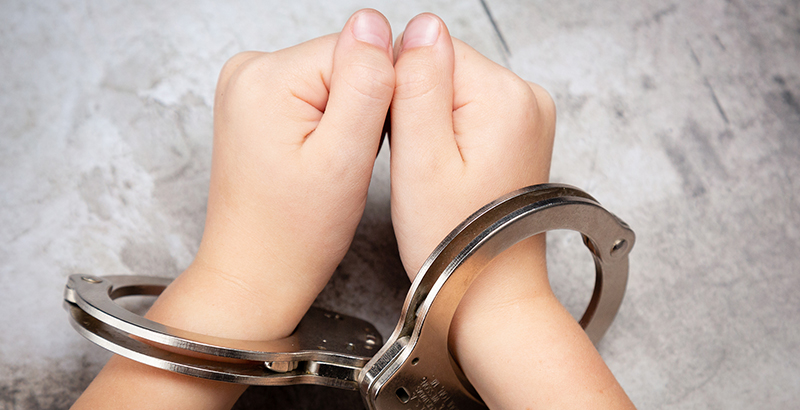 Support The 74's year-end campaign. Make a tax-exempt donation now.
In Florida's public school system, school personnel can use handcuffs, zip-ties, straightjackets or other devices on students who are acting out or misbehaving in a way that poses a threat to themselves or others.
But legislation filed in the 2022 legislative session would prohibit school personnel from using those methods — potentially sparing students, especially those with disabilities, from a traumatic experience.
Only school resource officers, school safety officers, school guardians, or school security guards would still be able to use these restraints on students in grades 6 through 12 — but not younger children.
"The younger the child, the smaller they are," said Rep. Rene Plasencia, the sponsor of HB 235. "It's easier to use the right, the appropriate methods of making sure they don't harm anyone else or harm themselves. As a child gets larger it becomes a little more challenging."
Plasencia builds off previous legislative efforts to limit how teachers and other school personnel handle students who might be acting out in a dangerous manner.
"We want to make sure that no parent sends their child to school and the child comes home with bruises, or the child comes home with some kind of stress that could have been avoided," Plasencia said Thursday at a House education subcommittee meeting.
The previous legislation dealing with this topic, which was sponsored by former Rep. Bobby DuBose, added language into Florida law that limited the use of restraints on students.
Under current Florida law, following DuBose's successful push for the legislation, school personnel can only use restraints, physical or mechanical, on a student if they pose a serious risk to themselves or others as long as all other forms of behavioral intervention methods have been exhausted.
Florida law defines a mechanical restraint as the "use of a device that restricts a student's freedom of movement." This definition excludes devices recommended by a physician or a behavioral health specialist.
The restraint — such as handcuffs, zip-ties, straightjackets or other devices — is to be removed as soon as the dangerous behavior has dissipated and is not be used as discipline.
DuBose's legislation also completely prohibited the use of seclusion on students, another behavioral intervention method that the former lawmaker said was "traumatic."
Instead, current law calls on schools to develop crisis intervention plans for students who are restrained more than once a semester. The crisis intervention plan would be developed by a team that includes the student's parent or guardian, school personnel, and physical and behavioral health professionals.
But with Placensia's bill, school personnel would not be able to use mechanical restraints on students at all.
But physical restraint, meaning a school personnel using manual restraint techniques to restrict movement, would still be available as a last resort when all other behavior intervention methods haven't worked.
Caitlyn Clibbon, is a public policy analyst with Disability Rights Florida, spoke at the Thursday committee meeting, saying that the disability advocacy group was in support of the bill.
"Using mechanical restraints on children is traumatic. It's harmful," Clibbon said during public testimony Thursday.
She continued:
"We get calls about this all the time. About the effects on the child after it happens to them. It's very scary for them. A lot of them don't understand what's happening. They no longer trust their teacher or school. It can hold them back educationally – their ability to go to school and actually learn – because they're in fear at school. And it can cause PTSD and things like that."
The most recent discipline data is from the 2020-21 school year, with the Florida Department of Education reporting that there were 43 uses of mechanical restraints on students in that timespan.
Clibbon also spoke on the use of restraints by law enforcement.
"If there's a true threat – Lord forbid, there's a school shooter or something – they (SROs, etc.) can absolutely restrain those kids and make sure everything is safe," Clibbon said.
She continued:
"If a kid escalates to a point where they're actually being physically violent, now we're talking about something else – we're talking about crime, possibly a crime."
At the committee meeting, Rep. Plasencia noted that he has been a teacher in the past, and his official page on the Florida House of Representatives notes that he is also known as "Coach P." He is a Republican who represents part of Brevard and Orange counties.
He said he taught social studies for mainstream students, and while he was exposed to students with disabilities in his school, he didn't "really understand it" until a nephew was diagnosed with autism.
"Having seen the impacts of the right behavioral therapies can mean for these children and the families, and when the schools implement the right trainings for their instructors and their paraprofessionals, and they allow for the therapist to be a part of that holistic care for that child… that has made a huge difference in his life and for children all over our state and all over our country," he said to committee members Thursday.
"It brings us closer to making sure that all children have the ability to be successful as they grow, have the ability to learn, and have the ability to a life of independence," Plasencia said.
The bill passed 17-0 in a roll call vote and has several more steps to go to get full approval from the House and Senate.
Florida Phoenix is part of States Newsroom, a network of news bureaus supported by grants and a coalition of donors as a 501c(3) public charity. Florida Phoenix maintains editorial independence. Contact Editor Diane Rado for questions: info@floridaphoenix.com. Follow Florida Phoenix on Facebook and Twitter.
Support The 74's year-end campaign. Make a tax-exempt donation now.