Hallway Opening Ceremonies, Gym-Mat Bobsled & Paper-Plate Speed Skating: Winter Olympics Spirit Takes Over Schools Nationwide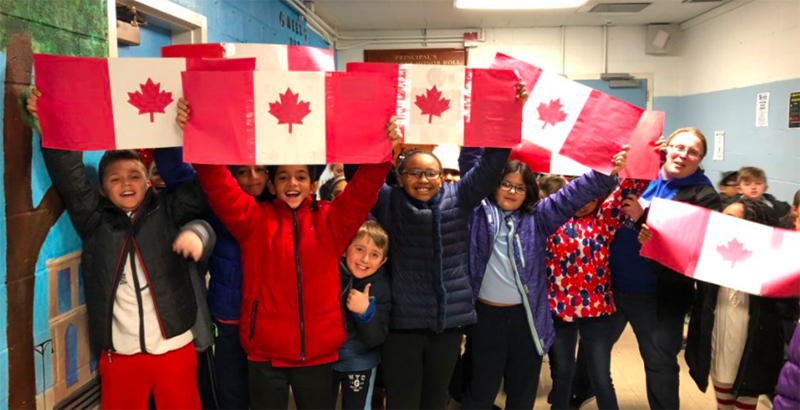 This article is one in a series at The 74 that profiles the heroes, victories, success stories, and random acts of kindness to be found at schools all across America. Read more of our recent inspiring profiles at The74million.org/series/inspiring.
The Winter Olympics are in full swing in South Korea — and at elementary schools around the United States.
As schools hold their own versions of the Winter Games, students and teachers in international garb have marched through the halls during boisterous opening ceremonies filled with pageantry, cheering, waving of flags of many nations, and passing of inventive Olympic torches.
Teachers and principals call the revelry an ideal way for kids to learn about different countries and embrace the global community.
An array of unique competitions, in some cases the goofier the better, go far beyond the athletic or even the educational.
In the Liberty Elementary School auditorium in Sioux City, Iowa, kids and teachers stacked Oreos, moved M&Ms, and turned each other into papier-mâché mummies during friendly and respectful competition for gold, silver, and bronze medals in the first of several Liberty House Games. The games, which divide the school into houses, each with its own flag, color, mascot, and cheer, emphasize respect, ownership, attitude, and responsibility.
"That mirrors what Olympic athletes do in order to build their success throughout the years," Principal Stacie Henderson told KTIV News 4.
With a paper Olympic torch perched firmly in the basketball hoop at the Flanders Elementary School gym in Southington, Connecticut, the games, as they say, began. Kids with competing flags and banners joined staff riding makeshift bobsleds — a pile of mats on a gurney — and "speed skated" by sliding around the floor on paper plates. Students had prepared for a month by choosing a country and learning about its food, history, and culture.
Some schools have turned their Olympics into a special opportunity to foster personal growth in their pupils.
Native American students passed a giant aluminum foil torch lit with bright orange and red tissue paper to kick off the opening ceremony at Myhre Elementary School in Bismarck, North Dakota, where teachers made the Winter Olympics about social-emotional learning, focusing on helping students refine their interpersonal and behavioral skills. Besides the usual cross-country skiing and curling, students awarded bracelets for displays of SEL skills — social awareness, for example, in kindergarten and first grade, including the ability to understand and empathize with people from different cultures and backgrounds.
The classrooms with the longest chains of bracelets won gold, silver, and bronze medals. Parents even got into the act by awarding bracelets to their children for using the skills at home.
Maple River West Elementary in Good Thunder, Minnesota, incorporated its Games into its PBIS (Positive Behavior Interventions and Support) program, with the theme "Go for the Gold!"
Fifth-grader Emma Garman told KEYC, "It was really fun, and it really inspired me."
Most heartening of all, schoolkids embraced their Winter Olympics with the same enthusiasm as the athletes battling fiercely in PyeongChang.
"To see their energy level when they're walking down to the nation's anthem that they are representing," Principal Blair Taylor, of Sunnyside Elementary in Sioux City, told KTIV News 4, "to hear them chanting their country's name, it was just something special."
Get stories like these delivered straight to your inbox. Sign up for The 74 Newsletter