Guidance Counselors Seeking Guidance: Inside the Movement to Improve College Advising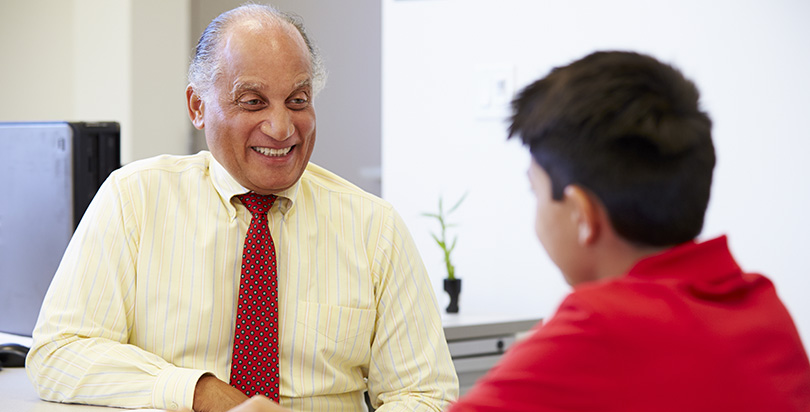 Sorting through thousands of colleges, you look for those that may have the right degree program and the right vibe at an affordable price. You navigate the application process and the student financial aid maze, craft the best schedule, study religiously and, maybe, if you're lucky, you'll be among the 60 percent of college students who graduate in six (not four) years.
For most students, making the transition from high school to college or career is daunting. When a University of Chicago report showed that only about 14 percent of the city's high school freshmen would earn a four-year college degree within a decade, public school officials recognized a disconnect: Most of the counselors stationed in Chicago high schools hadn't been trained in college and career readiness and often were unequipped to give students good advice.
In response, the district began a collaboration with local nonprofits to provide counselors with the training they didn't receive in prep programs.
The Chicago College Advising Credential, launched three years ago, aims to train all postsecondary advisers by the end of the current school year. It's part of a push nationwide to better support and improve college counseling as a profession — an effort that includes First Lady Michelle Obama's Reach Higher Initiative, which emphasizes the role counselors play in encouraging young people to continue their studies after high school. Chicago school leaders think their work will better prepare students, especially those from low-income backgrounds, to reach college graduation.
"One of our huge goals here is not just that students have a great postsecondary option and enroll in college, but also that they persist, and part of that is making certain that the counselors are able to help students make informed decisions, and part of that comes through the training," said Alan Mather, who runs Chicago Public Schools' Office of College and Career Success.
Improving the quality of college counseling became a national concern after a 2012 study by the College Board found that more than half of counselors considered their training to be insufficient. As one would expect, better-trained counselors were more successful in helping students get into college, according to the report, yet most graduate school counseling programs didn't offer courses on postsecondary counseling. Surveys also found students were dissatisfied with the advice their counselors had to offer.
"Many people who go into counseling go into it because of the social and emotional aspect and are not necessarily prepared for that postsecondary work, for helping students navigate a good fit and match college, but also understanding the award letters themselves and how much they're going to have to pay out of pocket, how much their family will be responsible for, and how much is coming from the university," Mather said.
Students who didn't plan to attend college after high school also felt the pain, said Aarti Dhupelia, Mather's predecessor at CPS's college and career success office.
"Counselors reported they weren't prepared to advise students who didn't plan to go to college," said Dhupelia, now vice president of strategic initiatives at National Louis University. "And student surveys showed those who weren't going to college didn't feel prepared to enter the workforce."
A few states, school districts and universities have recognized a need to better prepare college and career counselors. In Connecticut and Utah, for example, colleges now include training to help guide graduating students. In 2015, the Texas legislature gave $20 million to the state university's flagship campus in Austin to develop training for counselors in middle and high schools.
Still, most states have no guidelines, said Trish Hatch, a professor at San Diego State University who founded a counseling center there. Instead, counselors too often "fall back on their own experiences or what their former counselor did, and that could be really problematic for students because they get very inconsistent services."
Hatch believes that shortfalls in funding for counselor training have left some unprepared.
"The problem has been that there hasn't been an equitable funding stream for school counselors the same way there has been for other educators, and this is one of the areas we've been working to improve is ensuring school counselors, like teachers and administrators, have the same opportunity for professional development as any other educator does, because they need to improve their practice," she said.
Even as school counselors are increasingly being given professional development to better help students, counselors remain far too scarce in districts across the country. The American School Counselor Association recommends a 250-to-1 ratio of students to counselors, although on average, counselors have a caseload of nearly twice that. In Chicago, the ratio between counselors and students exceeds 450 to 1. In Houston, there are 1,175 students for every counselor.
With help from the collective impact organization Thrive Chicago, the city school district partnered with Goddard Options Institute, a New York City–based organization that's been providing college and career counseling training for more than a decade, to develop the Chicago-specific curriculum and credential for college advising.
The city's counselors appear to value the training, Dhupelia said. In the first year, 92 of roughly 300 postsecondary counselors participated, increasing to 150 in the second year. Between the two years, 66 percent of participants completed the program, which requires 100 percent attendance.
"We focused on schools that really needed it in the beginning, and what we started to see was that people really liked the training," Dhupelia said. "So I think we've sort of built the reputation of 'This is useful stuff,' to where we even have charter schools wanting to be a part of it, and we hope to offer it to as many of them who are interested."
Mather said he expects an additional 100 counselors to participate this school year. With counselors from previous years catching up on missed work, he expects the completion rate to jump to about 80 percent.
Get stories like these delivered straight to your inbox. Sign up for The 74 Newsletter