Growing Fab Lab Network Brings the High-Tech, Hands-On STEM Education Out to Rural K-12 Students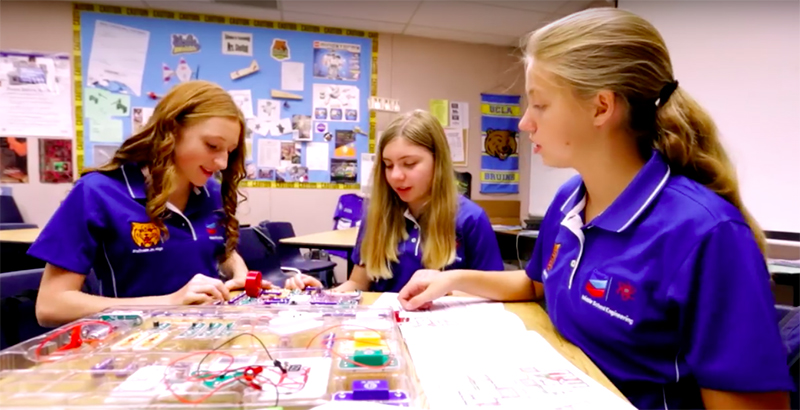 Traveling south about an hour from downtown Pittsburgh along Pennsylvania Route 43, visitors roll into Coal Center, home to Intermediate Unit 1, a regional education service agency. Intermediate Unit 1 also serves as home to a Fab Lab — a highly technical maker space packed with the latest machines and programs to spur hands-on STEM learning.
As Fab Labs branch out across the nation, thanks in part to a $10 million, three-year push by Chevron to locate 10 labs where they can serve a diverse population of school-age children, rural communities that otherwise wouldn't have access to such sophisticated technical equipment have reaped the benefits for their students.
Since 2014, rural Fab Labs outside Pittsburgh and Odessa, Texas, and six other more-urban locations have given 12,000 students the opportunity to engage in hands-on STEM-styled experiments, encouraging them to try new things — and try them over and over.
Not every lab is identical, but each is similarly equipped with a suite of materials that gives students access to 3-D printers, laser cutters, vinyl cutters, routers and other woodworking machinery, and digital workspaces for creating circuits. Some even have such things as sewing machines to allow STEM to grow artistic or fashion-forward.
The Fab Foundation, a nonprofit born out of MIT, the national nonprofit Maker Ed, and Chevron work with local communities to determine the locations where the labs would get the most use — especially for students in K-12 —and then identify partners to work within each locale and help with funding staff.
Each community builds its lab to fit its needs. At Kennedy High School in Richmond, California, for example, the district revamped an old shop classroom to make sure the lab had significant classroom space. The Santa Clara, California, location comes with the support of the NFL's San Francisco 49ers, which funded the lab in a local high school, founded a STEM Leadership Institute, and built a STEM learning space in its new stadium.
(The 74: Where Sports and Science Meet: San Francisco 49ers Expand Support of STEM With New Lab at California HS)
Locations in Richmond and at the Carnegie Science Center in downtown Pittsburgh have also created mobile Fab Labs, filling trailers with equipment that can be wheeled around the community and parked at a school for weeks at a time. "Each of the spaces is a little bit different," says Blair Blackwell, Chevron's manager of education and corporate programs, "but you can see a theme running through them."
In rural locations such as Intermediate Unit 1, Odessa, or a ninth location newly opened in Vancleave, Mississippi, Fab Labs not only bring equipment to students in places that wouldn't otherwise have the access; they also train teachers to make sure the labs will have a long, useful life.
"If you don't ensure that teachers and educators are trained to best incorporate making activities into student learning, you are not going to have the kind of impact we would all like to see," says Blackwell. "Beyond the 10 Fab Lab commitments, is ensuring teachers are well equipped. We are starting to see some of the [labs'] best practices being taught in other classes because [teachers] have seen the engagement levels of students who come into the labs and get to be very hands-on. It is showing a huge spark for students in terms of an interest in learning, engagement, and retention of concept."
Beyond putting students in control of their own learning, she says, Fab Labs empower kids to gain confidence, collaborate, think critically, and have fun learning. "If you can dream it up and design it, you can build it in a Fab Lab," Blackwell says, "whether a sticker with your name on it or helping create a prosthetic limb for another student."
The benefits of having a Fab Lab in a community reach beyond the education sphere: In Coal Center, a local podiatrist has started to use the Fab Lab to create and print custom orthotic inserts for patients at much less expense than elsewhere. When the Bakersfield location opened, a young female engineer came to speak to a group of youth about how her passion for chemistry translated into a career. "Those girls were saying, 'Oh my gosh, I can do that too,' " Blackwell says. "We want to provide spaces where those kinds of connections can happen."
As Blackwell pushes forward on opening the final Fab Lab — the 10th location is set to debut in a brand-new Houston community center in the first half of 2018 — she says Chevron will continue to support the all spaces by providing ongoing funding and encouraging collaboration across all 10 labs. Through a sharing of best practices, the impact of Fab Labs and the open door to STEM they create will continue to grow, Blackwell hopes, no matter which community they're in.
Get stories like these delivered straight to your inbox. Sign up for The 74 Newsletter