It's the time of year for giving, and here at The 74, we believe children should get a lot.
Children deserve diverse teachers who represent their race, ethnicity, religion and distinct experiences.
Children deserve fully funded schools, where the roofs don't drip when it rains and their curriculum and textbooks represent the most current, important and relevant content.
Children deserve challenging academic expectations, not just in high school AP classes, but in preschool classrooms, where trained teachers work toward closing the opportunity gap.
During 2016, we met many fierce and driven educators who believe children deserve all these things and more, and who work relentlessly to provide their students with these opportunities year round. If you didn't get the chance to meet them during the year, take a look now.
Mr. Bowling, a Washington high school government teacher
Divisive education policy debates aggravate Nate Bowling, especially when they fail to focus on black and brown poor students and their teachers. While on a plane flight, the Washington state teacher of the year put his views in a blog post: "Our most needy students need our best teachers, yet our highest-need schools have the least experienced teachers," Bowling wrote. The post went viral, shared widely by ed reform and union advocates alike. In a 74 interview, Bowling discusses America's segregated schools, the lack of locally focused policy and the need for more comprehensive teacher evaluations.
Read our full interview with Bowling here.
Ms. Rabinowitz, a Connecticut interim superintendent
Fran Rabinowitz has worked 29 years for the poorest district in one of the wealthiest states. She's watched as an 85-year-old high school in Bridgeport, Conn., physically and academically collapsed over recent decades. Only a handful of students score at a proficient level on state tests, graduation rates are low, and the roof leaks as rats scurry through the halls. Yet adults continue to squabble over how to turn the district around. Rabinowitz, currently interim schools superintendent, will be stepping down herself in the new year because of a rift on the school board. Yet in her time leading the district, she's put in place programs to improve graduation, increase reading and math scores and bump the freshman attendance rate to over 90 percent.
Read more about Fran Rabinowitz's work in Bridgeport here.
Mr. Wright, a D.C. preschool program director
D.C. Public Schools doesn't shortchange the youngest learners, as evidenced by its successful preschool program run by Travis Wright. A higher percentage of 3-year-olds and 4-year-olds attend pre-K in D.C. than any other large city. Preschoolers are funded using the same formula as older students, and preschool teachers are paid on the same salary schedule as those in higher grades. D.C. law requires the curriculum to be aligned with K-3 instruction, and preschools are held accountable for growth. Even during the recession, when pre-K programs countrywide were cut, D.C. leaders refused to put the program's funding on the chopping block. "We have professionalized the field of preschool," Wright said. "We have 50 years of research that shows that kids do better when their teachers are better prepared."
Read more about the program Wright leads.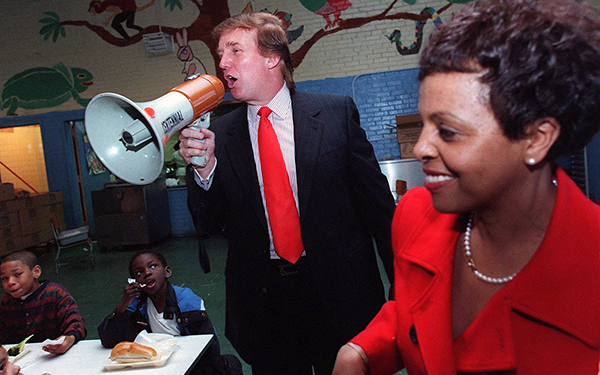 Ms. Simon, a retired New York principal
Sylvia Simon will never forget the day she handed over her principal reins to Donald Trump for a few hours. The now-retired principal of P.S. 70 recalled the disastrous moments when the billionaire offered her low-income minority students sneakers — and not all, only a few — when they wanted scholarships, pretended to give the chess club one million dollars, and failed to hide his germophobia by using a handkerchief on the stair railing. "I'm a minority woman. I come from the South Bronx from the same neighborhood; to me, I thought it was disrespectful," Simon said. Trump will be president for at least four years;
here's how he ran an elementary school for a few hours.
Ms. Rogers, a Minnesota humanities teacher
She has a master's degree, 12 years of teaching experience, a teacher of the year award and two Fulbright grants. Yet when Kristen Rogers moved to Minnesota from Utah, the state deemed her unqualified to teach without going back to school. Minnesota has a complex web of teacher certification laws that make it incredibly challenging for out-of-state certified teachers to obtain a license. That's why Rogers was one of several educators who joined a lawsuit to address the problem. These laws can harm students, too, effectively blocking their access to diverse teachers. They also perpetuate Minnesota's teaching shortage. Rogers eventually earned her license through the help of a judge — but the effort underlines the importance of the lawsuit for Rogers: "Why would I have to have a lawsuit," she asked, "to get the license I clearly always deserved?"
Read more about Kristen Rogers and Minnesota's complicated teacher transfer laws.
Mr. Gunter, a Nebraska principal
In a struggling school district and a neighborhood with 97 percent low-income students, Principal Tony Gunter is resetting the school as its community is also reset: A multimillion-dollar neighborhood revitalization program is bringing new mixed-income housing into the school's zone. Inspired by a successful charter/affordable model in Atlanta, Gunter is transforming school life, starting with a longer day and year, new staff, higher standards and wraparound services. He and the staff are working to make students excited to be in school and believe that they can overcome the stereotypes poor families face in the rough Highlander neighborhood.
Read more about Gunter's work here.
Mr. Kashatok, an Alaska principal
The principal of Alaska's Newtok School, Grant Kashatok, is trying to sustain and honor the Yup'ik culture in the curriculum and ensure his 132 students have a school to go to before their entire village is washed away by rising tides on the Bering Sea — an event that could happen within the next few years. The Alaska village is one of several facing extinction from climate change. It has plans to relocate, but the move is expensive: $130 million. Federal officials warn of imminent danger, but lack of funds and political infighting are a few factors preventing a move, which residents say will happen "tomorrow morning but not today." The school is the heart of the community, and has been for 100 years.
Read more about Kashatok's dedication to his school and the community's effort to escape rising water.
Get stories like these delivered straight to your inbox. Sign up for The 74 Newsletter