Great Pep Rally — or the Greatest Pep Rally? Why One Arizona School's Elaborate 'Wizard of Oz' Dance Number Has Gone Viral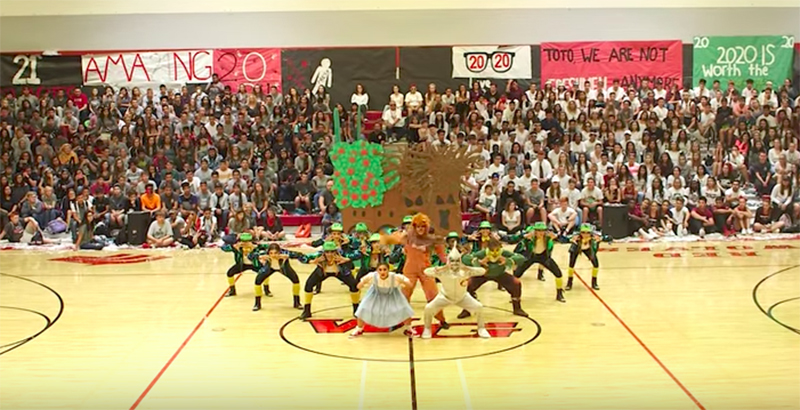 This article is one in a series at The 74 that profiles the heroes, victories, success stories, and random acts of kindness to be found at schools all across America. Read more of our recent inspiring profiles at The74million.org/series/inspiring.
If there's a school out there that does a pep rally better than Walden Grove High School in Sahuarita, Arizona, then it sure hasn't found out about YouTube yet.
The six-year-old school impressed the world in 2016 with a Pixar-themed dance at its homecoming assembly.
That video garnered over 1.5 million YouTube views.
But then came 2017.
January's Winter Formal Assembly featured students from the advanced dance class, and the school's dance team — three-time state champions, mind you — in a "Peter Pan"–themed performance.
And this fall topped it all with a "Wizard of Oz" routine that must be seen to be believed.
As captured in a YouTube video that posted more than 1.3 million views in just the first two weeks, the seven-minute performance merges contemporary songs with clips from the movie, sets, and full costume.
To keep it so 2017, Katy Perry's "Roar" highlights the Cowardly Lion gaining confidence and Taylor Swift's "Bad Blood" marks the failure of the Wicked Witch. The Tin Man shows off his sweet moves to Fingazz's "I Can Make Ya," and "Insane in the Brain" by Cypress Hill lets the Scarecrow take his turn.
With all three dance events choreographed by dance teacher Kristy Lopez, Walden Grove has set a new standard few can match.
Even Pee-wee Herman took to praising the school on social media.
Get stories like these delivered straight to your inbox. Sign up for The 74 Newsletter